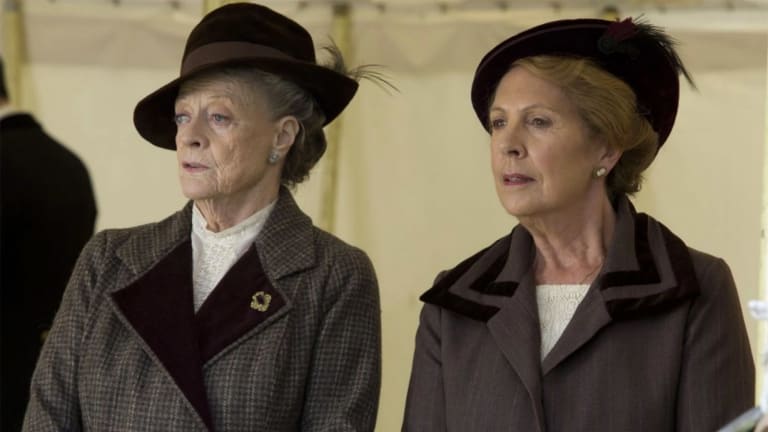 4 Ways Downton Abbey Taught Me to Think About Life Differently
Downton Abbey is so much more than your average TV drama—cheers to the end of an era!
Editor's Note: Spoilers about the last episode of Downton Abbey follow!
Years ago, a brand new publication called Verily Magazine asked me to write a piece about the women at the center of the new hit TV show Downton Abbey. As Verily promised to fill a real void in woman's magazines and the show was one of my favorites, I of course agreed. How time has flown since then! While Verily happily continues on, for the millions of Downton fans out there, Sunday's series finale was the end of era. The show heralded the resurgence of the PBS Masterpiece drama, and while it may have slipped slightly from truly good television to a bit of a guilty pleasure over the course of its six seasons, the show offered many memorable moments and a few messages that I think any Verily woman would appreciate.
01. Family is paramount.
At its heart, once you got past the (super fun) soapy parts, Downton Abbey was about family, both the one you are born into, and the one you create. The Crawley family was not without conflict, and at times their differences threatened to cause a permanent rift. But time and time again, Downton audiences witnessed support and forgiveness trumping anger and judgement in the end. 
Families fight, even the ones that would prefer to avoid emotional confrontations. But what the Crawleys showed us, most recently with Edith's heartbreaking speech to Mary right before Mary's wedding to Henry—about how a time would come when only the two of them would remember and be able to talk about Sybill, their parents, Carson, and others—was that those bonds are worth fighting for. As someone who has never quite managed to shake off the fear of disappointing her family in some way (the overachiever impulse runs deep), I frequently found myself tearing up watching Lord Grantham or the Dowager unexpectedly remind me of the gift that is unconditional love.
02. Women are amazing and do pretty much run the world.
For a show set between 1912 and 1926, the women portrayed were remarkably liberated, even when it took them a minute to realize it. By the end of the show, we saw Mary taking over to run the estate as agent, Edith owning and running a magazine, Cora chairing the board of a new hospital, and Mrs. Hughes and Anna continuing to work after gaining marriage and a baby, respectively. Yes, all of them ended up happily married too (the series finale resembled a Shakespearean comedy with everyone pairing off at the last second), but each of them also found great pride and a sense of self in their work. I loved watching these women slowly find themselves in more ways than just what they wore and who they socialized with.
I consider my work more of a vocation than a profession, and I sometimes wonder how I will balance that with my upcoming wedding and (hopefully) eventually expanding family. So when Matthew showed his faith in Mary's abilities by leaving the estate to her care, and when Bertie helped Edith pull an all-nighter when she was left without an editor and a fast approaching deadline, and when Robert showed up at Cora's board meeting and was speechless at how wonderful she was at her job, I was reminded of how lucky I am to have found my own someone who cheerleads my career and brags about me at dinner parties.
03. People are more than just the box you want to put them in.
Here, again, Downton proved itself wiser than its time period. The world of the British aristocracy of the early 20th century was a world with rigid classes and ideas of who the "right" kind of people were. Despite this, the series chose to highlight the genuine friendship that grew between Lady Mary and Anna, Tom Branson's rise from chauffeur to hated son-in-law to beloved family member, and Rose dating a black jazz singer and then marrying someone of Jewish faith. Yes, there was snobbery and prejudice and resistance to "outsiders" along the way, but in the end, differences were always bridged. This ability to find a shared humanity and respect in anyone, fictional though it is in this case, nonetheless gave me hope for today—hope that we, as a country, can stop making assumptions about people based on whatever stereotypical box they seem to fit in at first glance, and take the time to genuinely get to know someone before making any judgments. As Tom says in Season 4, "I believe in people, not types."
04. Some of the best and most fulfilling relationships are not romantic in nature.
Romance took a front seat in the Downton Abbey journey, and while I do relish a good love story, I found that the writers found their best successes in non-romantic pairings. The relationship between Carson and Lady Mary has been a highlight since the beginning, and never failed to bring out the best in both of them. In Carson's paternal affection for Mary we were allowed to see the soft side of the proper butler and the insecure but loyal core of Mary. The unlikely friendship that blossomed between the Dowager Countess and Isobel Crawley was one of the best parts of the later seasons, as the two older women found an unexpected confidant and sounding board in one another. And the bond that formed between Lord Grantham and Edith during the final season hit particularly close to home for me. I have always identified with Edith (us middle children need to stick together) and watching Lord Grantham rally around her career and decisions with regards to Marigold warmed my heart.
True love is amazing, and I am so happy to have found mine, but I have also been very lucky in my friends, mentors, and family. For that, I applaud Downton for shining a spotlight on all the different loves we can have in our lives. Thank you for six seasons of fun, drama, and heart.
Photo Credit: PBS