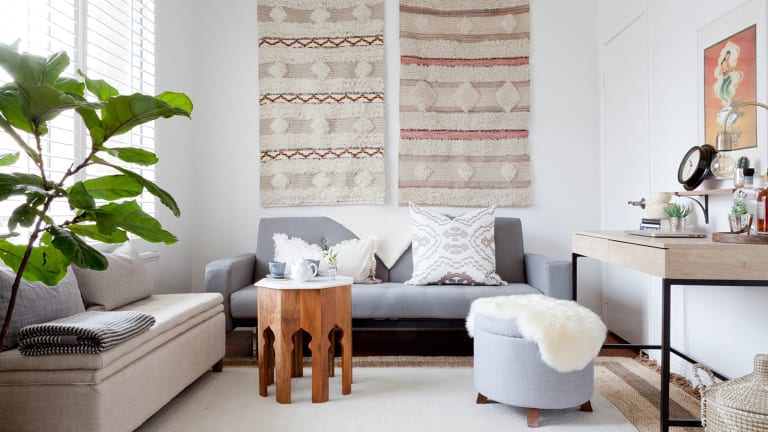 5 Savvy Tips for Decorating a Small Space on a Budget
You don't have to compromise style just because money and space are tight.

Editor's note: Read on to the end for a chance to win a premium futon from DHP!
My husband, two toddlers, and I lived in an NYC studio with a whopping 240 square feet of living space. Last month, we moved into a modest home in southern California, armed with all but a few pieces of accent furniture and small decor items such as rugs and art.
While our living space quadrupled, our budget shrank as much. We're holding off on major furniture purchases to build our savings back up. But living out of our suitcases, eating, and "relaxing" on cheap lawn furniture got old fast.
So when it came time to cobble together at least one area of our home that feels livable, we turned to talented Los Angeles designer Haley Weidenbaum of Homepolish for personalized interior design by the hour on our budget.
01. Approach your space as a 'multipurpose' project.
Chances are—whether it's an entryway, kitchen, or living room—your small space will serve several functions. We're using a 9-by-9-feet side room as an office, sitting, and guest room in one to maximize our home's floor plan.
"Begin by thinking of scenarios where you will be using it for a variety of tasks," Weidenbaum says. "If an office doubles as a guest room, think about whether your guests will be comfortable sleeping in this space. A good trick is to make it look less like an office and more like a bedroom/sitting room. For an office space, you need a desk and chair. But keep the files and desk items in drawers or in the closet. This will help your guest feel more comfortable and you more efficient when working!"
02. Spend most of your budget on the biggest item in the room.
"Typically this is a sofa, dining table, or bed. By spending more on these items, you are ensuring that the piece will last. This is vital for high-traffic items like a sofa," Weidenbaum advises.
DHP's Premium City Linen Queen Futon—with its plush tufted seats, soft gray tone, and modern lines designed specifically for small spaces—is an affordable and functional choice. It comfortably sits three when we're hanging out or hosting guests. And it transforms the room at a moment's notice by easily converting into a queen-size sleeper. Click the link below to enter to win this must-have for your small space.
03. Don't over-accessorize.
Weidenbaum cautions, "It's important to remember you don't need a million accessories, just a couple high-impact pieces. When shopping at budget-friendly stores, one can get carried away because everything looks so cute. But before checkout, try editing out a few items."
Take HGTV Magazine Associate Home Editor Rachel Shippy's entryway makeover. The key to opening up this small space was removing bulky wall storage (and adding that adorable paint job, of course). The final touch in this stunning refresh? Shippy says, "Reposition frames, furniture, and rugs, and enjoy your newly fabulous foyer!"
04. Use a neutral color palette to create depth.
"It's important to implement a color palette that won't make the room feel compact. It's best to lean toward a more neutral color palette that creates an airiness and lightness to a space," Weidenbaum suggests.
"When using dominant colors, you typically let that color shine through a prominent piece and design with neutrals around it," Weidenbaum says. Take this eye-catching red couch against a neutral black-and-white accent wall made with removable Easy Stripes. Or add character with Hygge & West's removable wallpaper tiles.
Weidenbaum says, "Even if you don't use color, a great way to create depth and excitement is through pattern and texture. Incorporating a rug with pattern, a wall covering with texture, or a pillow with embellishments makes a room feel more inviting and complete."
05. Maximize your storage in style.
No matter what space you're working with, there's no reason why your storage solutions can't be stylish. Take this charming coffee storage nook in Shippy's small kitchen makeover.
"This way, you can put away items for the time being and bring them out when necessary. It creates an out-of-sight, out-of-mind mentality," Weidenbaum notes. "[This allows] the room to change its function more easily when the 'clutter' is neatly organized or hidden in closed storage."
For about $700, our hole in the wall is now three rooms in one that we love to read, work, entertain, and live in every day. Equipped with Weidenbaum's thoughtful expertise and clever, affordable designs by companies such as DHP, making our dream room come true was worth every penny.
DHP Premium City Futon Giveaway
To enter: Click here to win a DHP Premium City futon in your choice of color (either light gray or black). Discover DHP's unique and functional furniture pieces at affordable prices at the Miami Home Show from March 18 to 22.
"Like" DHP's Facebook page for more contests to win each month!