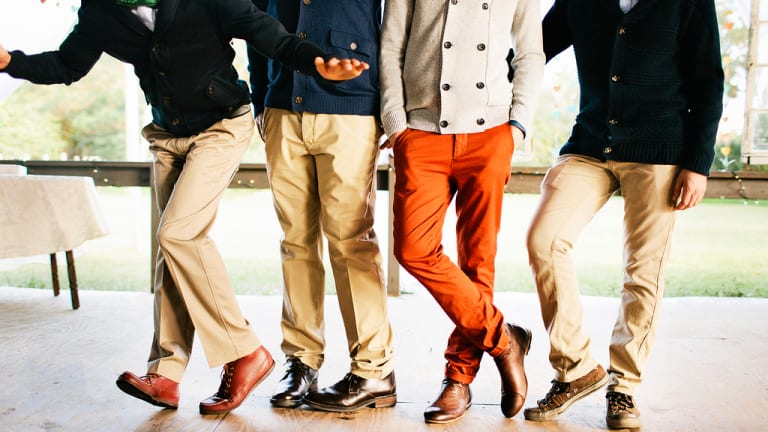 Wondering Where All the Good Men Are? You May Need to Reconsider These 3 Dating Myths
It's not time to despair about the state of the dating scene quite yet.
As I was driving home from the store, babies and groceries in tow, plotting dinner and immersed in mom duties, I decided to treat myself to a little pop radio. The Daya song "Hide Away" began to play and I listened to the lyrics for the first time. I was suddenly blasted to a time in my past: my single days, the days when I wondered whether all the single marriage material had become extinct or had just gone into hiding. 
"Where do the good boys go to hide away, hide away?" she wonders. "I'm a good, good girl who needs a little company / Looking high and low, someone let me know / Where do the good boys go to hide away, hide away?"
What I had first passed off as a cute, catchy song actually asks a serious question that dominated my twenties: Where can I find a good man who might want a good girl like me, and why does it feel like I'm dating in a wasteland?
Before I dated my husband the second time, the time that stuck, I was approaching 30 and had all but given up hope on finding the kind of love I wanted. I knew I was impossibly picky but couldn't stand the thought of…settling. I told myself there were just so few of the kind of men I wanted to marry left—men who were respectful, confident, committed, and (please, Lord) maybe a little cute—that it would take a miracle for me to find mine.
Now, from the safety of a loving marriage, I can be frank with myself about my hopeless dating days. The truth is, I was catastrophizing. I was being a stubborn romantic. Yes, dating was complicated and confusing. But, despite feelings of hopelessness, when I was single I met and dated several good men.
In hindsight, I think what got me stuck in the mud while single was focusing on things I couldn't control. For example, I dreamed of a man from a different era. I thought that holding out for an old-fashioned way of dating meant I would get to live out a romance like I'd seen in books and movies. I would meet a Ryan Gosling character, perhaps—bright, witty, charming, and utterly devoted. I thought my future husband should be a ready-made perfect mate. 
Focusing on what I couldn't change—the men I met and the way people around me dated—was just frustrating. Instead, I should have focused on what I could control, what would help me recognize the good man who was right for me when I met him, and how to be the good woman he was searching for.
The truth is, the way we think about dating is an aspect of being single we do have control over, and most often it's really the thing that needs a change.
Having a positive and constructive outlook on dating is the best way not to get caught up wondering where all the good men are hiding and actually meet some. Here are three things you might want to reconsider before you start looking under tables for the good boys.
01. I Need to Find My Soul Mate
As I floundered about the dating world in my twenties, I suffered from soul-mate searching anxiety. Like I mentioned earlier, I dated my husband twice. When I met him, he was a light in the dating fog—sweet-natured, motivated, adorable, and very good to me. But the timing was all off. We had different schedules and expectations. My fantasy, à la The Notebook, was not playing out. It got frustrating. We broke up, deciding we weren't meant to be.
In his article "Why You Should Not Believe in Soul Mates," Dr. Jeremy Nicholson contrasts the belief in romantic destiny, or soul mates, with the belief in romantic growth, or cultivation. Research shows that people in search of a perfect soul mate seek "emotional reactions and initial compatibility." When problems arise, however, they determine they weren't meant to be. Those who are more romantic-growth minded, on the other hand, look for a partner "who will work and grow with them, resolving conflicts as they arise."
To be honest, I still really do believe in soul mates, just not in the chick-flick sense. Happily, my husband and I had a "round two," a second chance at love, and I believe he has become my soul mate through mutual growth. We promised to love and honor each other all the days of our lives, and that, along with raising our children, has been the best project of my life.
If you meet someone who makes your heart pound, don't mistake those beats for love (it's probably just pheromones, honestly). Likewise, if you meet someone sweet, respectful, or just plain good, maybe give him a chance. If the timing is off, give it time. If you're not swept off your feet, go dancing. He might end up to be the best friend you never knew you needed.
02. The Idea of That Perfect Match
A similar "romantic" mindset trap is holding out for the perfect match. In their book Marriable, Haley and Michael DiMarco write that the number one lie women tell themselves is that "Mr. Perfect is out there somewhere." The antidote: "Consider what a mate is truly for." He is not meant to complete his wife but rather to complement her.
When my friend Kelly was 35, her career as an anthropology professor established, she was introduced to her husband. She thought, "This will never work." She found him handsome, but he was from another culture and had a completely different background. On paper, he didn't seem like her perfect match. Still, she approached the first date with a "what the hell" attitude. He was not intimidated by her success, and he did not play games. What she found was a good man. They've been together ever since. They come from different places, but they're headed in the same direction, for the next "five, ten, forever years."
Résumé collecting is not a great way to date (trust me, I've tried). People can be wonderful and surprising in ways that can't be measured. Don't worry about "perfect" or spouse credentials.
Find someone who lights you up and makes you want to be better, who wants to live an adventure with you.
03. My Love Will Change Him
Sometimes our expectations are too high, but we can also err in another direction. Hayley and Michael DiMarco write about two other lies women tell themselves: "He didn't mean to" and "Sex will make him love me." Sure, cancel the fantasy, but never compromise your dignity.
If a man blows you off, talks down to you, cheats on you, etc., don't make excuses—call foul. How often have we seen a girlfriend hang on to a relationship when we knew the guy wasn't into her? How frustrating was it to listen to her make excuses for him? How often have we been that friend? If a man you're dating doesn't treat you well now, he most likely won't improve with time. What's more, time spent with men like this just leads to the feeling that there are no good men out there. Cut these guys off, and move on. You're worth it.
Believing sex will make him love you will set you up for heartbreak. We were made to love; it comes so naturally to us. So it makes sense that when we share such an intimate part of ourselves with someone we care about, we expect love, consciously or subconsciously, and want sex to be wrapped in love. But a man falls in love with your personality, your spirit, and your loveliness, and that love is selfless. Sex is a way to express love, but doesn't lead to it. Most of us know that sex doesn't lead to love, but we might still think this man, this relationship, is the exception. Putting off sex may seem counter-cultural and therefore risky, but it does hold some advantages. You won't find yourself "coupled up" with someone who doesn't want to marry you. You won't get involved with someone who isn't interested in your dignity. You might even inspire a good man to be better.
The fact is there are good men out there, in jobs, in school, at your church, in your volleyball league. What's more, research shows that the vast majority of American men still do want to marry. Some men might be just as confused in the search for love as you are, serial dating, and looking for Miss Completes Me. Modern dating may take a little courage and a lot of perseverance, but with the right attitude a good girl can find love.
Photo Credit: Shannon Lee Miller