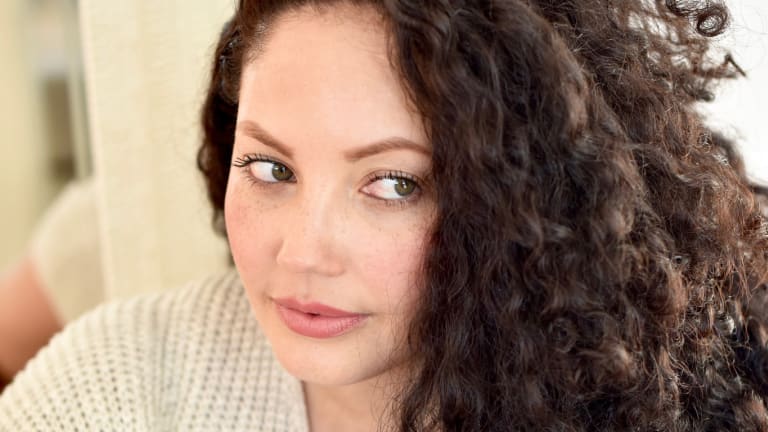 7 Experts Share Their Secrets for Awesome Curly Hair
We asked these curly-haired style and beauty bloggers for hacks to embracing the curl.
Have you searched high and low for tips on how to manage your curly hair, only to find endless articles written by women who have never experienced curly hair for themselves? As you may have discovered, curly hair advice is best when coming from someone who understands and can offer real-life tips from her own experience.
If you haven't found the secret to managing your curly hair just yet, we've done the work for you and interviewed some of our favorite bloggers for their curly hair secrets. Here are some curly hair hacks from women who know just how to manage a head full of wild ringlets.
The Cold Cure from Tanesha Awasthi
I hated my curls until I was in my early twenties. I used to straighten my hair a couple times per week and never leave the house with my hair curly. I didn't grow to love and embrace my natural hair until I made a friend with similar curls as mine and saw how much she loved and embraced her hair. It inspired me to love mine.
I condition every couple days and shampoo about once per week. I also get deep conditioning treatments at a salon on a monthly basis, as well as frequent trims. But one of my little-known secrets comes from cold water. Rinsing with cold water during a wash/condition makes a big difference, I've found. Hot water blows up the cuticle and promotes frizz, while cold water shrinks it and promotes smoother, shapelier curls.
A Product Trifecta from AVE Styles
I have thin, fine hair, and my curls are kinky with some straightness at the root and the curl showing up at the bottom. I've always struggled to get volume at the root when using curl creams and anti-frizz serums, but they are a necessary evil to avoid the frizz. I have finally found a system that works really well, and it's three products from the Bumble and Bumble Bb.Curl line. I use the Curl Primer, Curl Mousse, and Curl Cream.
After I shampoo and condition (avoiding roots with the latter), I take a wide-tooth comb to my hair while still in the shower. I flip my head over and rinse out the conditioner by scrunching my curls over and over again. I avoid towel-drying, as that promotes frizz. Then, I layer the products: curl primer, curl mousse, and curl cream. A slow blow-dry, keeping my hair mostly upside down and being careful to cup the curls so that they keep their shape, makes for a pretty good hair day.
Fighting Frizz from Malena Permentier
It depends on the season and the humidity how curly my hair really is, but when it's humid, it tends to blow up pretty badly and cause lots of frizz. To fight those flyaways, I've been using the Secret Agent Crème by John Frieda. It instantly makes the frizzy bits disappear.
Another anti-frizz trick came to me by accident. I forgot to bring conditioner with me while traveling, so I went without for a few days. I never knew what a difference it would make for my hair. It looks so much healthier, more voluminous, and also less frizzy. The only downside is that brushing out my hair after showering takes a little longer, but I guess that's worth it when it gives me great hair in return. To keep my locks moisturized without the conditioner, I use Moroccanoil. I really wouldn't know what to do without it. It makes my hair look shiny and healthy.
Back to Basics from Curl on a Mission
For me, simplicity is key. It's so easy to get caught up in the latest curly products, but for me, there are four essential ingredients for beautiful, healthy hair—and they're all shampoos and conditioners. (1) A powerful deep conditioner. Whether it's homemade or store-bought, it needs to pack a moisture punch with natural oils and butters. (Try Ouidad Deep Treatment Curl Restoration Therapy.) (2) A moisturizing, lathering shampoo. My roots get oily, but the bottom of my hair is dry, so I need a shampoo that's balanced right in the middle. (Try SheaMoisture Coconut & Hibiscus Curl & Shine Shampoo.) (3) A rinse-out conditioner. This is the ONLY way I can detangle my hair. (Try TRESemmé Naturals Nourishing Moisture Conditioner.) And finally, (4) A hard-working leave-in conditioner. I don't like layering lots of products, and with the right leave-in, I don't have to. (Try SheaMoisture Coconut & Hibiscus Curl Enhancing Smoothie and Giovanni Direct Leave-In Weightless Moisture Conditioner.)
Coconut Curls from City Laundry
I love using coconut-based products for my hair. Everything from coconut butter leave-in conditioner to coconut oil for styling keeps my ringlets defined and my hair silky-smooth. I use the OGX Coconut Curls collection. It has everything I need, and it's super-affordable (not to mention, great-smelling!).
Once my hair is finished drying, if I see that I still have frizz, then I will put a little more product in my hair to smooth it out. But I only do this when my hair is completely dry. Experiment with different products to see which amount of coconut is right for you. But start with less and work your way up; you don't want to find yourself with too much oil ruining your beautiful locks.
Silky-Smooth from Naturally Glam
As part of my mission to adopt a healthier lifestyle, including how I cared for my hair and my beauty routine, I decided to quit using chemically laden products. I was just curious about what my natural texture would be like, and I was excited to learn how to care for my curls and try all the styling options that textured hair offers. But going without certain products means you have to get creative with curl maintenance.
One of my biggest hacks is satin. That's right—satin pillowcases and even a satin bonnet wrapped around my head. Tossing and turning at night is a one-way road to frizz and tangles, but sleeping amidst smooth silky textures keeps curls in check. It's a simple solution that makes a big difference.
Watch Jonna's super-helpful tutorial on defining her curls here.
Curly Blowout from Just Curly
For most of my life, I thought my hair was just a little wavy, until I stopped brushing it every morning. This really changed the way my hair looked—taking it from a huge and frizzy mess to nice and soft curls.
One of the biggest concerns I've faced is how to dry curls without the frizz. You can either let your curls air-dry or attach a diffuser to your dryer to blow-dry them. When diffusing, cup some of your curls and hold still while drying that section. It takes a bit of extra time, but it's well worth it. When you're moving the dryer to diffuse the next section, turn off your dryer while you readjust to prevent unwanted frizz. Throughout the whole washing and drying routine, try to touch your curls as little as possible.