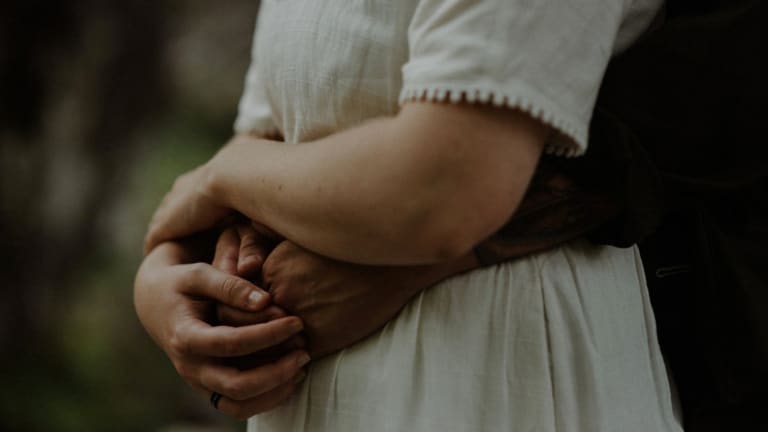 If My Husband and I Met Today, Would We Still Choose Each Other?
We're all bound to change and develop as the years go by, so what does that mean for marriage?
"We wouldn't have liked each other in college," I often say. My husband and I went to the same alma mater but, thanks to fate, didn't meet until years after we graduated. I'm somewhat joking, but in college I was buried in my books, a lonely transfer student at a huge university ready to get my prestigious degree and move on. He, on the other hand, was living the fraternity life replete with annual road trips to New Orleans for Mardi Gras and an enviable social life.
We each needed years to change, to develop, and to grow before we met for the first time on a fall day in Fairfax, Virginia. After that meeting—through mutual college friends, no less—we began to write our intricately linked history. Because we were who we were then, the first time we talked lightning bolts flashed and electric sparks lit the dinner table. We fell for each other immediately, and hard. Today, we have been married for ten years and have two kids.
But knowing we wouldn't have clicked had we met in school, I sometimes wonder: "If we met today, would we like each other?"
My husband and I don't share a lot of interests anymore. We generally follow the same life code and have the same ethical barometer, but it isn't as though we are the same person. Whereas early in our marriage we could rarely be pried from one another, today we go our separate ways a lot.
We have changed in little ways throughout our marriage. Our hobbies have become part of our identities—and we don't share them. He mountain bikes and plays volleyball. He hasn't met a television show or movie he won't consume, and he loves to root for our college team when they play sports. I, on the other hand, spend my time practicing yoga and running. I read voraciously, and I would rather go to a local venue and write than watch one minute of squeaky-shoed basketball.
But we have also changed in big ways throughout the years, and those changes are what scare me more. As life challenges have faced us, we have run them over together, but we simultaneously internalized them and locked a new puzzle piece of self into place. These changes are private and personal, but they're also shared, as things tend to be when you are married. We live a life that forces us closer together than ever due to the minutiae of running a four-person household. But still, I wonder sometimes: As changed people, what connects us beyond our family?
On my side, I can tell I am not such a planner as I once was. Kids taught me to take life one minute at a time (if you plan to meet a friend, also plan for your child to catch a bug and vomit all over the car on the way there). I have learned that my happiest places are offscreen, and I've challenged myself to digitally diet. I know that I crave adventure, travel, and new experiences.
On the other hand, my husband has learned to plan every single minute of his day to ensure that he can meet the demands of a full-time job alongside a busy life as a dad. He knows that he needs digital time to unwind and, ironically, unplug. His journey as a person through the past decade has taught him that his soul needs quiet, introspective, lazy time to be whole.
And so, if we met today, would we like each other?
The potential answer scares me. I don't know that we would have the death-defying passion for each other that we had when we met originally. Our story hinges so much on that singular moment, the snapshot of who we were then. We were the right people we needed to be at that time. Yet the people we are today may be too drastically different to make us as compatible as we were then.
But then I think about his laugh. His silly voice while playing monster chase with our children makes me laugh so deep in my belly. This alone makes me think my suspicions are wrong. The truth is, I do love him. As we were then and as we are today.
Perhaps what I am missing, doubting, is the feeling of new, passionate love. That cannot be replicated. But I have to admit that it has, instead, been replaced with stable, reliable, deep love that I sometimes take for granted. My husband is the only person in the world, outside of my parents, that has been with me through many phases in my life. He has stood by my side as I have learned, cried, excelled, and failed. He has witnessed the process that made me into who I am today.
I miss the initial sparks, but the confidence that comes from having a soul look you in the eyes and admit that, despite being a complete stranger years ago, you have been worth the journey, worth the ups and downs, cannot be replaced. I will take the familiar smell of his hugs over the shock of new infatuation any day.
No, I won't ever enjoy spending Saturdays on the couch watching hours of March Madness basketball. But because I do like my husband, and I know the foundation we have built upon over the years is precious regardless of how we've changed, I am committed.
I am tired of taking him for granted, and I am tired of thinking that we might not like each other if we met as strangers today. I simply can't allow my heart to feel that way. We have many more decades together, and we will continue to change. But I want to change toward him.
So, I found a mountain bike to borrow. And in a few weekends we have child care lined up, and I am participating in something he loves. It is my way of saying, "Yes, I still like you." It is my way of reminding everyone, mostly myself, that I would marry him again.
Photo Credit: The Kitcheners