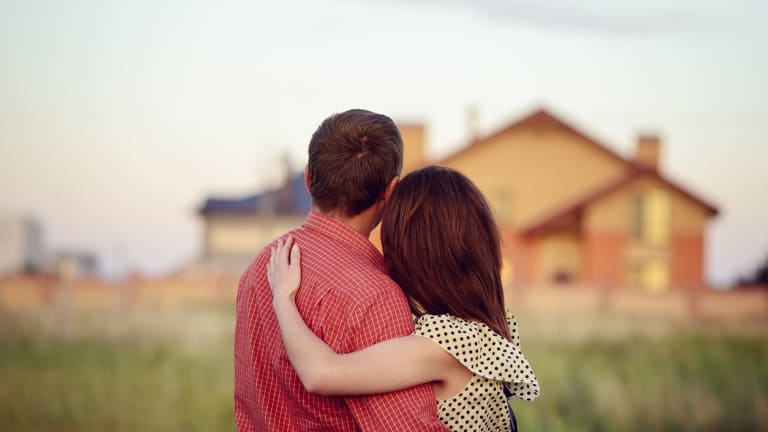 7 Things I Wish I'd Known Before Buying Our First Home
Number three could make or break your purchase.
"How's it going?" people would ask when I told them that my husband and I were in the middle of buying a home. "Pretty well—but there's a lot to do," I would answer.
That's no exaggeration: Buying a home is a huge undertaking. Between budgets—which aren't as easy as you think—and finding the right realtor, house hunting requires a lot of time and commitment. Looking back on the process, I see that we had a relatively painless experience. We quickly settled on a price with the seller. The inspection held no significant surprises. We closed on time. Yet there are seven simple things I wish I had a better grasp on well before we sealed the deal.
01. Budget first.
A home budget is way more than about what you can afford on a monthly mortgage. Do your own research to gauge what type of space you can afford in the area. Do you want a backyard? To pay into a homeowners association? A move-in-ready turnkey or a fixer-upper?
"A lender can help you determine what price point in a home purchase would net you the same or lower monthly payments than your current rent. I have seen in most cases that what a person pays in rent is more than what they would pay for a home that they own," says Cheryl Ferry, the real estate agent who helped us find our house last fall.
A broker looks at your salary on paper but won't account for your desire to travel, furnish and remodel your home, or pay it off in a certain time frame. So compare home costs and financial goals before ever meeting with a mortgage broker.
Mortgage professionals told us we could afford homes in a certain price range based on my husband's salary. But, because of our own research, we already had an idea of what we were comfortable spending and where. It sounds obvious, but your budget—your whole budget—is the first step in narrowing your options.
02. Most homes will come with unforeseen costs.
Account for new expenses that come with a home, such as increased energy usage, taxes, and repairs not covered by insurance or your homeowner's warranty. The costs of "little" house projects and purchases (such as painting and buying a lawn mower) add up.
I knew I'd need to wait to upgrade our couch and living room furniture, but I wasn't prepared to wait on what I considered small upgrades. I had planned to freshen up with new rugs, curtains, and coats of paint. But I quickly realized we didn't have the funds to make those purchases right away. Unless they're brand-new, plan that most homes will need work in the short and long term.
03. It's best to wait on big purchases until after you close.
Tiffany Garcia, a loan originator for PrimeLending, says that making new purchases for your home on credit before closing could derail buying your home.
"A lot of buyers get excited during their escrow period and start finding all the great furniture deals, or the new washer and dryer, or the carpet and paint," she says.
Garcia notes that almost all lenders still conduct a credit review before the closing of a home to see if a new inquiry or new large debt shows up. A recently acquired debt can cause alarm.
"If [the credit purchase] changes the debt ratios to making the file unacceptable, you can get in serious trouble trying to close," she says. "I advise buyers never to make these purchases until the home is legally yours."
04. Don't be afraid to branch out.
We began looking in two specific neighborhoods, but we weren't seeing anything in our budget. When we looked at a nearby neighborhood we hadn't seriously considered because we knew little about it, we realized it was a far more realistic possibility.
"Researching an area online and through conversations with a local community council, school district, chamber of commerce, clergy, neighbors, and employers can help you predict trends for an area," Ferry notes. Sites such as Trulia and RedFin give school and safety ratings as well as how home prices have changed over the years.
05. 'Date' your mortgage brokers and realtors until you find the right ones.
Choosing the right realtor and mortgage broker has the power to make your experience a success. Ferry recommends talking with family and friends for referrals.
"It's important to pick a real estate agent you (or others you know) trust," she explains. "A good agent will meet with you to get a good understanding of your needs. He or she can tour homes on your behalf and recommend 'top picks' that would best suit your lifestyle. Your agent can also pull data on past sales to help you identify what areas and price points make the most sense for you."
It will take a little extra work, but talk with several different bankers, too. We spoke with four officers to find out our financing options. Interest rates were similar across the board. But the closing costs (fees paid at the closing of the real estate transaction) differed by more than $1,500.
"When you're buying a home, you are buying into a huge investment for your future," Garcia explains. "You want to make sure you are working with someone that can give you their time and know how to explain the available options and loan programs. He or she should be able to answer questions on the spot, help you make an informed decision, and make you feel confident about your decision."
Garcia explains that selecting a banker or mortgage broker is not "one size fits all." She advises "interviewing" this person and researching the institution they work for. We chose a banker whose closing costs were slightly higher than our other options. But in our interactions, we felt confident he would take care of everything with speed, diligence, and professionalism.
06. Take your time, and be picky.
"The biggest mistake I see first-time home buyers making is moving too quickly. I recommend having your agent show you at least twenty properties," Ferry says. "For most buyers, this means starting the search earlier than anticipated. Going to open houses and talking to your community can help you know where you want to invest. The best way to know whether you've found a 'winner' is to get a good feel for a variety of homes."
After looking on and off for eight months, we finally found a home that we loved. Our realtor was easy to get in touch with, understood our goals, and tirelessly advocated for us. After the home inspection, she helped us get the best deal by negotiating with the seller before signing. She helped us write an offer that was polite, fair, and informed. She also negotiated repairs and upgrades before move-in.
07. You should feel good about it.
Buying a home isn't for everyone. Be honest about whether it's viable for your lifestyle and finances.
When we first started looking, we were only halfway through our first year of marriage. We weren't ready for the financial and lifestyle obligations. We were saving for a trip and in the middle of meeting our savings goals. The thought of buying a home produced anxiety and fear versus confidence and joy.
But, when the right time came, I knew in my gut that we were ready. We had counted the lifestyle and financial costs. When we toured the home we now own, I could envision my life unfolding in it. We have plenty of room to host dinners and parties. The bedrooms give us room to grow our family and host our parents when they're in town. We are a ten-minute walk from many friends and our church. Our neighborhood is diverse and thriving.
You can't buy a house just because you feel like it's the next thing to check off your list. You can't think, "Well, I'll just move in and move out in a few years if it doesn't work for us." Buying and selling a home is a time-consuming and expensive process. You want to make sure that your purchase aligns with your goals and vision for the future.
When I look at new houses now for sale in our area, I'm very happy with the one we chose. It's within our means and has afforded us lifestyle opportunities we didn't have when we were renting. But we also know that we didn't need to buy a home to be "real" adults. Home ownership is simply a tool that enables us to pursue the kind of lifestyle we want.
Photo Credit: Adobe Stock