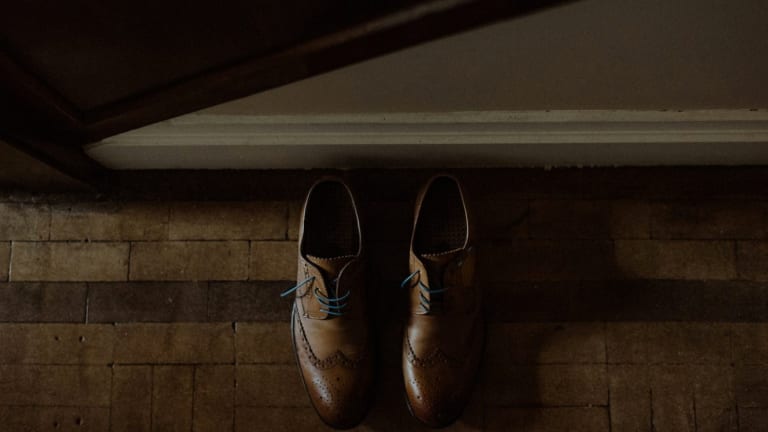 'Boys Will Be Boys' Isn't a Good Excuse for Men to Objectify Women
I'm sick of relationship advice columns that tell us we should ignore our gut instincts.
Last October, someone reached out to the famous Dear Abby column for advice, signing her letter with the pseudonym Suspicious in Maine. "I am five years older than my fiancé," she wrote. "We have been together for a few years, and something has happened to make me wonder about him."
OK. Is this that wise radar we sometimes call female intuition, or is it an unfounded fear? Let's read on. "I thought it was funny that he bought Cosmopolitan magazine every month and talked about his flat belly. But I recently found my Victoria's Secret catalog hidden in his toolbox." Pause. Something definitely sounds a little suspect. Suspicious has one final concern. "I have also seen him look at other, much younger women," she says.
Hiding a sexually suggestive catalog? Checking out women? I can see why she's got concerns. So, Dear Abby, Suspicious wants to know: "Am I making something out of nothing?"
And Abby answered, "Yes."
"All men 'look,'" she replied. "It goes along with being male. As to his having stashed your lingerie catalog in his toolbox, that's rather chaste considering the number of men who buy Playboy and Hustler and watch online videos."
"I don't know what conclusions you're jumping to," Abby concluded. "But you'll be better off clearing the air with your boyfriend rather than stewing about it. If you do it good-naturedly, it shouldn't make him defensive, and you'll get the answers you're looking for."
Communication. Sure, that's always good advice. But something about Abby's advice really irked me. Whether it's the suggestion that if he gets defensive when she brings it up, she didn't discuss it "good-naturedly" enough or the suggestion that his looking at other women is something she has to live with—even be thankful for because it's not something worse—the tone and content of Abby's response smacked of prescribed complacency.
I believe Suspicious in Maine deserves better.
What I would say to Suspicious in Maine is this: Your fiancé is looking at other women, and our Dear Abby asserts that the problem lies with you. She'd have you believe that you are making something out of nothing. But, Suspicious, you cannot deceive your own heart for long. Something in your heart is setting off warning flares; you have enough of your wits about you to both note your fiancé's behavior and write a letter about it. Telling yourself that you're making something out of nothing is not going to make the problem go away. It might make the malaise go away, at least temporarily. You might try to convince yourself to be relieved that your fiancé is being "rather chaste." Yes, you might be able to change how you feel. But what if the problem doesn't lie with how you feel? What if the problem lies with . . . your fiancé's actions?
Rarely is it good advice for women to ignore their intuition. Where Dear Abby and countless other outlets miss the mark is this: Too often, they imply that women ought to discount their own responses, to write off warning signs as passing concerns. Effectively, the advice is, "Doubt yourself first." And, ahem, do it good-naturedly.
Of course, a response can be out of touch with reality (a terrific example is Brené Brown's first story in her piece on blame). And it really is possible to make something out of nothing. But to stifle or even dismiss our responses as out of hand—no examination, no trial, no chance to bring our brains to bear on them—hamstrings a great ally: ourselves.
I want to reassure Suspicious: Your own first brave actions have been to notice and to acknowledge something that troubles you. What should you do next? Abby's right that you should clear the air with your fiancé. Currently you have N.E.I. (not enough information). Do his girlie mags reveal a chronic problem with objectifying women? Does he feel entitled to continue? Or maybe he wishes he could stop, but it's a struggle. Does he see his actions as related to his ability to be faithful to you in marriage? Does he agree that there is harm in deception in a relationship? If he'd like to stop objectifying women but it's an ongoing battle, that is markedly different than if he responds the resigned way of Dear Abby—holding his behavior as normal (er, chaste).
The men in Abby's circle of family and friends may "look," but to say that all men "look" in the way that Abby is implying (wink) is actually an insult to the men who don't. It's out of touch with the reality that some men choose to view women as persons and not sex objects. And, frankly, even if all men did look, that does not mean that women need to sigh and settle for it or stifle the desire for something more.
Abby gave readers the "boys will be boys" response, and let's call it what it is. Even if many men do objectify women, there are also many men who refuse to do so. And there are men who are trying to break cycles of objectifying women and are putting daily effort toward that goal (bravo and thank you). A much better way that women, advice columns, and all of us could respond to the issues we face would be to "let women be women"—with all our intuitions, hopes, and desires. Notice them. Acknowledge them. Let them be for you little signposts for circumstances that may need some attention. They may shift or allay or intensify as you gain information; notice that, too. But no matter what, even if the rest of the world mocks and discredits them, know that they are worthy at the very least of our own respectful attention.
Photo Credit: The Kitcheners