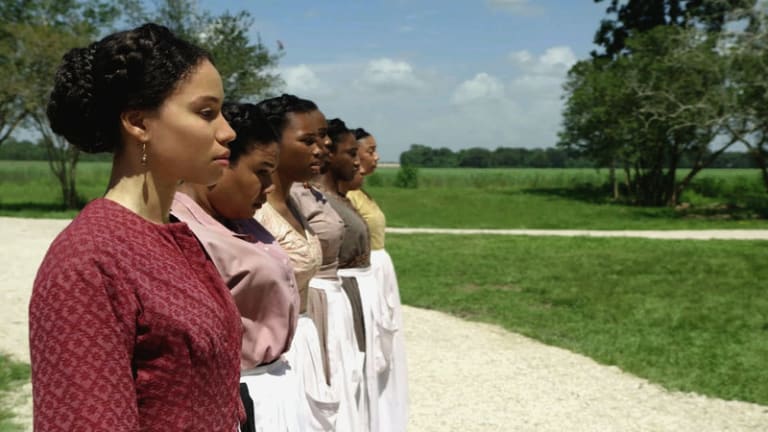 The Best Shows on TV This Spring
These gems will tide you over until those glorious summer evenings arrive.
Sometimes early spring can be harder than the deepest, darkest part of winter—at least in New York. It's not yet warm enough to hang out outside after work, but it's not so cold that hibernating seems like the logical option. Luckily with the uncertainty of early spring comes the certainty of good TV, with old shows coming back from the winter hiatus and new ones premiering.
I have begun to divide my TV-watching into categories—shows that I am "allowed" to watch at home while snuggled up on the couch, and shows that I try to only watch while on the elliptical at the gym. And while my gym routine was super-happy about the return of Grey's Anatomy, Pretty Little Liars, and How to Get Away with Murder last month, March and April's offerings look to keep me newly entertained no matter what my viewing location. Here's what is coming up.
Nashville on ABC (March 16)
My love for Connie Britton runs deep, and while she is the main reason I keep returning to Nashville, the music is another huge draw. If you haven't yet checked it out, anticipate a lot of drama paired with glittery outfits and every type of country music you can imagine. If you're already a loyal fan, you know that we have a lot to look forward to as Raina and Juliette navigate their careers with their families.
The Americans on FX (March 16)
The Americans has always been on my list of shows to get into, and the teaser trailer for the new season has renewed my interest. The Cold War undercover spy drama stars Keri Russell and Matthew Rhys and has consistently garnered fantastic reviews, with some critics being so bold as to declare it a much better bet than the new season of House of Cards. At least one Verily editor is a big fan but warned me to watch on DVR—it's TV-MA, and even though the sex scenes and trail of dead bodies are (usually) advancing an otherwise fascinating plot about family and marriage, it's definitely not family TV. I may have a hard time getting Felicity out of my head when I start watching, but I have a feeling it will be worth it.
Dancing with the Stars on ABC (March 21)
This reality show is one of the few I actively indulge in, and with the new season boasting Jodie Sweetin and Mischa Barton, both my early childhood and teenage years will be well-represented. Von Miller of the NFL and Nyle DiMarco, the deaf winner of America's Next Top Model Cycle 22, will also be competing, along with a long list of others. While favorite pro dancer Derek Hough is taking a break this season, the show still promises a lot of cheese, hard work, and (possibly) a few tears. Count me in!
Call the Midwife on PBS (April 3)
I binge watched the first four seasons of Call the Midwife on Netflix over the holidays, and I cannot wait for it to come back to PBS with the new season that is already airing on the BBC. If you have any inclination toward British period dramas and need something to fill the hole left by Downton Abbey's finale, I highly recommend Midwife, which is based on the memoirs of a London midwife in the 1950s. Season four ended on a bit of a cliffhanger, so I am thrilled to find out what is going to happen to my plucky "friends."
Fuller House on Netflix (February 26)
If you have any nineties nostalgia left in your soul, give Fuller House a try. It's absolutely ridiculous, so you can't go into it trying to take it seriously. But I laughed with it (instead of at it) enough during the first episode. Just be warned—Uncle Jesse is only making cameo appearances, and Michelle isn't there at all, so if your only motivation to watch this reboot is John Stamos' never-aging face or curiosity about the Olsen twins, don't bother.
Underground on WGN America (March 9)
This show landed on my radar a few months ago and is my most-anticipated new show of the spring. Chronicling the story of the Underground Railroad four years before the beginning of the Civil War, the show stars Jurnee Smollett-Bell of Friday Night Lights fame and is being helmed by Joe Pokaski and Misha Green, with the soundtrack being produced by none other than John Legend. In an interview with Rolling Stone, Pokaski says, "We're both comic book people"—between them, Green and Pokaski have written or produced for Heroes and Daredevil—and from his perspective, "this is the most heroic, thrilling story ever told in American history." Adds Green, "We're not telling a story about the occupation. We're telling a story about the revolution." Must-see TV, indeed. (Intended viewing location—home. This one deserves my full attention.)
The Catch on ABC (March 24)
If you haven't tired of Shondaland yet, this new crime thriller starring Mireille Enos and Peter Krause is being executive produced by the acclaimed hitmaker. Enos plays a successful fraud investigator who may be having the wool pulled over her eyes by her own fiancé. ABC elaborates a bit, saying, "Alice Vaughan (Enos) is LA's top private investigator—and the one woman you don't want to mess with. But when her fiancé (Krause) cons her out of millions and disappears, Alice goes on a private mission for payback. No matter where it leads or the secrets she must keep along the way, Alice will stop at nothing to catch her man." If you want to be up to date with the watercooler chat, I'd give this one a shot.
The Night Manager on AMC (April 19)
Stars Tom Hiddleston and Hugh Laurie are all I need to be intrigued by this miniseries, based on a novel by John le Carré, about a night manager (obviously) working at a hotel in Europe who is recruited by intelligence agents to go undercover and gather information about an international arms dealer. The premise sounds more action movie than TV series, but I'll happily welcome these talented Brits to the small screen.