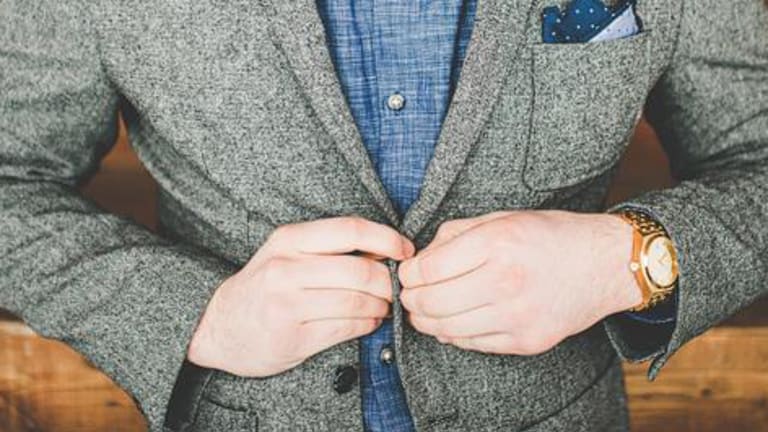 Gentlemen Speak: What Your Guy Really Wants for Valentine's Day
Real men share which gifts they'd love, and some of their answers may surprise you.
Valentine's Day is quickly approaching, which means this is the time of year when men and women everywhere stress out over what to do/buy for his or her significant other. Except for maybe the dudes; We won't freak out about it until, like, February 13, at the earliest, when we realize tomorrow is Valentine's Day, and we haven't done a damn thing to prepare for the occasion.
But I'm here to tell you, ladies, there's no need to freak out. We men are easily pleased, especially on Valentine's day, and that's not meant to be innuendo. I asked a bunch of my buddies what they thought about V-Day, and what they're really hoping to get from you-know-who.
Sure, some of the responses were fairly predictable. But others might just surprise you and might just give you the impression that what they like about the 14th isn't all that different than what many ladies like about it. So if you're looking to do something nice for your man this Valentine's Day, but aren't quite sure what, here's a little insight from the other side.
Bring On the Juicy Love Notes
We might deny it, and we'll probably squirm a little bit somewhere along the way, but, as my buddy Malcolm would say, we actually do really love to lay the "sentimental" and "cheesy" romantic stuff on thick. In fact Malcolm tells me his favorite gift he's gotten on Valentine's was simply, "A gushy love note."
I can definitely relate to that. The day-to-day words of affirmation and affection between a couple can become run-of-the-mill, for better or for worse. There's just something different, however, about reading a well thought out love note.
Romance can come in the little things, too. As my former roommate Anders puts it: "The best Valentine's Day gift I ever got was last year. I received the exact same card from my fiancé that I gave to her." How did they manage to get the exact same card for each other? "Because the punch line fit us so well," he said. If that's not true love, I don't know what is.
Give Us Quality Time
"The guy is on the hook for going over the top on the first V-Day of a relationship," my buddy Martin says. "After that…" Well, according to Martin, in subsequent years, the guy appreciates a Valentine's Day that is more about quality time than a show of roses. 
Martin's not saying that guys shouldn't make an effort but that the effort looks different. Especially when you start settling down and having kids, you don't necessarily need to go to the greatest restaurant in town by way of horse-drawn buggy. Sometimes, all you need is each other.
"My ideal V-Day would be a nice quiet night with my wife eating our favorite food and spending time together doing something we like to do," my buddy Cameron said. My friend Freddy says the same: "I like it when we can have a quiet night in and maybe I'll cook dinner."
In the chaos of life, it's easy to get distracted from one another and, let's be honest, sometimes a crowded restaurant is not the best place for focusing your attention on one another. For a number of guys I talked to, Valentine's Day was less about the holiday itself, and more about the person we want to spend it with. For most guys, knowing that his girlfriend or wife wants to be with him is more important than anything else.
"The thing that means the most was my girlfriend's company, her making an effort for my sake, and knowing she really wanted to be with me at that dinner or movie," Gerry said.
So don't stress about reservations this Valentine's Day. It's likely that your guy will feel even more loved if you put down your phone (yes that means Instagram too) and show him that there is no place you would rather be than with him.
Let Us Romance You
Guys learn rather quickly that if we want to impress a woman, we have to put in an effort on V-Day. And the ones who have been around the block a few times seemed to echo a common chorus: Valentine's Day typically means more to your lady than it does to you.
"Guys don't get gifts on Valentine's day, and we shouldn't," Leo says. "It is like a Mother's Day, but for your girlfriend/wife. The only thing I want is to see that I pleased my wife." 
And while Valentine's may not be "about the dude," as Jim says, that doesn't mean it's not important to us. "I remember the one year that my girlfriend didn't want to do anything special, I was really bummed," Keven said. "It felt like she was denying me the opportunity to love her."
"I always liked the chance to find some way to show my girlfriend how much she meant to me," Gerry says. "Valentine's Day focused my attention on her, on what she would find really meaningful." Interestingly, Gerry recognized that there was something about Valentine's Day that made him more, well, loving. "It was a concentrated moment of selflessness," he said, and he found this small opportunity for selfless love to be "hugely rewarding."
You may be "over" Valentine's Day, but if your guy wants to do something special on Valentine's Day, don't stop him. He wants to show you how he feels, and this holiday gives him a chance.
Give Us Positive Affirmation
It's hard fulfilling sky-high (perceived) expectations! And almost no one I talked to was immune to feeling the pressures of executing the perfect Valentine's Day.
"It is a big fear that we will try hard and then find out our lady is disappointed!" Malcolm said. It's almost enough to keep you from trying again the next time. But the fact of the matter is, even when we fail miserably, we typically do so with the best intentions. "A well-meaning guy wants to do the most romantic thing for his girl on Valentine's Day," Leo says. "Women, if he doesn't deliver on this, cut him some slack."
Or better yet, give him a little nudge. As Martin suggests, reinforce what you've appreciated in the past with eyes on the future. "Drop some serious hints," he says. "Like 'Did you know how much I loved it when you did that special thing for V-Day? You should try to top that this year.'"
This kind of affirmation will make him feel appreciated, loved, and get him excited about putting in special effort next year—or any time for that matter!
If We Are Talking Gifts . . .
Things like quality time and words of affirmation are important, but that's not to say there aren't other things we appreciate.
There was one gift I heard more than once: "A massage," as Jim said. "I could really use one." Guys love this kind of physical touch. I mean, who doesn't? Try learning some massage techniques online. But be warned: For guys, a back rub rarely means just a back rub. If you are in a dating relationship, be sure to have a discussion about boundaries before you give this gift.
If you're more inclined to giving something as a gift, Gerry's preferences aren't uncommon among guys I know: "I'm pretty practical as far as material gifts go," he said. "I like stuff that I can use, but there are things I can use that I would never buy for myself."
Like most guys out there, I'm happy to take part in the pomp and circumstance on February 14th. Sure, there can be pressure involved, and a lot of the Valentine stuff if slightly overblown. But at the core of it, I think most men see Valentine's Day as an opportunity to show his affection for the one he cares about the most. And I think I speak for all men when I say, we sure hope we don't screw it up... And if we do, there's always next year.
Photo Credit: Manchik Photography