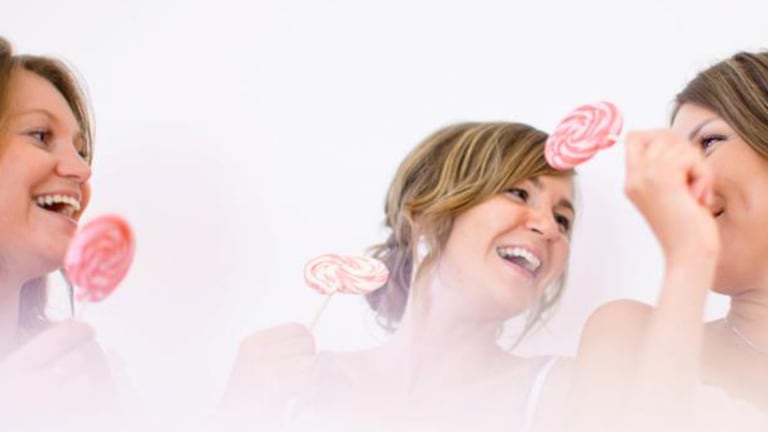 5 Ways to Stay Close to Your Friends as an Adult, Whatever They're Going Through
Because Valentine's Day isn't all about romantic love
Every year I find myself caught between the Valentine's Day enthusiasts and the haters. On the one hand, I'm a total sucker for any chance to give gifts and write sappy notes. On the other hand, I think that the way the holiday is packaged and sold to us is all wrong. If Valentine's Day is all about sexy lingerie and cheesy romance, you can count me out; there are plenty of other more meaningful anniversaries and dates in the year to celebrate your love as a couple that aren't dictated by overpriced greeting card and chocolate companies.
Growing up, my parents made a point to make Valentine's Day all about non-romantic love. It was never about valentines from mysterious admirers or going on a date with your crush. Instead, I looked forward to February 14 as a fun chance to write friends and family little love notes. Growing up and getting married hasn't changed this for me. Rather than a romantic date for two, my husband and I usually have a little dinner party with loved ones and remember how lucky we are to have such a wonderful community around us.
Reclaiming Valentine's Day as a celebration of friendship and non-romantic love has proven to be great for my friendships as well. I don't know about you, but I have so many friends who could use a special sign of affection, and this is a great opportunity to let them know you haven't forgotten about them—no matter where they are in life.
Every friend (and every friendship) is totally unique, so why not plan on doing something special to meet your friends' individual needs this year? Here are a few ideas to inspire you.
01. For Your Long-Distance Friend
Adult life can get so busy that it's hard enough to check in with friends who live down the street, let alone a different state or country.
This year, consider planning ahead, and send your friend a thoughtful note or small gift (like a bunch of flowers from The Bouqs delivered to her door). Tell her what you admire and appreciate about her. Has she been going through something particularly tough recently? Make her feel known and understood, not by offering advice but by simply acknowledging that she's been having a rough time and telling her that you're there for her.
In The Four Loves, C. S. Lewis wrote that "Friendship . . . is born at the moment when one man says to another, 'What! You too?'" The best friendships feel like a homecoming, a true meeting of souls. Think about the things that you and your friend have connected about over the years. In what way has getting to know her made you feel like you've met a kindred spirit? In what ways does she make you feel less alone in life? Be specific, and it won't feel embarrassingly cheesy. You may be surprised by how much she needs to hear it.
02. For Your Single-and-Looking Friend
To a single person who is hoping to settle down, Valentine's Day can feel like another cruel reminder that they haven't met Mr. Right yet. There is also the fact that right after the holidays, it feels like the whole world and her sister got engaged. Just like that, you've got a perfect recipe for the single blues.
Hosting a dinner party on Valentine's Day is a meaningful way to make your single friends feel loved and appreciated and to show them that their life isn't just a waiting room for marriage. You don't have to make it an awkward singles-only event, either; I don't believe in segregating singles and couples because we're all in this together, after all. Just make sure you've got enough single guests so that no one feels like the odd one out. You never know—if you invite the right combination of single-and-looking friends, maybe they'll hit it off in a no-pressure situation.
If you want to get the conversation flowing, you can even invent a simple dinner game where people take turns pulling cards out of a basket and answering questions like, "What is the kindest thing a stranger has ever done for you?"
03. For Your New-Mom Friend
My number one fear when I had a baby was that my new situation would put a strain on my friendships. It turns out that I needn't have worried because my friends were—and continue to be—totally awesome at making me feel included and well-loved. But for a new mom that fear is very real.
Every new mom tends to feel a little out of the loop, socially. Having a new baby can often leave women feeling isolated and confined to their homes as they get used to breast-feeding and unpredictable nap schedules.
The perfect way to show your new-mom friend some love and appreciation is to ask her what she really wants and needs, and then do whatever you can to make that happen. Maybe she hasn't had a date with her husband in a while, and I can bet that getting dressed up and going out for dinner feels like a rare treat. Perhaps, offer to babysit. Or maybe all she's craving is a night in with a meal she didn't prepare and a movie. Would she like for you to come over with some girlfriends and cook dinner and hang out at home?
Or maybe she would love a Valentine's Day brunch with her closest friends in a baby-friendly environment. Whatever it is, you can be sure that she'll be really touched that you took the time to consider what her needs might be during this new and unpredictable phase of her life.
04. For Your Friend Who Is Feeling Blue
Perhaps your friend has recently suffered the loss of a loved one or is struggling with depression. Whatever the cause, loneliness is a feeling that they are learning to live with every day. When you're feeling down, you often get insecure that you're bad company or that if you share how you're feeling, you'll end up pushing friends away. The best Valentine's gift you can give this friend is the knowledge that you love and appreciate her and still enjoy her company even though she's not feeling like herself.
There's a beautiful comic called Nest that captures the power of what you can do for a friend who is depressed: Ask them what they need, and if they don't know, just be with them and don't try to take them out of their comfort zone. As certified counselor and Verily writer Julia Hogan says, "Often what's most helpful is simply spending time with them and letting them know that you haven't forgotten about them." Hogan explains:
"It's very normal to feel a little unsure about what to say or do when a friend is going through a rough patch. Simply showing that you are thinking of her and are there for her is enough. Saying 'everything happens for a reason' or 'just be positive,' though well-meaning, is often upsetting for someone who has experienced loss or is in a painful time in their life. Instead, ask your friend if there is anything she needs or would appreciate. Just by asking her, you'll be showing that you care!"
Take this opportunity to show your friend that you're thinking of her before Valentine's Day with a note or a call, and ask her if she wants to hang out. Maybe she'd like to get a manicure or a massage with you, or perhaps she'd like nothing more than to curl up with you and her favorite sitcom or movie.
05. For Your Friend Who Is Winning at Life
Let's not forget our friends who seem to be on top of the world, whether it's because they just landed their dream job, they are about to get married, or they're embarking on some wonderful travels. It's easy to look at their lives and feel like they don't need our friendship because they've got everything sorted out, but this couldn't be further from the truth.
Big transitions such as getting married or starting a new job can actually feel weirdly lonely; you're going through all of the changes in your head, secretly hoping you can handle them, and often people figure that you're happy and don't need support. I remember feeling lonely at times on my wedding day because when you're wearing that white dress, people have a funny way of backing away from you, convinced that there's "someone more important" for you to talk to. Often, all you really want is to dance like a crazy person with your friends like you would at someone else's wedding or share a moment of intimacy over how surreal it feels to be married all of a sudden.
Yes, maybe she's so happy that it's borderline annoying, and maybe she's been so wrapped up in her own good news that she hasn't been a great friend to you recently. It's OK—this is a passing phase like all of the others, and we want our friends to be happy, after all. Let her know that you're there for her and cheering her on this Valentine's Day with some homemade baked goods or a copy of her favorite old book, and you can be sure that you're laying the foundations for a friendship that is made to last, whatever the weather.
As adults, friendship can start to take a back seat in the pursuit of romance, careers, and the start of family life. No one can replace your girlfriends, though, so this year let's make a point to show them how much they mean to us.
Photo Credit: Xavier Navarro Photography