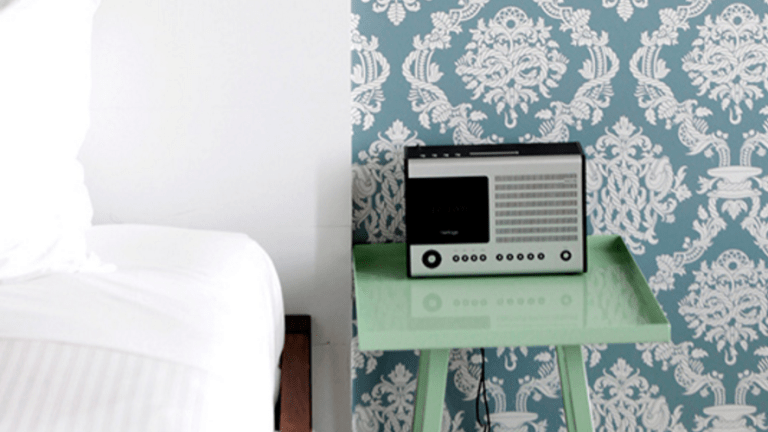 This Surprisingly Simple Tool Reduced 90 Percent of My Clutter and Improved Every Area of My Life
You don't have to go high-tech to transform your life from chaotic to ordered in one easy step.
Six months ago, my desk was an appalling mess of to-do lists scribbled on the backs of old envelopes, checks waiting to be cashed, forms to fill out, notebooks, and file folders. Despite my best attempts to manage my life digitally, paper clutter abounded. I had tried nearly every online tool—Nozbe, Evernote, Google Sheets, Asana, Todoist and Trello—but they only added virtual clutter to the physical. The mental stress and constant feeling that I was about to forget something was wearing me down.
In a moment of desperation, I decided to ditch the digital tools and go all in on one thing: an old-school, tried-and-true paper planner. By intentionally selecting this place to keep my notes and to-dos, I finally experienced a state of—perhaps not perfect but definitely improved—order. Here's what helped.
I discovered the life-changing magic of mapping out my day.
My planner forces me to be realistic about how I assess my time versus creating an overly ambitious to-do list that no one could complete in twenty-four hours.
After breakfast, I sit down at my kitchen table and review my tasks and appointments. I note my top three priorities and estimate how long each will take. Then I fill in the rest of my day with the other important, but less time-sensitive, tasks (whether they pertain to work, home, or personal commitments). Planning can feel cumbersome when all I want to do is start my day, but taking just five to ten minutes to structure my time in my planner makes me more efficient and focused.
A paper planner commands my attention and encourages me to slow down. I appreciate recording my tasks with a pen versus typing; research indicates that the act of writing encourages us to process and remember. I'm not tempted to pop over to Facebook or read my favorite blogs. Instead, I create my schedule and get to work. It stays open on my desk, urging me to stick with my plan.
My clutter now has its proper place.
Before this ritual, I mindlessly jotted down things I thought I needed to do, but I reached the end of the day feeling frustrated by how few tasks I had completed. I never adapted to a digital system exclusively, so I also accumulated bits of paper and sticky notes with even more tasks, which compounded my stress even more.
I didn't expect a basic tool to eliminate 90 percent of my clutter and improve every other area of my life. My planner serves as a "home base" for the essential paper in my life that doesn't belong in the family filing box or scattered on my desk. There's a pocket where I can keep receipts for items to return, letters that need a reply, and lists of groceries to buy. Seems trivial, but in The Life-Changing Magic of Tidying Up, the master of organization, Marie Kondo, sums it up well:
"One of the reasons clutter eats away at us is because we have to search for something just to find out whether it's even there, and many times, no matter how much we search, we cannot seem to find what we are looking for. When we have reduced the amount we own and store our documents all in the same place, we can tell at a glance whether we have it or not. If it's gone, we can shift gears immediately and start thinking about what to do. We can ask someone we know, call the company, or look up the information ourselves. Once we have come up with a solution, we have no choice but to act. And when we do, we notice that the problem is often solved surprisingly easily."
Mental and physical clutter no longer "eats away" at me, as Kondo puts it. I walk away at the end of the day empowered in knowing that I completed everything I needed to do.
I've struck a balance, but practice makes perfect.
After my initial attempt to write off digital organization altogether, I found that using a planner doesn't mean technology is obsolete. Because much of my work is on the computer, I can't use my planner in isolation from the Internet. Rather, it helped me find the right complementary tools.
My husband and I use Google Calendar to coordinate schedules and note appointments. I use Todoist to manage my master task list, whether that's yoga, taking a meal to someone, or writing a press release for a client. While Google Calendar alerts me when I need to be somewhere, Todoist lets me plan ahead and track deadlines. I store digital reference documents such as forms and our church directory to Evernote. The difference is, I now use each of these tools more intentionally, and everything comes together in my planner when I map out my time at the start of each day.
Some mornings, I want to type tasks in my phone as I go. Sometimes I leave my planner in my purse or car. Instead of fetching it, I'm tempted to scribble on the back of an old piece of mail. This is laziness on my part and ultimately sends me back to a state of stress. I'm learning that the discipline of maintaining a planner is worth the extra effort.
Although I thought it might be counterintuitive, by intentionally embracing paper in this one area of my life, my planner has spurred a mental and physical purging of my work and home life. Now, more than ever, my time and energy have purpose, and I finally have peace of mind.
Photo Credit: Belathee Photography