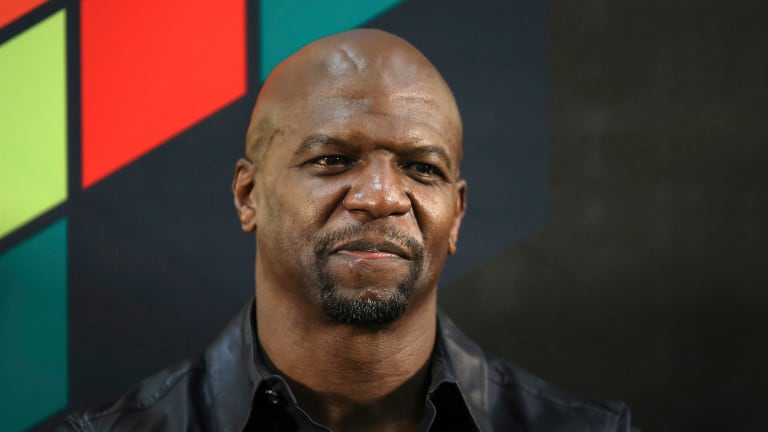 Terry Crews Just Summed Up the Problem With Porn, and It Was Brilliant
"People become body parts."
In a series of videos posted to his Facebook page over the past three weeks, actor Terry Crews of the hit TV show Brooklyn Nine-Nine opened up about his history with pornography. In the first video, entitled "Dirty Little Secret," Crews reveals that porn consumption led to a serious and debilitating problem for him. "I was addicted to pornography, for years," he explains, adding that "it really really messed up my life in a lot of ways." 
Crews' series of videos are goldmines of hard truths about the nature of pornography as well as compassionate advice about how to overcome it (or help a significant other do so). Although he covers a broad swathe of topics in the videos, Crews' overall message is clear: Pornography is a real problem, and it is harmful.

In my experience, there are few greater obstacles to addressing the epidemic of pornography in our society than the question of whether or not it is actually addictive. While there is evidence to suggest that pornography does not affect the brain in the same way that other addictive substances do (some research suggests compulsive porn users' brains react differently to images than say cocaine addicts react to images of cocaine, although it's arguable whether that's a good comparison), even the researchers who don't like to link the word porn with "addiction" admit that certain people "struggle to regulate their porn viewing habits," and that the compulsive behaviors may be severe enough to warrant treatment. 
The problem with the debate over the phrasing of porn addiction is that, too often, the question of whether or not porn is like other addictive substances is used to ignore the reality that porn dependency is real and debilitating. Crews addresses this issue head on, saying "Some people deny it....They say 'Hey man, you know, you can't really be addicted to pornography...But I'm going to tell you something, if day turns into night and you are still watching, you've probably got a problem." 
Crews is right. While porn may not be addictive in the same way that heroine is, a dependency on it is a serious problem and can have devastating consequences. Pretending otherwise does a real disservice to people.
Beyond simply acknowledging that porn is a problem, Crews offers his own experience as proof, explaining the toll that it took on his life. The habit, which he kept from his wife and friends, changed him to the point that his wife threatened to leave. "I don't know you anymore," she told him, "I'm out." But Crews explains that her desire to leave was not ultimately what caused him to seek help. "My issue was, and is, with pornography is that it changes the way you think about people. People become objects. People become body parts. They become things to be used rather than people to be loved." 
In later videos, Crews explains how for him, porn was self-defeating when it came to filling voids in his life. While he attempted to use porn to quell depression and loneliness, and satisfy an innate desire for intimacy, it failed to do so. "Every time you look at pornography is a desire for intimacy. You are trying to fight your feelings of being alone by filling it with pornography in an attempt to feel like you are with someone," he explains. "The problem is pornography is an intimacy killer. It's kinda like being on a raft in the ocean and you're dying of thirst and...you start drinking ocean water, which is salt water, and it's going to kill you….you need to find a way to get fresh water."
What's funny about our culture's relationship with porn is that, for every person who dismisses porn as not addictive, there is another who holds the belief that men simply "need" porn and can't help but look at it. In that way, Crews' heartbreaking story comes with a silver lining: Crews, who says he has "been free of this thing probably going on six, seven years now, thank goodness," is proof that even the seriously addicted can free themselves from the hold that porn has on them. Yes, his journey to overcome his addiction required rehab, therapy, and a total change in worldview, but Crews is now porn free and remains happily married to his wife. Despite what society tells us, men don't need porn, and Terry Crews' story proves it.
There is no denying that pornography is a controversial subject, but if there's one thing that both opponents and proponents of the phrase porn addiction can agree on it's this: It's a topic that we need more discussion on, not less. Given its rampant and widespread use, the repercussions of porn use are worth taking the time to understand. In which case, regardless of whether you or a loved one struggle with pornography, we can all benefit from hearing Terry Crews out. In his own words, "We have to root it out and call it what it is." Bravo to Crews for not only conquering his demons, but for being brave enough to speak up.
Photo Credit: Getty Images