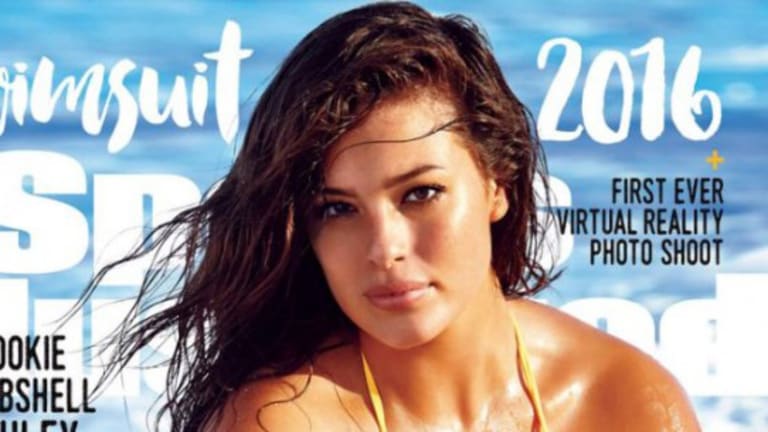 Sports Illustrated Claims to Be Making History, But Here's Why It Really Isn't
Broader beauty standards aren't so new, actually.
Sports Illustrated has finally unveiled who will grace the cover of their 2016 swimsuit issue. For the first time in history, Sports Illustrated "crowned" three different models. Gracing the covers are former UFC Women's Bantamweight Champion, Ronda Rousey, fashion model Hailey Clauson, and the magazine's first featured plus-size model Ashley Graham.
Sports Illustrated has called its move "history in the making." Commenting on the magazine's choices, the magazine's assistant managing editor MJ Day says, "Every single woman that is booked for this magazine is cover worthy. The collective beauty in the magazine is overwhelming. SI has always been and will always be about the models; the pictures you see here are a celebration of them." Day goes on to explain that the announcement is part of the "new" Sports Illustrated, one that reportedly recognizes that beauty comes in many sizes. "Beauty is not cookie cutter. Beauty is not 'one size fits all.'"
Am I the only one who finds this whole thing a little bit ridiculous?
As far as appreciating a broad range of beauty ideals, Sports Illustrated is astoundingly late to the party. That "beauty is not cookie-cutter" is a fact I think most of us have known for a long time. Sports Illustrated has simply failed to recognize it until now. So while SI's recognition of the fact that beauty comes in many forms is indeed unprecedented for their magazine, it's hardly a revolutionary concept.
I also find the revelation somewhat condescending. To insist that "every single woman that is booked for this magazine is cover worthy" sounds nice, but its implications are pretty cringeworthy. What exactly does is mean to be "worthy" of SI's famed cover? The answer to that question requires one to look at what Sports Illustrated's swimsuit edition really is. Sports Illustrated has long made a business of packaging and selling female sexuality for mass consumption. The inclusion of a stockier athlete and a curvier model seem only to suggest that what these women are "worthy" of is mass objectification—just like their more svelte counterparts. 
On choosing Ashley Graham for the cover, the magazine's spokesperson called her a masterpiece and said "I dare you not to stare at her"—the implication being that, despite her less than ideal proportions, Graham is still worthy of the male gaze. So let me get this straight: the only historic aspect of this year's issue is that the magazine is exploiting the sexuality of a broader range of women? In my mind, that's far from progress.
I don't buy it. Despite what spokesmen for the magazine are saying, I don't believe that Sports Illustrated has always been about the models. I think that the magazine has long catered to the sexual preferences of those buying it. SI is selling magazines to men. It's not exactly news that plenty of men like curvy women, nor is it a secret that nowadays you can get lots of good press for including diverse body sizes and holding them all up as sexy (and more people buying said magazine to check it out). This seems far more like a savvy business move than some sort of statement about what should be considered beautiful.  
There is no doubt that all three of these women are beautiful. But I didn't need to see them on the cover of Sports Illustrated to know that, because Sports Illustrated is not the supreme judge of who is or is not beautiful. The fact that they seem to think so is rather offensive. The reality is that SI is simply one of many magazines that has, for a long time, used female sexuality to make money, and this issue is no different.
That these women are "worthy" of Sports Illustrated's cover, I have no doubt. I'm just not sure Sports Illustrated is worthy of them.
Photo Credit: Sports Illustrated