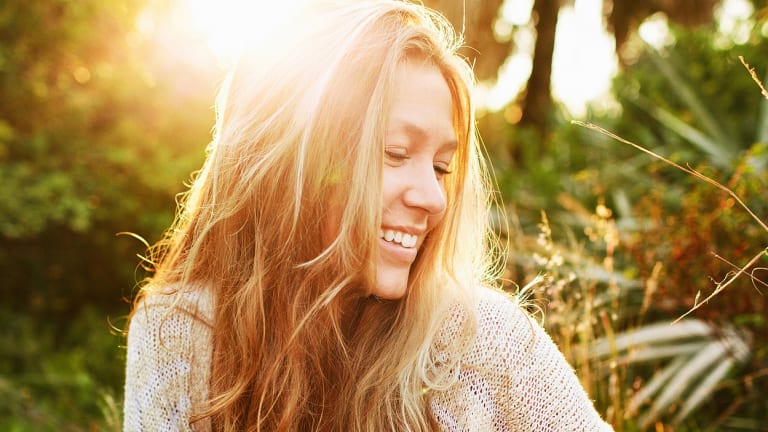 10 Ways to Get a Healthy Glow Without Going to the Tanning Salon
Don't let these dark and dreary months steal away your glow.
As we continue to trudge through the dreariest months of the year, it's hard not to desperately pine for warmer days and sun-kissed skin. If you're looking in the mirror and feeling ghostly, here are a few tips to achieving that summer glow without the disastrous health effects of tanning.
Naturally //
1. Whiten Your Teeth: If you are not interested in topical tanning solutions, try whitening your teeth. You'd be amazed at how a little contrast from those pearly whites can give your skin a glow. The whiter your teeth are, the more they contrast against your skin tone, making you appear tanner.
2. Exfoliate: With cold weather comes dry skin. You may not realize it, but dry skin can give you a chalky appearance, making you look paler than you actually are. A common misconception about exfoliating is that it will get rid of any tan you have left over from the summer, but the truth is that exfoliating removes those lifeless dead skin cells to reveal brighter and healthier skin.
3. Antioxidants: Let's all just admit that it's harder to stay on top of our health during the winter. When the threat of shorts and bathing suits are gone, it's easier to let our fitness and health routines slip away. The problem is, when we forgo healthy foods, we miss out on lots of antioxidants, which help fight free radicals. Too many free radicals can result in oxidative stress, which can play a major role in aging and overall unhealthy-looking skin. To repair your cells from the inside, incorporate foods that are high in antioxidants to fight free radicals. Try berries, apples, pecans, plums, kidney beans, pinto beans, potatoes, and artichokes. Antioxidants can also be applied topically in face creams, serums, and clay masks. We suggest trying Coast to Coast's Skin Brightening Red Clay Mask, which is packed with vitamins, minerals, and antioxidant properties.
4. Lemon Juice: Using lemon juice topically is cheap, easy, and a natural way to brighten your complexion. Lemons are full of vitamin C and antioxidants that help to even out skin tone and lighten pigmentation spots (not to mention, tighten your pores). To incorporate lemon into your beauty regimen, we suggest creating a natural exfoliating scrub with 2 tablespoons of brown sugar, 1 egg white, and 1 teaspoon of lemon juice. Feel free to leave this scrub on your face for a few minutes to allow the lemon to really work.
5. Apple Cider Vinegar: Pinterest, natural bloggers, and even Scarlett Johansson have been touting the benefits of raw, unfiltered apple cider vinegar (or ACV, as the pros call it). When used topically, ACV combats acne and age spots, balances oily skin, and removes toxins. Raw apple cider vinegar is made from organic apples that go through a double fermentation process. During this process, enzymes and other nutrients such as potassium, pectin, malic acid, and calcium are fortified, making them even more powerful. When applying to your face, mix ACV with water—this stuff is strong! Leave on your face for about twenty minutes before rinsing.
Cosmetically //
1. Tinted Moisturizers and BB Creams: Want an even and radiant skin tone without the hassle of putting on a full face of makeup? We all put on moisturizer (hopefully) in the morning, so why not kill two birds with one stone and use a tinted moisturizer or BB cream? These alternates to foundation are much creamier and easier to blend into your skin and many also contain SPF. The mild tint is enough to give you some color without looking fake.
2. Illuminating Primer: If you prefer full coverage and use foundation on a daily basis, try using an illuminating primer before applying your foundation. An illuminating primer will keep your makeup in place all day while giving your complexion an extra oomph with a luminescent glow. If you want a really quick fix, try mixing a couple drops of liquid illuminator in with a liquid foundation for an overall dewy finish.
3. Highlighting: A few swipes of highlighter on your cheekbones and brow bones is a quick and easy trick to give yourself brighter skin and a more defined bone structure. You can apply it on top of your makeup or simply on moisturized skin for a hassle-free, on-the-go look. Never use a color lighter than "champagne"; silver and white highlighters tend to look too artificial.
4. Strobing: This may be the newest craze in the beauty industry, but don't let that scare you off. Strobing is actually less intense than contouring and perfect for those who just want to highlight their bone structure. You really only need two things: concealer and a highlighter. Begin by using the concealer under your eyes, and blend thoroughly to the tops of your cheekbones. Then, take a brush and lightly apply highlighter along the tops of your cheekbones, the top of your nose, and around your brow bone. Confused? Check out this tutorial.
5. Bronzer and Self-Tanner: Of course, when it comes to getting a little help in the glow department, the go-to aids are bronzer and sunless tanners. The key with a powder bronzer is to not go too dark—stick within one or two shades of your natural skin tone (get the perfect bronzed face with our step-by-step tutorial here). If you're really serious about getting some wintertime color, go the self-tanner route. St. Tropez is a cult classic, but for a cheaper option, try Neutrogena tanning mists. You know the drill: Shave the day before, exfoliate, apply extra moisturizer beforehand, and don't overdo it. And don't forget to wash your hands! Remember, even the best self-tanner can't work miracles; just go for a light glow in the winter.
Photo Credit: Shannon Lee Miller