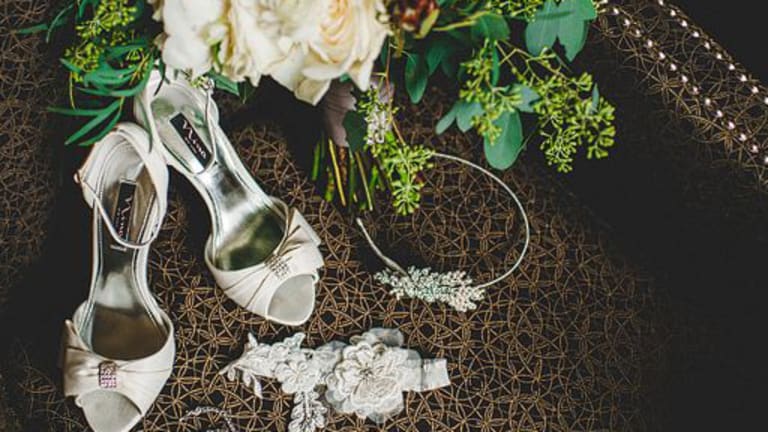 My Secret Pinterest Wedding Board Is Making Me Dread My Wedding
The moment I realized I was focusing more on my dream wedding than the guy sitting right next to me
To the average pin stalker, my Pinterest account looks pretty weak. My board titled "Food" has only a few cookie recipes. (Thanks to my recent Crock-Pot purchase, it's getting a bit stronger.) But the other one—the "locked" board—is a little more telling. This hidden board has more pins than I could even begin to count.
This board is my secret wedding board.
It's brimming with pins. And I know I am not the only woman with one. This unhealthy fantasizing consumes my life and both my Pinterest and my Instagram account. If you were to scroll through my feed, you would see about every other image is a wedding account. Engagement photographers. Towering trifles and rustic log wedding cakes. Bejweled blue satin wedding shoes. The braided updo interwoven with baby's breath. Flowy bridesmaid dresses in every color of the rainbow. Southern wedding-themed accounts. I'm not even southern, but I follow! You name it, I probably follow it.
I probably could have continued down my path of pinning and liking and day-dreaming about all things wedding right up until my own walk down the aisle, but one night—it hit me. I opened up my Instagram app, and realized something. Every post in my feed was a wedding photo. Every. Single. Post.
My stomach just sank. I was sitting next to my boyfriend Zach, and I turned and confessed to him, "You must think I am the most ridiculous person." He had seen me scrolling and tapping and screen shot-ing, but this night was just different. I felt like my future dream wedding was starting to become more important than the guy presently sitting right next to me.
For the record, Zach and I have been attending premarital counseling, and I assume I'm a few months away from actual engagement, so I'm not completely delusional with the wedding fantasizing. But lately I've realized that I need to take a step back from the screen. There's nothing wrong with planning and wanting to have an extra-special day when the time comes, but all the imagery—all the "perfection"—can take a toll on what's right in front of us, in real life.
I can sense this growing pressure about expectations. It's hard not to when I am bombarding myself with pristine images of other peoples' weddings. But with so much to compare my own wedding to, I fear I'll wind up anxious, maybe even disappointed, by superficialities on that day. And that's not what I want.
I want to be present and genuinely enjoy the celebration. My husband, my family, the people who will all be there to take part. Rather than worry if my photographer will capture my own perfect, Pinterest-worthy photos, I want to be focused on living candidly and enjoying the moment. But social media's influence has me worrying about if we need a sparkler-lit exit or a confetti toss.
I know comparison is a dangerous game. It's so easy to slip into an approval-seeking mindset. But do I really want to enter my marriage that way?
Of course I want my wedding to be unique and live up to my own high expectations and those of others who will no-doubt "stalk" my photos on Facebook just as I've done theirs. And sure, I want people to say, "That was an awesome wedding!" But more than anything, I want our big day to reflect my style and Zach's style. I want people to say, "That was so Zach and Emily." I want us—not a Pinterest trend—to be reflected.
So I've cooled it down with the pins and insane expectations. If it makes sense to me and Zach, and it makes us happy, then the day will be a success. It doesn't have to be a perfectly color-coordinated dessert table or the fanciest entrees. (In fact, we want to serve Chick-fil-A because it's our favorite.) At the end of the day, I want this day to be quintessential us. To tell our story.
I wish I could tell you that I've deleted my Pinterest board and no longer care. But it's just not the case. I do think acknowledging that I can appreciate but not have to replicate what I see is really helpful. Talking to my friends and my mom about it has also made me feel a lot better. I feel less ridiculous now and also really grateful that I'll even be able to have the opportunity to plan something so special.
It sounds cheesy, but I know our wedding will be beautiful because the thing we will be committing to is beautiful. And no matter the cake topper, the color of the napkins, or the parting favors guests are bound to toss (although a personal goal is to come up with a totally awesome favor), we will have this amazing opportunity to celebrate with the people who really matter. And I want that joy and gratitude to be what's "like-able" about our wedding, not just the aesthetics.
Photo Credit: Manchik Photography