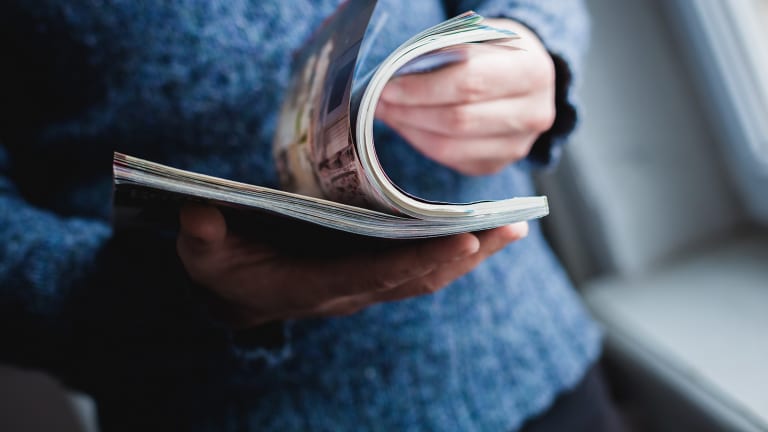 Playboy's New 'Sexy But Safe' Transformation Reveals a Disturbing Trend
Why Playboy's 'transformation' ought to concern us
On February 12, Playboy's March issue will hit newsstands looking somewhat different than it has in the past. For the first time in the magazine's 62-year history, it will not feature nude photos. The move is part of a broader makeover of the magazine from sexually explicit pornography to milder sex-imbued "art, literature, and long-form journalism." The photographs will still be provocative, but there won't be any full-frontal nudity. "It's going to be sexy, but it's going to be safe for work," says the magazine's chief content officer Cory Jones.
The centerfold will feature Dree Hemingway, daughter of actress Mariel Hemingway and great-granddaughter of Ernest Hemingway, as the first non-nude Playmate in the magazine's history. The fact that playmates will not be asked to pose nude any longer is a plus in the respect-for-women department. However, Playboy's transformation reveals some truly disturbing trends about our society's overall objectification problem.
First of all, it is not a decline in the demand for pornography that is driving Playboy out of the nude image market but the exponential increase in the amount of porn available. "I think in today's world it's sort of unrealistic to think that anyone's subscribing to Playboy magazine because they can't find nudity anywhere else," Jones admitted. As a source of explicit pornography, Playboy is no longer needed or relevant. In order to stay viable, Playboy had to change its product.
The implications of this are both mind-blowing and depressing. At one time, Playboy, in its NSFW (that is, Not Safe For Work) form, was considered revolutionary and shocking. Now, NSFW is standard, and Playboy's once-scandalous photos fail to stand out.
But Playboy's transformation ought to concern us for another reason. It is worth asking ourselves why a toned-down, "safe for work" version of Playboy would improve the magazine's sales. I think the answer is that the "SFW" version of Playboy, and the many magazines like it, indulge a desire to have sexual stimulation in places where sexual stimulation is out of place or taboo. Regardless of whether anyone is truly reading Playboy literally "at work," the new Playboy depends its revamp on a troubling idea: that there's demand for readers to insert a sexual component into previously asexual aspects of their daily lives. That whether catching up on current events on a morning subway commute, reading about the upcoming presidential election, or finding new beard-grooming techniques, it's perfectly fitting to objectify and fantasize about women at the same time. In a certain sense, Playboy is going in the direction that GQ and Maxim have already gone—news and politics with a side of sex. If food were information, they'd be the journalistic equivalent of Hooters.
If there is any truth to this hypothesis, now's a good time to ask ourselves a few questions: What does it say about our society that there is a demand for constant sexual stimulation? What does it say about our culture that we want sexual stimulation to not only be a portion of our day but to utterly saturate it as well? If our society has become so reliant on a steady diet of sexualized imagery, it starts sounding like an alcoholic who spikes his coffee with gin just to get through the day. If we can't get through the day without sexual stimulation, at work or not, maybe like the alcoholic, it's time to admit that we have a problem.
Photo Credit: Adobe Stock