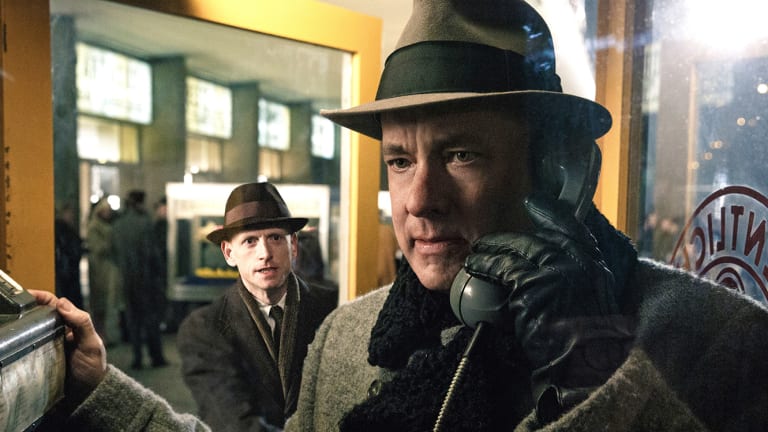 A Quick and Easy Guide to the Best Picture Nominees for This Year's Oscars
Consider this your CliffsNotes guide to the best films of the year.
The Oscars are a huge event every year, and while the pomp and ceremony can certainly seem a bit frivolous at times (and controversial in others), the event remains Hollywood's biggest night—the Super Bowl for celebrity watchers. Watching the ceremony is a time commitment, but it can be much more fun when you have a horse in the race, so to speak. So if you haven't yet watched this year's Best Picture nominees, you have a few days left to get filled in and pick your favorites.
There are eight Best Picture nominees this year (out of a possible ten), and they represent a surprisingly wide variety of genres, with four of them based on true stories. There are no obvious front-runners as far as I can tell, and the nominees offer something for just about everyone. Check out these teaser reviews to whet your appetite for the big day on Sunday.
The Martian
This blockbuster hit, starring Matt Damon as an astronaut stranded on Mars, is enjoyable but somehow not quite as compelling as last year's space-themed Best Picture nominee Interstellar or my favorite space movie of all time, Apollo 13. Perhaps it is my own personal block against a film (and book, for that matter) that relies more on scientific procedure and engineering talk than narrative and character, but I never found myself carried away by the concept of being stranded alone on a planet. (I also kept getting distracted by the fact that Jessica Chastain's hair always looked perfectly curled, which seemed odd for outer space.)  Nevertheless, Damon's performance was very good, bringing the humor of the main character to life in a way that I hadn't anticipated, and a feel-good, brilliant-minds-coming-together-in-moments-of-crisis story line is always enjoyable. If you didn't get the chance to see this one in the theater, find a friend with a big TV, bring out the popcorn and wine, and settle in for a pleasant, if not world-changing, evening.
Spotlight
Spotlight is not an easy film to watch, especially if you have any ties to the Catholic Church. The movie, which at its heart is as much about the mechanisms of investigative journalism as it is about the sex abuse scandal, is a jarring reminder of the horror of the real-life events and the pain they continue to cause. The ensemble cast, which includes Michael Keaton, Liev Schreiber, and Rachel McAdams, is full of notable performances. Mark Ruffalo in particular stands out; you feel his character's emotional journey in your bones as he investigates this story (from curiosity and disbelief to anger, disillusionment, and finally heartbreak). Don't watch this before heading out for a fun evening; the subject matter will stick with you for days.
The Big Short
Once you stop trying to shove The Big Short into any one genre, this movie becomes quite enjoyable to watch, which is saying something considering it's all about how the entire country was plunged into an economic recession though greed and fraud. From comedy to drama to just plain wacky, the movie manages to show both how ridiculous and dangerous Wall Street can be. Christian Bale and Steve Carell give marvelous performances, with Ryan Gosling's fake hair rounding out the leads. The film frequently breaks the fourth wall, bringing in celebrities Margot Robbie and Selena Gomez to put the financial lingo into layman's terms. The borderline condescension of this trick may just be the calling card of the movie—because even though I didn't come away feeling like I understood the roots of the 2008 financial collapse any better, I did feel indignant about how easily we, as a country, were bamboozled by the big banks. Watch this with friends who love debating.
The Revenant
The Revenant is the talk of the town this year, with people betting on this performance finally earning Leonardo DiCaprio a Best Actor Oscar. Based on a true story, the movie takes place in the American wilds of 1823, and the gorgeous cinematography is undeniable. Much has been made of the hardships that the cast and crew endured during the making of the film, while other talk has been about the juxtaposition between the long periods of silence and scenes of intense violence. Be on the lookout for this one to take home a lot of prizes.
Mad Max: Fury Road
The inclusion of an action movie as a Best Picture nomination is remarkable, as the genre often rakes in more box office revenue than traditionally awarded movies. By all accounts, Charlize Theron creates a female action hero for the ages, with reviewers excitedly noting the arrival of a feminist action movie. Verily's Mary Rose Somarriba described the film as one of her favorite standout moments of 2015: "What in trailers appeared as a wacky thrill-ride mix of apocalyptic fantasy delivered in theaters a surprising tale of bravery and sacrifice with feminist undertones throughout. Charlize Theron stars as Furiosa, a decorated soldier revolting against an oppressive government led by a corrupt dictator. The film starts as Furiosa leads a group of sex-trafficked women out of captivity. . . . Along the journey, she encounters Max, a disillusioned yet good-hearted man who is plagued by shame for his past mistakes. The result is an unlikely alliance and friendship"—that will make you wish for a sequel. Call it the rogue underdog of the Best Picture category for this year.
Brooklyn
This coming-of-age story should cement star Saoirse Ronan as the next big thing, with her performance earning her the second Oscar nomination of her young life. Charming, earnest, and witty, the film, which is based on the novel by Colm Tóibín, casts a romantic wash over a young girl's journey from Ireland to Brooklyn to create a new life for herself in the 1950s. Julie Walters just about steals the show as Eilis' landlady, with Emory Cohen's and Domhnall Gleeson's characters each trying their best to earn Eilis' heart. The film doesn't use any modern movie magic to get your attention—only simple, authentic storytelling that offers up a heroine worth rooting for. Curl up with a blanket and just try not to get swept away.
Room
The well-deserved success of Room is owed entirely to its two stars, Brie Larson (who'd better win Best Actress if I am to keep from throwing things at the television while watching the Oscars) and Jacob Tremblay. Playing a mother and son who have been held captive in a small garden shed for five years (the whole life of Tremblay's character Jack), the film radiates with love that has flourished under the most abominable of circumstances. I don't want to talk too much about the plot because if you haven't seen this movie yet, go out right now and fix that. You'll want to hug someone you love extra-tight after doing so.
Bridge of Spies
Bridge of Spies is typical Steven Spielberg fare—enjoyable, slightly schmaltzy, and filled with solid performances. Tom Hanks plays James Donovan, a New York lawyer hired to represent Russian spy Rudolf Abel (Mark Rylance in an incredibly nuanced performance) during the Cold War. Spielberg's views on the politics of the time are obvious throughout—the movie definitely downplays the harm caused by the real-life Abel, portraying him as a helpless foot soldier of the Cold War, and despite a compelling performance by Hanks, I found myself with more questions raised about the real-life Donovan and his motivations than answers. All in all, it's no Lincoln, but an interesting glimpse into Cold War America nonetheless.
Now that you've read the CliffsNotes version of this year's Best Picture nominees, you've got all you need to keep up with others at your Oscars party—or just to choose which amazing film you'd like to see next. Cheers!