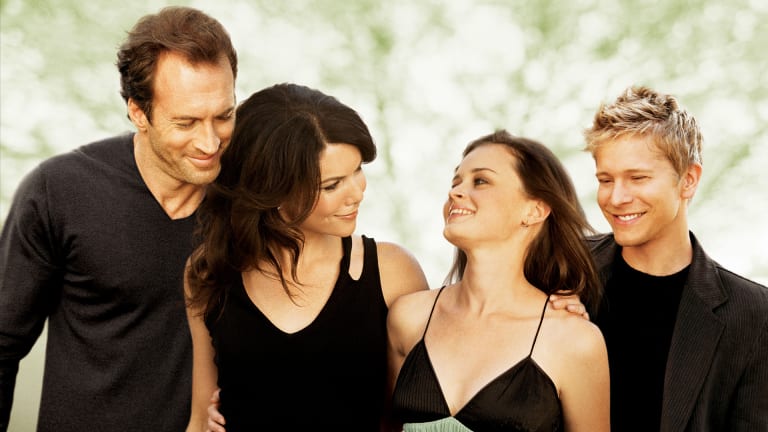 Gilmore Girls Fans, Rejoice! The Show Is Finally Getting the Ending Its Creator Intended
Gilmore Girls fans everywhere are doing a happy dance right now.
Ever since Lauren Graham tweeted back in October that she could neither confirm nor deny the rumors of a Gilmore Girls reunion, fans have been dying for some confirmation. Well, on Friday the rumor was finally confirmed by Netflix: The old gang is reuniting to make a new limited-series reunion of the show. The news was announced via the Netflix Twitter account with a bit of humor designed for die-hard fans—a GIF of some poodles and the caption "OY with the poodles, already!"
The coolest thing about this news? It isn't just any old reunion; back in 2006, the show's creators, Amy Sherman-Palladino and her husband Daniel Palladino, left the Gilmore Girls team before the final season due to a dispute with Warner Bros. over contracts, meaning that Amy didn't get to end the series the way she had originally planned. And, talking in an exclusive interview with Entertainment Weekly just after she quit the show, she revealed that she did in fact have a particular ending in mind for her characters: "We have a very specific idea of how we wanted the series to ultimately end, and there's a myriad of ways to get there, which could have accommodated another few seasons." Now we're finally going to get the Gilmore Girls ending as envisaged by the show's dynamic creators.
There isn't currently a release date for the new series, but previous reports claim that it will consist of four ninety-minute episodes set in the present day (so, around nine years after we said goodbye to the show's characters in their seventh season back in 2007). Sherman-Palladino has confirmed that she will be writing and directing all the new episodes with her husband, and it has also been confirmed that key actors such as Lauren Graham (Lorelai Gilmore), Alexis Bledel (Rory Gilmore), Scott Patterson (Luke Danes), and Kelly Bishop (Emily Gilmore) will be back in their old roles.
As a firm believer in ending on a high note and knowing when to let a good thing go, I'm not usually one to get particularly excited about remakes and reunions. I'm totally on board with the hype for this new miniseries for several reasons, though. It's limited (i.e., it's not just a money-making plan to endlessly spin out a beloved series beyond its natural life span), and it's a unique chance to see where Sherman-Palladino wanted her characters to go.
For me, the genius of Gilmore Girls is all in the characters—they are all so utterly themselves, with all their quirks and charms and flaws, so vividly sketched out that they feel like real-life friends you can imagine bumping into at Target or your local diner on a Saturday morning. And best of all, they are characters who demand empathy of the viewer. Sherman-Palladino's unique talent is in taking characters who could easily slip into the realm of obnoxious stereotypes and making them relatable and even sympathetic—think of Emily Gilmore, with her perfectionist and controlling tendencies, and the way that her insecurities and rigid worldview are revealed and explored as the series progresses. It's going to be a total treat to see where these wonderfully realized characters are today, and I can't wait to see what Sherman-Palladino has in store for them.
Photo Credit: Warner Bros.