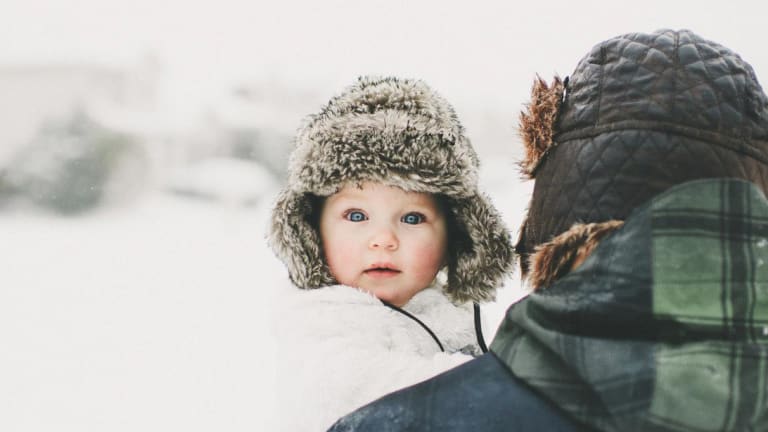 Having a Baby Young Has Helped, Not Hindered, Our Dreams
There's no such thing as being "ready" for kids.
My husband and I have none of the things I once thought were essential if you wanted to have a baby (except being married). We don't have our own place to live, we don't have full-time jobs, and we just got our first stroller for Christmas—four months after our daughter was born. No mom groups, no maternity leave, and certainly no Pinterest-perfect nursery.
We always wanted to have kids young. Two Christmases ago, I casually mentioned to my husband that I hadn't gotten my period yet, only to be marched into the bathroom with a pregnancy test. That little stick didn't think twice before producing a clear-as-day plus sign. We were thrilled. And we were scared. We were 22 and 23 and had only been married six months.
We were living in New York and both working full-time jobs we loved. From all outward appearances it was a newlywed dream—one we were pretty sure a baby wouldn't fit into well. Should we look for a bigger apartment? Should I quit my job? Should we leave the city?
Something was about to change. Of that we were certain.
We moved from New York to Georgia in the summer. We are now living with my parents. My husband is getting his master's in Atlanta. I quit my job and now work from home. Our baby girl was born in early September. Life has never been the same since.
I know what most people think when they hear our story. They think we're crazy—that this is a classic example of why one shouldn't get married young (or at least why birth control exists). They pity me for giving up my job to stay home. They almost always assume that getting pregnant was an accident. Without meaning to, they draw the conclusion that our lives have been made worse.
Here's what most people don't know. We did in fact know what we were doing when we got pregnant. I gave up an administrative job at a magazine and am now getting paid to write—a long-time dream—about things I'm passionate about. We didn't move because we were expecting but because my husband got accepted into one of the top master's degree programs of his field. We are born-and-raised Southerners finally out of New York City, and we don't miss it one bit. We live with my parents, and we actually have more room than we had in New York. I get to live with my little sister, who was 10 years old when I left home—I got to be there for her sixteenth birthday, and she got to be there when I had my baby.
Something else most people don't know is that being the first of your friends to have a baby means getting a sink-or-swim crash course in adventurous parenthood. It means there's no one to compare yourself to, so you can pave your own path and forgo things like a stroller or even a nursery, and no one will care. It means you still go out for dinner or drinks with the girls, double dates, or parties—and you just bring the baby. It means you dress the baby like an Ewok when the new Star Wars comes out.
Don't get me wrong—it will be great when someday I have a community of mom friends who understand true sleep deprivation and want to have coffee at 11 a.m. instead of 9 p.m., but for now, I am so thankful to be learning flexibility, to be enjoying the things we love, and to know that babies are an addition to, not a subtraction from, this crazy and beautiful life.
Having a baby did not stop us from living our dreams; it actually catalyzed them. She taught us to think and live outside the box. If it hadn't been for her, I wouldn't have had the courage to start freelancing. My husband would have taken the job he was offered in New York and delayed grad school. We wouldn't have considered living with family and the joy that might bring to our lives.
And the truth is, even without all these blessings, our baby girl is beyond worth it. We are crazy about her. She has made our marriage stronger and increased our happiness immeasurably. Our situation has taught us that there are at least two myths of Western culture better off ignored: the myth that kids will slow you down and the myth that there is such a thing as being "ready" for kids. Maybe life with kids is easier if you slow down in some areas, but that's a choice—one we are happy we haven't made so far. And no amount of stuff, income, or square footage will make you ready for kids. The only thing I know that makes you ready for a baby is having one.
Yes, people will look at you weirdly sometimes. Yes, you will stand out. But if you're brave enough to have a baby, you're probably brave enough for many other things that will bless your life. Go ahead—take career risks, try new things, travel, and start a family while you're young. You never know what you might be missing.
Photo Credit: Manchik Photography