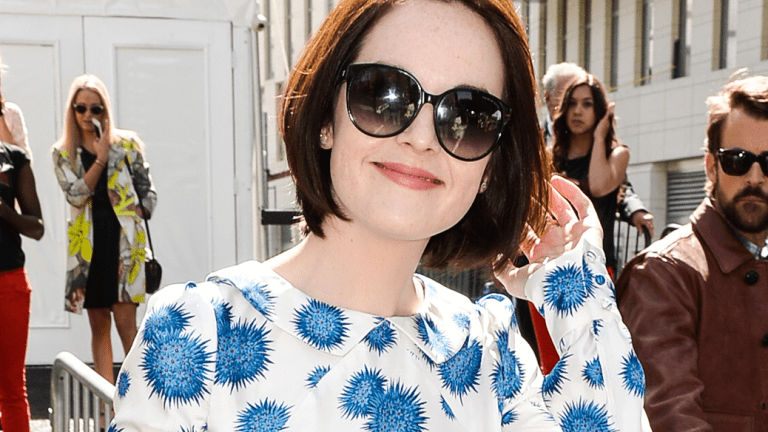 When She's Not Playing Lady Mary, Michelle Dockery Has Some Serious Style
Michelle Dockery, better known as Downton Abbey's Lady Mary, has been lying low, under the popular media's style radar. Unbeknownst to many, Dockery's subtle style-icon status is a reflection of her easygoing yet feminine tastes. Her fashion choices are not gregarious or attention-seeking, but when looking more closely, her attention to the finer details of the fashions she dons becomes pleasantly obvious. Whether it's in the delicate embroidery of a dress, the luxurious velvets she masterfully makes casual, or the bold prints she femininely tempers, Dockery's style is as lovely as she is—and we're taking notes.
Edgy Meets Feminine //
Always subtle with her high-fashion choices, Dockery blends edginess and femininity into her ensembles. This ready-to-wear cream shift dress with a bright abstract floral pattern is much more toned down than her iconic Golden Globes gown, but it is similarly ladylike and fashion-forward. The fit of her dress is simple and flattering, perfect for supporting the bold print without overdoing it.
Recreate the look yourself with a bold floral dress, a pop of color in your accessories, and feminine, fresh makeup.
Upscale Casual //
Who knew casual could be so regal? If anyone can make a plain T-shirt look fabulous, it's Lady Mary's real-life counterpart. You won't see Dockery looking grungy any day; she is a pro at balancing extravagant items with more casual ones. Take this expertly mixed velvet pencil skirt with an average graphic tee: It's a uniquely juxtaposed outfit that just works. She keeps the overall look toned down and laid-back by letting her hair down and wearing lace-up ankle booties.
Pair your favorite vintage-inspired tee with a fitted skirt, leather accessories, and comfy booties, and you too can take on the weekend looking chill and stylish.
Quirky Details //
Dockery isn't afraid of adding a little quirk to her looks. Her outfits do not come across as particularly eccentric because she wears only classic silhouettes and styles with simple accessories. For example, neon floral embroidery, contrasting collar and cuffs, and sheer fabric seem like quirky details when considering them alone. But when worn on a feminine black A-line dress and paired with sleek pumps and natural makeup, the look is hardly shocking. Dockery's interplay of fun elements is a great reminder to have fun with fashion without having to go over the top.
Seek out items that have classic, tailored silhouettes with interesting details or luxe fabrics. Pair with timeless accessories, and highlight your fresh face with a swish of bold lipstick. You'll be poised for any event.
Classic and Bold //
You won't see this starlet only wearing neutrals. Dockery wears all the colors of the rainbow in all shapes and forms. Again, we see Dockery's go-to look of classic silhouettes in flattering fits matched with high-fashion details in bold patterns or colors. We are definitely getting some Jackie O. vibes from this matching cobalt blue pencil skirt and blouse ensemble (and, of course, the oversize sunglasses). We are never disappointed to see an outfit worthy of Old Hollywood on a classy actress, and Dockery certainly takes the cake.
Channel Old Hollywood sophistication with classic lines modernized in fresh hues. A mild metallic accessory or a vintage-inspired pair of sunglasses provides just the right amount of intrigue to an elegant daytime outfit.