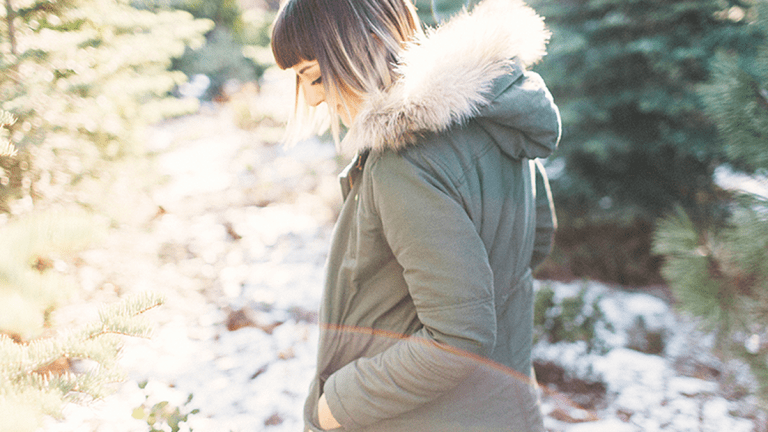 Clever Hacks to Care for Your Winter Clothes (and Make Them Last Longer)
Find out how to deal with salt rings on your shoes, sweater pilling, and more.
Our winter clothes suffer a lot of wear and tear due to exposure to freezing temps, water, and salt and overall constant use. We all have a trusty coat and pair of winter boots that get us through snowbanks and oceans of frozen slush, but sometimes in the daily grind of a winter commute, we forget to take care of these costly items.
We have a few tips and tricks for keeping your winter clothes looking brand-new while also preserving their durability for future winters. Don't wait until spring when you're storing them away for next year—show these beloved winter items a bit of TLC now.
Boots //
Dry your boots out, safely: You just walked in from your commute, which included stepping in giant slush puddles, and your boots are soaked. Let them air-dry, and avoid putting them by a heater—this can cause them to crack later. Instead, try stuffing newspaper balls inside your boots; this helps absorb moisture. To preserve the shape of your tall boots, roll up old magazines and place them inside.
Get them nice and clean: Before you begin brushing and buffing, you need to clean your shoes of all the nasty debris they may have encountered, such as dried salt or water stains. Equally mix white vinegar and water, and then use a washcloth to apply the mixture and remove stains.
Brush and buff: Buff your boots with a horsehair shoe-shine brush to get all the debris out of the nooks and crannies before shining.
Go for a natural shine: Leather boots looking a little drab? Take a washcloth or paper towel, and apply a dab of olive oil. Test an area on your leather boot before applying to the whole shoe. Your boots will be shining like new in no time.
Saddle soap: If you have a lot of mud on your boots from flooding, try using saddle soap for a more intense cleaning. Begin by wiping off as much of the dirt as possible with a damp rag, and then rub the wet rag into the saddle soap until you see lather. Rub the soap in to the boots, and then wipe off the lather with a damp cloth after you've washed the whole boot. Saddle soap will also help waterproof your boots, so it's a worthy investment for preserving your leather footwear.
Get rid of scuffs: To erase scuffs, all you need is a damp cloth and baking soda. Dab the towel in the baking soda, and gently rub scuffs away.
Waterproof: Waterproofing shoe spray may sound like an unnecessary purchase pre-snowstorm, but you will be thanking yourself for having it post-snow. It protects leather with silicones while allowing it to breathe. Make sure you do a patch test before coating your whole boot—sometimes sprays create a darker tone.
Coats //
Get 'em clean: Believe it or not, your down jacket and puffer coat are machine washable. The key is not to use detergent because this will flatten out the feathers, losing the puffy effect. If your jacket is machine washable, make sure you turn it inside out to protect the exterior. When washing your winter coat, throw in two to three clean tennis balls to avoid that post-washer dilapidated coat look.
Remove lint and pilling: Winter brings some heavy-duty wear and tear, so use a lint or suede brush to remove surface soiling. To get a deeper clean, a coat brush with natural bristles is the way to go. Brush in a firm, sweeping downward motion to remove any debris you picked up. This is also a good way to perk up your overcoat between trips to the dry cleaner.
Sturdy hangers: Heavy winter coats need sturdy hangers that will support the weight of the coat without stretching out the shoulders. Try wooden ones with broad panels.
Grease sticky zippers: There is nothing more frustrating than struggling with a stuck zipper as you head out to work in the morning. Try applying Vaseline to the snagged area in and around the zipper, and gently wiggle until it comes lose.
Remove stains: If you want to avoid a trip to the dry cleaner, try removing the light stains on your winter coat by blotting with cold water or club soda with a paper towel. Make sure you do not rub in the stain more.
Dry clean prestorage: When it's finally time to put away your winter coats, make sure you dry clean them before putting them in storage. Moths are attracted to leftover perfume, smoke, and food smells, so this is a good preventative measure. Plus, it will feel fresh when you take it back out in the fall.
Knits //
Remove pilling: Sweaters receive a ton of wear and tear during these cold months and quickly look worn out and ratty when pills and snags crop up. A clever way to remove these buggers is to take a disposable razor and gently shave away excess fuzz and pilling. Use on your knit hats, scarves, and gloves as well.
Hand wash sweaters: Sounds tedious, but the best way to preserve your more expensive sweaters is to skip the washing machine. Use cold water and mild detergent and avoid wringing them dry; this will stretch them. Lay your sweaters flat on a drying rack, as hanging will also cause them to stretch.
Fold in a drawer—don't hang in your closet: Heavy yet delicate fabric dangling from a hanger? You're just asking to stretch out your sweater. Make sure you fold your sweaters to keep their shape.
Wash hats, gloves, and scarves often: After shoveling, traveling, and commuting in the winter elements, you're going to have some pretty dirty gloves, hats, and scarves. These winter accessories hold bacteria and germs, and they are often worn right by your face. Make a habit of washing these items. To extend durability, hand wash in a sink with Woolite. Wrap the accessories in a towel to absorb water, and then lay flat to dry.
Preserve your tights: When our pants fail us (or are all in the wash), our go-to winter weather item is a pair of cozy knit tights. To keep these stockings fresh, make sure you hand wash them—even if the label says machine washable. This will increase their life for optimal use.