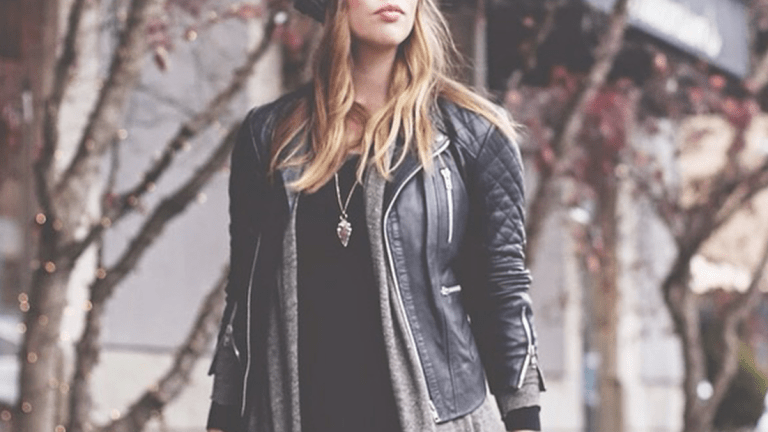 5 Elegant Ways to Keep Your Shape When Layering
These handy tips will help you layer in a way that flatters (instead of hiding) your wonderful body.
Wintertime means layers. When battling the winter chill, staying warm and stylish seems like an impossible feat. Inside in the warmth one minute; outside in the arctic the next—to transition, our outfits have to play double duty. But all the extra sweaters and jackets can be a slippery slope to becoming a shapeless mass of fabric.
The key is to incorporate balance by varying volumes throughout your silhouette, so as not to be a solid pillar of material. Here are five simple tips for keeping your shape when layering.
01. Cinch the Waist //
The most basic tip to regaining your shape when drowning in fabric is to highlight your waist. Become an innovative fashionista by manipulating your heavy layers to conform to an A-line shape. If your coat is straight up and down, and you have a giant knit sweater on underneath, get creative and fasten a belt or sturdy ribbon outside the coat. You will create the illusion of a balanced hourglass, making you look proportionate and feminine.
02. Hints of Skin //
Oversize, masculine layers have been all the rage in the fashion world as of late. To avoid looking like a dense triangle of wool, show a little bit of leg. You will notice that most winter street stylers expose a little bit of ankle when wearing these long layers, which breaks up the fabric and says, "Hey, there is a body under here."
03. Throw a Fitted Jacket on Top //
When you're wearing a lot of long, flowing knits, a great way to add some structure while regaining your shape is to throw a fitted leather jacket on top. Because leather is so rigid and form-fitting, it will force your layers underneath to lie flat. You will have structure on top and then a fun flare of fabric on the bottom—almost creating a peplum-like silhouette. But don't squish too many layers underneath your leather jacket—you want to be able to move.
04. Tuck It In //
Don't let those oversize draped sweaters or tops hang depressingly over your pants—and especially not your skirt. When you wear an A-line skirt, you want to make sure that your cozy sweater doesn't blend into the silhouette. To maintain your shape, tuck in your sweater ever-so-subtly to your waistband. You don't have to tuck it in all the way or all around—just a casual tucking in the front hints at the shape without making you feel stuffed in.
05. Drape It //
When you feel like you're losing your shape and your stylish edge, throw in a game changer by draping your coat over your shoulders for an instantly fashion-forward look. This cape-like vibe will create a more intentionally layered look that does not add bulk to your body but rather makes for an interesting silhouette reminiscent of 1940s glam.