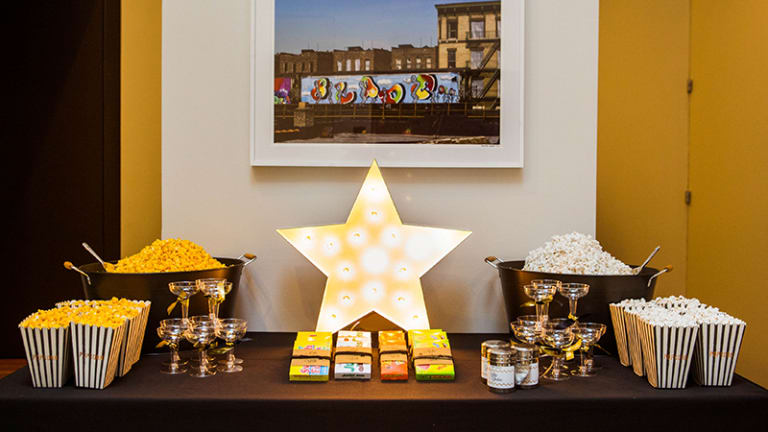 9 Adorable Last-Minute Ideas for Your Oscars Viewing Party
It's not too late to host a great event.
February seems to be all about the color red, whether for Valentine's Day or Heart Health Month. But for die-hard movie buffs, seeing red probably has more to do with . . . a carpet.
Come end of February, the legendary Academy Awards (aka the Oscars) honor some of the best films and the masterminds behind them. The red carpet at the Oscars is typically one of the best, with attendees dressed to the nines. It's enough to make any film fan swoon.
It's also a fun occasion to gather your friends and get dressed up. Luckily, viewing parties are easy to throw together at the last second. This checklist will make you a star hostess.
01. Glam It Up
It's no secret that the Oscars are full of all things sparkly and shiny. Make guests feel like starlets by decorating your space in an award show-approved color palette.
"The most ideal colors are black, white, and gold," says Lindsay Longacre, founder and CEO of LVL Events. This neutral trio is guaranteed to create a classy look regardless of your existing décor. Having basic napkins, tablecloth, or plastic utensils in this color palette can work wonders.
Want to spice things up? "Throw in a pop of color," Longacre advises. For an event like the Oscars, you can't go wrong with red. "You can also use a red tablecloth or runner for your table," Kertzner says. Pressed for time? A yard of red fabric can channel a swanky look. Or line up red napkins or placemats across the table. Easy peasy.
Don't be afraid to bring in a healthy dose of sparkle. Think simple additions like a few silver or gold balloons, ribbon, and confetti. Take a peek at your recently stowed Christmas and holiday décor; you might be able to re-purpose a thing or two. It's a worthy excuse to bust out those Christmas lights, glistening tinsel, and star ornaments.
02. Make Your Space Screen-Worthy
At the Oscars, the stars get all the attention. But when it comes to a viewing party, the TV is the bell of the ball. Make the screen the focal point by creating a comfy, relaxing environment around it.
For most spaces, this will require a bit of light re-arranging. "Clear the couch of pillows and blankets," shares Seri Kertzner, expert party planner and owner of Little Miss Party Planner. "If you need extra seating, set up chairs from your kitchen or dining room." Use what you already have to create guest-friendly space.
If you have a small space, use the floor for extra seating. Those pillows and blankets can double as padding and makeshift seats. Just be sure to place them in low-traffic areas. Leave adequate walking space to limit guests shuffling around to let others through.
Ultimately, you want everyone to stick around. It's a viewing party, after all, so make sure the view is a good one! Kertzner's tip: "Set out snacks by the couch, so your guests can easily enjoy them during the show." 
03. Suggest a Fun Dress Code
Ogling at luxurious gowns and posh tuxedos is half the fun. Get your guests in a star-studded mindset by establishing a Hollywood-inspired dress code for the night.
"You don't have to get decked out," Kertzner says. Instead, go for a comfortable take on red carpet style. Think cocktail dresses or statement jewelry. Top it off with your favorite red lipstick, and you're golden. Or amp up the Sunday night at home vibe with your girlfriends, and have a pajama-themed viewing party.
04. Craft a Clever Centerpiece
When it comes to décor, a centerpiece is essential for emphasizing an event's atmosphere. Even just one item can tie it all together.
Try this effortlessly adorable idea from Kertzner: "If you're setting out flowers, use a popcorn bucket." It's a budget-friendly way to get the film-watching feels going.
As for the flowers? Pick something classic and sophisticated, such as a combo of red and white roses. While you can never go wrong with a bouquet of fresh flowers, faux stems are affordable and available at most craft stores. Crafty types can even whip up a few blooms using tissue paper or fabric.
05. Your Food Can Dress to Impress, Too
You don't have to serve a five-course meal for your soiree. You can get away with the exact opposite. They key is to serve "fancified" versions of finger food and appetizers. In lieu of traditional chips and dip or nuts, "try kale chips, sugared pecans, and root vegetable chips," Kertzner suggests. Serve alongside movie theater–inspired candy (cue the Raisinets and Milk Duds).
Kertzner also suggests adding edible glitter to your ice cubes, which you can use in drinks or to fill up the champagne bucket. Use the rest to decorate desserts. Prep food before the show starts. This will limit interruptions during the actual event, ensuring that you and your guests get in solid viewing time.
06. Serve Some Bubbly
A lavish gathering isn't complete without champagne. Because we can't pop a bottle with Leonardo DiCaprio, the best we can do is sip on some bubbly while we watch the stars.
If you're up for the challenge, invent a cocktail just for your event. Sparkling wine cocktails are a crowd-pleaser.
Don't forget about mocktail alternatives perfect for guests who don't want to drink. Simply sub an alcohol with another carbonated spritzer like ginger ale or mineral water for a delicious no-booze spin.
07. Embellish the Details
Tie everything together by focusing on items that are often overlooked. According to Kertzner, the tableware is an excellent place to start.
"Use it as part of the décor," she suggests. "Dress up champagne glasses by tying black ribbon to the stems as 'bowties.'" If you don't have black ribbon on hand, you can print out black bowtie graphics and stick them on with double-sided tape. Done and done.
Or amp up the elegance by creating a drink tag for each guest. This prevents accidental cup mix-ups, and it's a clever way to give your guests the star-studded treatment they deserve. Tie or tape name tags to your glasses, and voilà! You've got yourself an Oscar winner.
08. Make It Interactive
Social gatherings are the most fun when they're just that—social. Instead of trying to snag an Oscar-shaped piñata, try Kertzner's simple idea of homemade ballots that allow each guest to vote for who they think will win each category, creating an interactive activity for the evening.
Print simple ballots of your favorite categories (here are this year's nominees). Set out pencils and mark your votes. Want to up the ante? "Ask everyone to pitch in a few bucks," Kertzner says. "The person with the most correct votes gets to take it home at the end of the night!"
09. Invent a Hilarious Hashtag
An exclusive hashtag or two for weddings, media events, and concert tours is on trend these days. To personalize your party, create a hashtag specifically for the night. Choose something unique to your group of friends, like and inside joke or a nickname, for a sense of cohesiveness, even if you just threw everything together.
It'll also encourage guests to snap photos and share them on social media for everyone's post-party viewing pleasure. Display the hashtag on the snack table or above the TV. Make it legit by adding #Oscars and #AcademyAwards. Are your guests rooting for a specific nominee? Bring in a hashtag for a mutual favorite film, director, or actor. #VerilyforLeo.
With these tips, you can round up a last-minute star-studded shindig worthy of Best Performer. Don't forget to let yourself enjoy the show, too. Happy viewing!
Photo Credit: Dave Robbins Photography