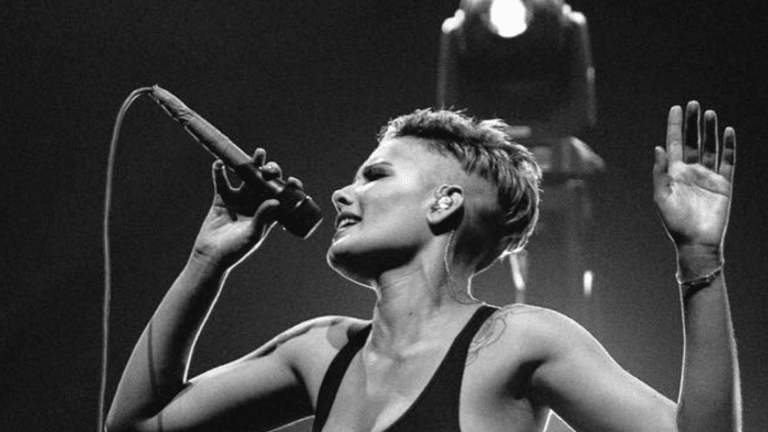 We Love How Celebrities Like Halsey Are Changing the Conversation On Taboo Health Issues
This singer just opened up about a difficult condition that millions of women struggle with.
When New Jersey-born singer Halsey released her single, New Americana, last year, critics immediately lauded the song as a "generation-defining anthem." Born Ashley Nicolette Frangipane, the 21-year-old pop star captivates audiences with lyrics that she describes as "a satire on a generation that is so poignantly aware it's become a parody."
Last week, she used her platform to bring awareness to a different topic altogether: Endometriosis. The singer was recently diagnosed with the painful uterine condition, and she shared the news via Twitter by posting an empathetic message to her fans:
"If any of my fans or followers have #endometriosis [heart] having a rough time today. Laying in bed and thinking of you. I know how excruciatingly painful it can be and how discouraging the disease can be to feel like it's gonna limit you because of how debilitating it is. To miss school and work, or even worse to GO and suffer through it anyway feeling like a prisoner in your own body. To maybe be worried about 'never having kids,' or dealing with crazy treatment suggestions. I was recently diagnosed after years of suffering and finding myself doubled over backstage in the middle of my sets, or fighting back tears on an airplane, or even being in so much pain I would vomit or faint. With doctors essentially telling me I was being a big baby about my period, or misdiagnosing PCOS [Polycystic Ovarian Syndrome] etc etc. Finding out I had endo was the most bittersweet moment because it meant I wan't crazy! I wasn't a "baby"! I had every right to feel like the world was caving in. But it was terrifying to find out. Just know I'm here if you want to vent."
Endometriosis affects approximately 6 to 10 percent of women of reproductive age in the United States, which amounts to about 5 million women living with the condition. Halsey's message obviously struck a chord, as it's been retweeted more than 7,000 times and received nearly 19,000 likes.
The warm public reception of Halsey's rather personal announcement speaks to a broader trend of acceptance surrounding public conversations about formerly taboo health topics for women, often with celebrities at the helm. Facebook founder and CEO, Mark Zuckerberg, along with wife Dr. Priscilla Chan, shared news of the three miscarriages they suffered when they announced their pregnancy last year. And Hayden Panetierre has spoken openly about her decision to enter an inpatient treatment program to address symptoms of Postpartum Depression.
While so much of our world's spotlight on celebrities relates to superficial accolades and polarizing soundbites, we're glad to see stars like Halsey using their fame to bring attention to health issues that, despite their prevalence, are often considered embarrassing to discuss openly. To borrow tabloid lingo, "Stars are just like us! They have actual human bodies that require medical attention, too!" For many women, any medical concerns surrounding their reproductive health are accompanied by a stigma that may cause them to keep quiet about their symptoms or feel ashamed. So we applaud celebrities who have the courage to speak openly about such issues, bringing conditions often left in the shadows into the light. And we hope more women will feel empowered to speak up, know they're not alone, and get the help they need as well.   
Photo Credit: Instagram