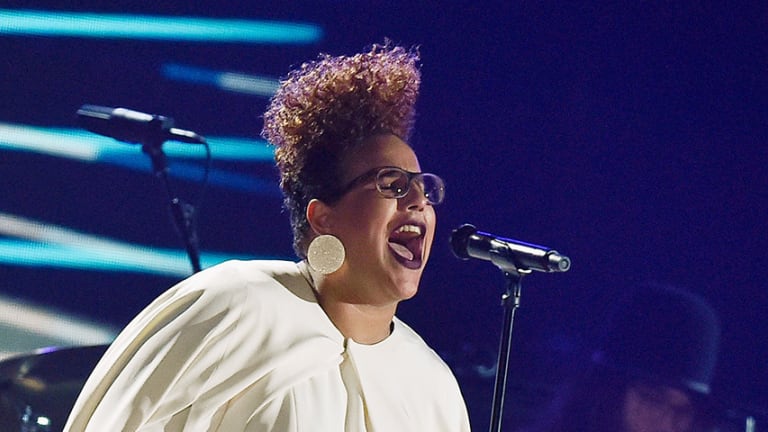 Taylor's Response to Kanye's Sexist Lyric and Other Highlights From Last Night's Grammys
Everything you need to know about the standout performances from the biggest music event of the year.
Last night at the Grammys, L.L. Cool J. continued in his role as M.C. that he was born to fill—a job I could see him nailing for the rest of his life like Dick Clark. Adele performed "All I Ask," Lady Gaga memorialized David Bowie, and Kendrick Lamar performed a striking illustration of the black experience in America (to which Adele exclaimed after her performance: "I love you Kendrick! You're amazing!"). A lot happened last night, but if you missed the evening, here are our favorite Grammy moments you don't want to miss.
Alabama Shakes Will Blow Your Mind
Never heard of Brittany Howard? You're in for a treat. The 27-year-old headliner for the Alabama Shakes was delivering mail for the U.S. Postal Service a mere two years ago. Now she's winning Grammys for Best Rock Performance alongside band members who include friends from high school. Her scorching refrain in "Don't Wanna Fight" was easily the most powerful vocal heard all evening. Wearing a flowing white cape and dress, electric guitar in hand, the woman was indisputably in her element. What's the singer going to do to celebrate her three Grammy wins? "I'm gonna write some music," she said cooly backstage. Too tame? "I'm going to drink some Dom Perignon and write some tunes." If that means more music from the Alabama Shakes coming our way, that sounds good to me!
Tori Kelly and James Bay Deliver A Stunning Mashup
Something the Grammys manages to do well is pair up different artists, merge their music, and see what chemistry is created. One of my favorite combinations of the night was the strong-voiced Tori Kelly with the soft-voiced James Bay. The two sang in a stripped-down acoustic performance mashing up their respective hit songs "Hollow" and "Let it Go." I'm definitely not mad about this #GrammysMoment.
Andra Day, By the Way
In a similarly gorgeous duet, breakout artist Andra Day performed her moving song "Rise Up" with such inspiring lyrics as "And I'll rise up I'll rise like the day / I'll rise up I'll rise unafraid / … I'll rise up In spite of the ache / I'll rise up And I'll do it a thousands times again." Honestly, I could start every day with that song and be all the better for it. 
Next Ellie Goulding joined Day for a mashup between "Rise Up" and her hit song "Love Me Like You Do." This is another duet that definitely worked.
Demi Lovato Sings Lionel Richie
In a tribute group performance to the work of Lionel Richie, Demi Lovato was invited to sing "Hello"—and sing it she did. Lionel had been joking earlier in the evening that his goal for the night was to meet Adele and say "Hello...it's me," to which her ideal reply would be, "Hello...Is it me you're looking for?" When the Grammys chose Lovato to sing Richie's version they chose the right person; she belted it as we all knew she could. As a fun fact, Lovato can now say she has covered both Adele's and Richie's iconics songs of the same name. Lionel joined the group on stage moments later in a spirited version of "All Night Long" that got even David Grohl and Beck bopping their heads.
Little Big Town Brings the Tear Jerker
In one of the heart-wrenching performances of the evening, Little Big Town performed "Girl Crush"—a song in which singer Karen Fairchild describes how she longs for features of the woman whom her love has left her for. Leave it to the country singers to tug the heartstrings. Bravo all around.
Stevie Wonder Teases Those Who Can't Read Braille
Announcing the award for Best Song to Ed Sheeran, Stevie Wonder opened the specially designed envelope teasing "You can't read it; you can't read Braille, nananananana!" A humbled Ed Sheeran said "If you were to have told my...11-year-old self...that I would be receiving an award from Stevie Wonder, I would have never believed you." The song "Thinking Out Loud" by Sheeran is indeed a stunner; if you love it, you might also like these indie artists.
Meghan Trainor: "I have to go cry now."
Meghan Trainor who won for best New Artist, received the award in full-fledged tears and briefly thanked some people including her mom and dad, before her smiling sendoff saying, "I have to go cry now." Later on Instagram the artist shared that what caused the tears of joy was hearing her father whisper "You made it" in her ear right before she went onstage. Brava to Trainor for her accomplishment—and her unabashed emotional awareness. Sometimes you just gotta cry, and that's OK.
Taylor Swift Reminds Us Who's Boss
In the last award of the night, best album of the year went to none other than Taylor Swift for 1989. Accepting the award, Swift gave some advice to "all young women out there" while simultaneously rebuffing Kanye West's recent lyrics suggesting he's responsible for her success. "There are going to be people along the way who will try to undercut your success or take credit for your accomplishments," Swift exclaimed. "But if you just focus on the work and you don't let those people sidetrack you, someday when you get where you're going, you'll look around and you will know that it was you and the people who love you who put you there. And that will be the greatest feeling in the world. Thank you for this moment." Swift is the first woman to win the best album award twice, and she's not afraid to say it. Thank you T.Swift, for reminding us to shake off the haters. And brava for your win!
Image Credit: Getty Images