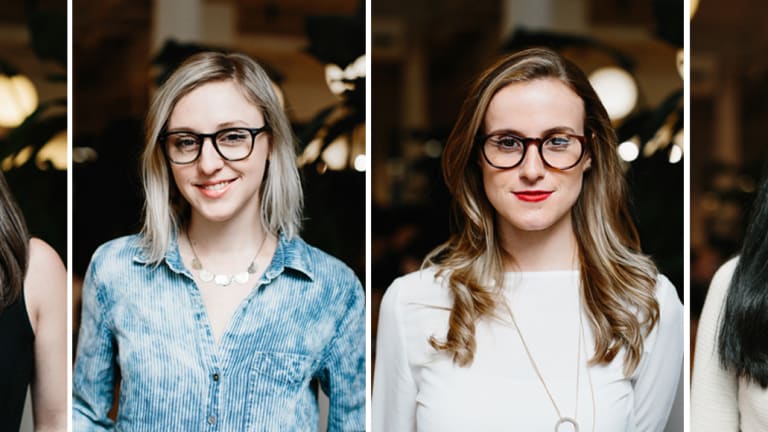 Reinvent Your Personal Style with These Affordable Glasses for Your Face Shape
A new pair of frames can really give you a whole new look.
Forget buying a new wardrobe; sometimes all it takes is a new pair of frames to reinvent your personal style. Glasses add character to your face and even have the power to highlight your best features. But the endless styles and colors can make shopping overwhelming.
Step one in the search for new specs is knowing which shapes flatter your face. With the help of some Classic Specs glasses, the Verily editors show that the right frame on the right face makes for an awesome bespectacled look.
Mary Rose // Heart Face Shape
YOUR FACE IS HEART IF:
Your face is widest at the forehead and gradually narrows to a point at the jawline.
THE BEST FRAMES FOR YOU:
Because your face narrows at the jaw, look for frames that are bottom-heavy to create balance. A bottom heavy frame will create the illusion of volume without accentuating your more narrow jaw. Conversely, avoid frames that are thick at the top; they will just add more volume to your forehead. 
Monica // Square Face Shape
YOUR FACE IS SQUARE IF:
You have a strong, squared-off jawline. A square face shape can be equal in width all from the forehead to the jaw, but a square face can also be someone with a jawline that is somewhat wider than their forehead. The rules for finding flattering frames are the same.
THE BEST FRAMES FOR YOU:
Look for frames that contrast your face shape, like those with rounded or oval lenses. Those cat eyes or 1940s-inspired round frames are made for you. Just avoid strictly square, boxy frames; they will enhance the squareness of your jawline. 
Krizia // Round Face Shape
YOUR FACE IS ROUND IF:
Your jaw and forehead are the same width, with a rounded chin, wider cheekbones, and full cheeks.
THE BEST FRAMES FOR YOU:
The goal is to provide contrast to your face shape, so try frames with a square, angular, or rectangular shape, and avoid round frames altogether.
Lilly // Oval Face Shape
YOUR FACE IS OVAL IF:
Your face is slightly longer than it is wide, typically with a narrower forehead and jaw.
THE BEST FRAMES FOR YOU:
Luckily for oval-shaped faces, almost any style of eyeglasses will work. We suggest trying thicker, wider frames, and have fun with colors. A little translucence, like you see in these light blue frames, is a fun trend to try as well.
Kara // Oblong Face Shape
YOUR FACE IS OBLONG IF:
Your forehead, cheeks, and jawline are almost the same width but appear to be narrower and longer than the other face shapes. Typically, an oval face has a width-length ratio of 1 to 1.5; anything longer than 1.5 puts the face shape into the category of oblong. 
THE BEST FRAMES FOR YOU:
Because your face is narrow, you want to find frames that add width. Try rectangular frames that are also wider than your face on the sides, like Kara's glasses above. The horizontal structure of the glasses across her face breaks up the length.
Haruka // Diamond Face Shape
YOUR FACE IS DIAMOND IF:
The widest part of your face is right around your cheekbones and eye line, and your forehead and chin are more narrow.
THE BEST FRAMES FOR YOU:
Frames that are top-heavy look best on you because they add volume to the top of your face. Cat-eye frames are perfect because the frame widens at the top, creating the illusion of a wider forehead. Avoid frames that are oversize or bottom-heavy—this will only add volume to the widest part of your face. 
If you're still not sure what frames will look best on you, check out the Ditto feature on the Classic Specs website for a virtual try-on experience.