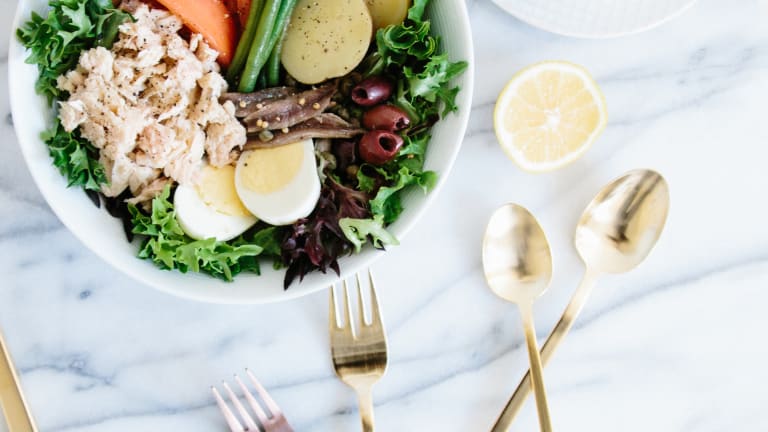 Here's How I Prioritize My Health Even Though I'm Busier Than Ever
Don't let a crazy schedule fool you into thinking that you can't prioritize your health.

I was very fit in my early twenties. I ran a marathon or a couple half marathons every single year since high school and spent two to three hours, seven days a week training or at the gym. My metabolism was phenomenal. I ate whatever I wanted but didn't look it. I often had a second dinner. Ah, the joys of a youthful constitution.
Then I got married at 26. Over the course of three years, I gave birth to two girls and gained more than thirty pounds (almost 40 percent of my initial body weight!). Not only did I have far less time to work out but my metabolism also slowed down immensely. I turned 30 a couple weeks ago, and, let me tell you, I burned off those pounds, but I still can't burn off croissants like I used to.
Yet after 3.5 years of trial and error, I'm fitter than I've ever been. OK, I don't run 13.1 miles out of thin air, but I'm fitter in the sense that I've found balance. Even with a crazy schedule, I've established a wellness routine that works for me and my family. Disclaimer: It involves making real sacrifices I used to think I wasn't capable of. But the return on investment is hundredfold.
There's no gym, fitness fad, or diet gimmick involved—just regular exercise and healthy eating. Here's how it actually goes down for one busy fit mom.
6 a.m. – Wake up. Everyone who knew me pre-mom called me a night owl, so becoming an early riser was a big change for me. But I was tired of not being able to "squeeze in" my workouts. Instead of going to bed at midnight and waking up at 8 a.m., I went cold turkey, forcing myself to bed much earlier. It's no easy feat, but research indicates that early risers are happier, healthier, and more productive than night owls.
While my better half gets ready, I sip water (which I keep with me at all times) and give myself ten minutes for prayer, light stretching, and reflection in preparation for the busy day ahead. Spirituality is key to holistic health. We care for our bodies so why not our souls, too?
7 a.m. – Cooking in the morning stresses me out, so I rely on pre-prepped breakfasts, such as overnight oats, a yogurt parfait, or (my favorite) chia seed pudding. Soak 2 tablespoons of chia seeds in 2/3 cup of any milk you like (I use 1/3 cup almond milk and 1/3 cup light coconut milk); 1/2 teaspoon of pure honey, maple syrup, or your favorite sweetener; and 1/2 teaspoon vanilla bean paste or vanilla extract. Let it sit overnight. In the morning, top with granola, nuts, berries, or your favorite fruit. It's grab-and-go time!
I check emails and sip water during my fifteen-minute power walk to work. I drink water religiously and do sneaky workouts at my desk throughout the day. Staying hydrated reduces stress and fatigue, keeps phantom hunger at bay, and forces me to stretch my legs for frequent bathroom breaks.
12 p.m. – I've prepped my family's meals the night before, so everyone's lunch and most of dinner is ready. Today, I'm having Niçoise salad and citrus-infused water. I indulge in this chic French salad at least once a week because it looks and tastes like I put 100 percent more effort into it than I did—and it's super-healthy. I love Bumble Bee® Solid White Albacore in Water. With a firm, steaklike texture and fresh taste, it's perfect in my lunches, adding nutrients such as lean protein, healthy fat, and vitamins and minerals (check out the Bumble Bee website for full nutritional facts). I add sliced tomatoes, steamed green beans, one boiled new potato, one hard-boiled egg, olives, and anchovies (optional). Toss in a Dijon vinaigrette. Bon appétit!
1 p.m. – Power walk home. The girls are napping, so I work during the rest of their nap.
3 p.m. – Girls are up. We all have a healthy snack (a piece of fruit with nut butter, a KIND bar, or plain popcorn). Keep sipping that water! I get way tired right around now, so I'll have a cup of antioxidant-rich black or green tea to perk me up (it has less than half the caffeine of coffee and is much easier on the tummy).
4 p.m. – We go for a walk to a nice spot where we can "play" (aka exercise). My daughters like to copy me, so we'll do YouTube yoga together or high-intensity interval training (HIIT) exercises that are cardio and strength training in one. (Bonus: You can do these at home and even while watching TV!) As the name implies, HIIT moves are intense, but you only need to do twenty to thirty minutes, three to five days a week for them to be effective. Fitness trainer John Jay Austria once told me that you know you're making progress when you can feel the burn. So my goal is to do two more reps beyond the point when I think I can't do any more. By now, I'm feeling the immediate benefits of exercise: sharp, energized, and confident.
5 p.m. – Dinnertime. Tonight, it's oven-roasted chicken breasts and sweet potatoes marinated overnight in freshly squeezed orange juice and spices. People often ask me how I manage to cook for myself and the kids. Are you kidding me? I don't have time for that. They eat what Mommy and Daddy eat. If I know they won't like a particular ingredient (say, bell peppers), I leave it off their plates. And our beverage of choice? Water.
6 p.m. – My husband gets the girls ready for bed while I meal prep what I can of tomorrow's breakfast, lunch, and dinner. Meanwhile, I steep a calming herbal tea to sip on for the rest of the evening. Then it's short-story time, water-sipping time, and the girls' bedtime.
7:30 p.m. – I reserve this time for work or other chores and errands. If we're having date night, this is when it happens.
9:30 p.m. – Shower and get ready for bed.
10 p.m. – I'm still working on this, but I try to avoid screen time at least thirty minutes before bed (studies show that the infamous blue light emanating from your phone, computer, or tablet has the strongest impact on resetting the human circadian rhythm). I read a book, magazine, or newspaper before journaling. The Five-Minute Journal shifts your mind toward happiness through inspiring quotes, challenges, gratefulness, affirmation, and aspiration to do better, all within five minutes morning and night.
10:30 p.m. – Lights out. I end with a mindfulness exercise (one of the secrets of happy, healthy women), quieting my mind with a health-boosting act of gratitude. Researchers linked practicing gratitude to lower stress and depression levels, among a wealth of other health benefits. I fall asleep thinking about what I'm thankful for (from little stuff such as my warm bed to bigger things such as my health and loving family), which is a really nice note to close the day on. I aim for a minimum of seven hours of sleep.
Nowadays, I rise before the sun. I rarely eat out. I don't indulge in desserts like I used to. I prep all my own food and have to work through those "But I don't feel like getting up, eating healthy, or exercising!" mental hurdles every single day. I've traded in creamy caffè lattes for tea, nap time for work time, and Netflix for books. I might miss my friends' social media posts, but what I don't miss is feeling tired, stressed, depressed, weak, or out of control of my body or mind. I've never felt stronger, healthier, happier, or more balanced than I do now.
My advice to those waiting for the "right time" to invest in your best self? There is no right time. There are only the choices you make today, moment by moment, bite by bite.