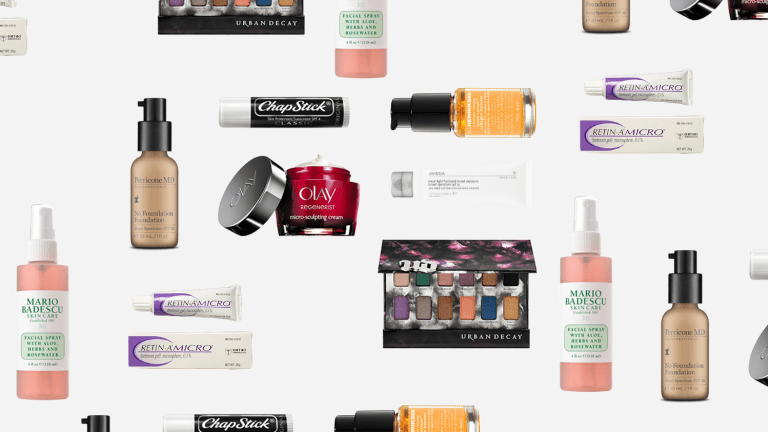 What's the One Beauty Product You Can't Live Without? The Editors Share Theirs
We each share our one must-have product that we rely on day to day.
We all have that one "stranded-on-an-island-must-have" product that we can't live without. Maybe the women in your family have passed on this magical product for generations, or maybe you accidentally discovered it in a sample makeup bag from Macy's last year. Either way, your must-have product could be the saving grace for women still searching for an answer to their dry skin, stubborn clogged pores, or damaged hair.
Here, the Verily editors have shared our favorite beauty products, but we want to know: What's yours? Leave a comment below!
Megan //
Mine is probably Mario Badescu Facial Spray with Aloe, Herbs, and Rosewater. This isn't a product I've used my whole life; I actually only discovered it about a year ago, but it's quickly become my go-to. I use it all the time: to set my makeup and provide that dewy finish we all love, after an intense mask to soothe my skin, to cool me down if it's hot outside. Sometimes I use it just for aromatherapy purposes before bed because it smells so good.
Kara //
I love lotions and potions and am a die-hard believer in a good serum—the right ones can take my skin from good to expletive-worthy amazing. My most recent favorite is Ole Henriksen Truth Serum. The vitamin C complex naturally boosts collagen production and protects against free radicals. Half a pump in the morning leaves my skin super-soft and refined.
Krizia //
My grandmothers and great-grandmothers (in their late eighties and nineties) have been using Oil of Olay moisturizer since their twenties—and they still look like they're in their twenties. There's a chance it might be genetics, but in case it isn't, I'll be following suit using Olay's Regenerist for my daily moisturizer until I'm old but not wrinkly.
Mary Rose //
A couple years ago, I was gifted an Urban Decay eye shadow palette. Ever since then, it has become a staple for my eye makeup needs and goes with me wherever I go. With colors ranging from neutral to bold, with silly names to match each in true Urban Decay fashion, the palette covers all my bases for whatever look I'm going for, day or night.
Monica //
No Foundation, Foundation is a new member of my morning beauty routine, and it is magical. Blessed with combination skin that is not prone to breakouts, I have never been a foundation girl. But No Foundation, Foundation is a lightweight sunscreen with just a hint of bronze that smooths out discoloration and minimizes pores, giving me a natural airbrushed look.
Sophie //
I swear by the near-magical effects of Pure Manuka Honey. I love using a thin layer of it as a healing face mask once a week; it has great antiseptic properties. Make sure the honey you buy is certified as having been UMFHA tested for antimicrobial strength.
Briehn //
My can't-live-without beauty product is trusty ol' classic ChapStick. I've always been a lip balm addict, but this is the one brand I've stuck with for about ten years and counting. It provides the perfect amount of moisture, whereas other lip balms actually dry out my lips. I always carry at least three on me—one in my makeup bag, one in my pocket, and one in my backpack.
Lilly //
It's not technically a beauty product—actually, you need a prescription to buy it—but Retin-A (tretinoin) was my saving grace after years of suffering from closed comedonal acne. The high concentration of vitamin A shrinks dilated pores and improves cell turnover within the pores, making them less likely to clog. The first couple months of use are pretty brutal because your skin is basically being reborn, but the stuff really works for those who have incredibly stubborn clogged pores deep under the skin. If you struggle with acne-prone skin, talk to your dermatologist.
Katherine //
Even on the days when I'm super-rushed and have no time to really beautify, I put on Aveda Tinted Moisturizer. I find it a good balance of light coverage without the commitment of a full-on foundation, a great everyday base that seems to brighten my face.