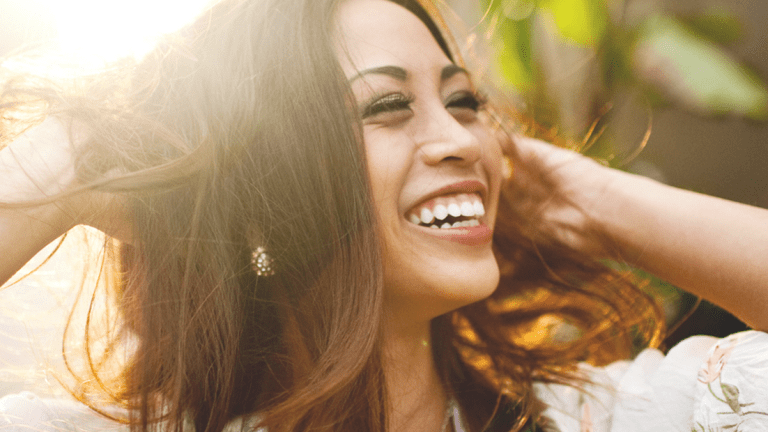 Genius Tricks to Make You Look Like You've Slept 8 Hours
We all have to fake that rested glow once in a while.
We've all been there. Whether it's because of one drink too many or an intense conversation that went into the wee hours of the morning, we have all experienced sleep deprivation. And what's worse than having to face a long day with absolutely no energy? Looking like we only got a few hours of sleep.
When you sleep, your body repairs itself and rebalances hydration. If you miss out on a few hours, your body doesn't have a chance to fully recharge. This results in dry skin, under-eye circles, and more visible wrinkles. You may also notice some discoloration and the appearance of inflamed blemishes. Luckily for us, we got some expert tips from makeup artist Jas Lee of Jump Management so that we can put our best face forward on those sleep-deprived days. Puffy eyes. Dull complexion. Dryness. Combat it all with these tricks to fake a full night's sleep.
Hydrate //
If you miss your beauty sleep, make sure to replenish your body with a tall glass of water right when you wake up. And for topical hydration, sheet masks are perfect for an intense repairing moisture. Try using one with hyaluronic acid (a moisture-binding ingredient) that keeps skin plump and hydrated or soothing aloe vera. Leave the mask on your face for about fifteen minutes before removing, and then spend an extra minute massaging leftover moisture on your face in an upward motion to boost circulation.
Eye Cream //
For obvious reasons, our eyes are what give us away when we're tired. So you'll have to give 'em some major TLC. Apply three dots of an eye cream that specifically targets dark circles and puffiness. Gently dab with your ring finger until fully absorbed.
Chilled Spoons //
For a real wake-up call, press two chilled teaspoons gently around the eye sockets for a few seconds at a time. The cold spoons will act as a mini ice pack, instantly cooling sleepy eyes and reducing the swelling of under-eye bags.
Mix Illuminator Into Foundation //
Time for a little morning mixology! To help out your not-so-fresh skin, mix a dab of your liquid illuminator in with your liquid foundation. The illuminator will brighten tired skin, giving you that rested glow. Gently press foundation and illuminator into your skin.
Brightening Under-Eye Concealer //
Back to those eyesores (pun intended!). Dark under-eye circles—better known as "raccoon eyes"—are a common result of lack of sleep. But even after sleepless nights, we still have to face the world, make eye contact, and be present with those around us. Make these circles disappear by applying a brightening under-eye concealer. You will immediately notice your complexion coming back to life.
Black Tightline on Upper Lids //
Most women think that putting on lots of eye makeup will make them appear more awake, but a ton of eye makeup will only emphasize tiredness. The trick is to apply black liner to the waterline of your upper eyelids; this will make your eyes appear wider and more awake—and not to mention, more natural. Only apply mascara on the top lashes as well to enhance the open-eyed look.
White Tightline on Lower Lids //
Another trick of the trade for bright eyes is to apply white liner on your bottom waterline. This will also give the appearance of having wider (aka more awake) eyes.
Lighter Eye Shadow in the Inner Corners //
Similar to the white tight liner, applying a lighter flesh-tone eye shadow to the inner corners of your eyes will instantly make your eyes appear brighter and more awake. Feel free to lightly blend a little bit below your inner corner as well, to create a more doe-eyed look. See the life coming back to your face already!
Rosy Cheeks //
Nothing will liven up your face quicker than a little color. Even though you feel utterly exhausted, it's easy to fake looking more alive by adding some hue to your cheeks. Blush will create a youthful fullness to your cheeks, tricking everyone into thinking you got eight or more hours of sleep. Don't go too bold though. Stick to a natural-looking rosy or peachy glow.
Lively Lip Color //
Complete the picture by adding a fresh pop of color with a berry stain. A lip stain appears more natural than a lipstick, helping to create the illusion of being fresh and fully rested. Also, it will stay on all day—and who has time to apply lipstick every hour when sleep-deprived?
As you can see, sleepless nights don't have to mean a drab day. These steps likely aren't much more than your normal routine, but they'll help replenish what you lost. And even though you're tired, it'll feel good to pamper yourself a little.