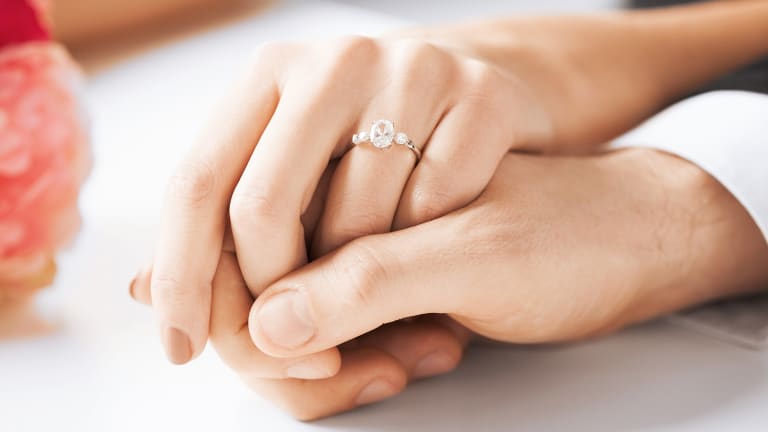 5 Things Your Girlfriends Need to Know If Your Man Asks for Help with His Proposal
Prepare your friends to be his go-to women when he needs advice about that life-changing question.

One look at your Facebook feed will tell you that Valentine's Day was just the beginning of the engagement frenzy. All the "She said yes!" announcements have probably begun to make you wonder if a proposal might be imminent for you, too—or if not you, perhaps one of your friends?
In times like these, it's best to be prepared. In fact, one friend's forthcoming engagement is a good time for you and all your friends to start trying on rings. I'm serious! I remember back when the first of my friends started talking marriage, all of us girls spent a Saturday in a jewelry shop. This little outing has equipped us with the necessary information should the right guy come along. And it has come in handy, trust me.
Of course we all dream of the perfect guy who knows just what to do on his own, but in reality most guys want a little advice when planning the big question pop. Getting your friends prepared to be your boyfriend's go-to women requires discussions about things such as timing, ambiance, and expectations. Your boyfriend is going to want to know how to plan the perfect proposal, and your girlfriends are going to be invaluable to that process. So consider these five questions, and discuss them with your friends.
01. Do you even want him to propose?
This may seem like a no-brainer, but many women get lost in the idea of a wedding and don't spend as much time considering it as a very real thing. When it comes down to it, you may not be ready for him to pop the question at all.
First, do some soul searching, and make sure you are prepared to say "Yes!" It's not terrible to need more time or to realize that you need to get some part of your personal life in order first. But be honest with yourself first and your girlfriends second. Ideally, your guy will also be in the know on this one. But just in case wires get crossed, make sure your friends know what your answer would be should your guy approach them about bending down on one knee.
02. Do you know your ring size?
I have found that men worry about this factor the most in the beginning stages of planning for the proposal. Perhaps it hasn't set in yet that they will need to pick out the ring style first and then figure out what size is needed. But I guarantee the first question he will be asking your friends is: "What's her ring size?"
Equip your go-to friend with the right answer. Go to your local jewelry shop and ask to use a sizer. Or better yet, you and your girlfriends can figure out sizes over a bottle of wine on your next girls' night. The Leo Diamond app has a ring size guide—you just need a ring that fits to place against the screen. Remember, if your ring can slip off your knuckle without much effort, you may need to go a size down; if you have to gently twist the ring a bit to get it off, then it fits just right.
03. What ring style do you love?
There is a whole world of precious gems that only those who are buying them become privy to. You could get lost in the intricacies of cut, clarity, shape, color, and quality—and many men do. But the average future bride need only concern herself with a few of these details.
First of all, are you hoping for a diamond, or do your eyes sparkle at the idea of something less traditional, like blue sapphire or amethyst? Second, figure out what shape gemstone you prefer. Choose from round, princess, emerald, asscher, marquise, oval, radiant, pear, heart, and cushion. Each of these shapes do something different with the light and sit in a different kind of setting, which brings me to the final thing to know: settings. The three most popular settings are solitaire (one stone perched on its own), accents (little stones along the band and surrounding the stone, which is perched high), and three-stone (three stones perched on the same plane).
There are a lot of little details to wade through when you are deciding on stone, shape, and setting. My advice? Do your research—go to the store, or use an app that has a ring try-on feature, such as The Leo Diamond app. Give your girlfriends some clues to pass on, but leave some room for your future husband's imagination, and allow yourself to be pleasantly surprised by this generous gift and symbol of devotion.
04. Do you have a dream proposal?
Have you always dreamed about saying yes to the right guy at one special spot? Of course you have. But a word of warning—your boyfriend has probably done quite a bit of daydreaming too, so try to think about your proposal as something that should be unique to this relationship and this man . . . not the relationship you dreamed up when you were 12.
That being said, a girl can dream, can't she? No harm in describing your dream proposal—or nightmare—to your friends. For instance, let your friends know if the idea of being proposed to in a public place makes you cringe or if you love the idea of being surrounded by family and friends so that you can raise a toast. These are the kinds of things your friend may want to proactively tell your boyfriend, so he can plan the perfect proposal for the both of you.
05. What are your expectations?
Letting your friends know what you expect is very different from letting them know what you daydream about. Expectations are those things that are taken as a given for you but might not necessarily be a given for him. Unmet expectations can lead to hurt feelings and sometimes even family discord.
Be sure to tell your friend if you expect your boyfriend to ask your father first or whether or not you expect a ring by spring. Some other common expectations could be whether he gets down on one knee or whether he slips the ring on your finger himself, just like in the movies.
Honestly, I would try and keep expectations to a minimum. It's hard to plan the perfect proposal without a hitch, and a little spontaneity makes it all the better. But, if there is something he should know, better pass it on to your go-to friend.
And don't forget to write the details down. It may be a while before your friend is called on for this intel, and she might forget (and that doesn't mean she is a bad friend). As for you, use this season of engagements as an opportunity to hand over all your dreams and expectations—and then forget about them. Eventually your friends and boyfriend may use the information and conspire to plan the perfect engagement for you, but when the right guy asks, all your concerns about how he does it will seem so small.
Photo Credit: Adobe Stock