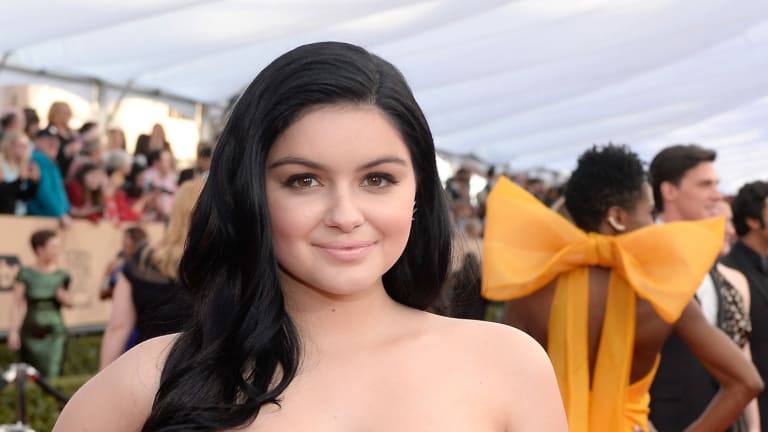 Ariel Winter Reminded Us That There Are Many Reasons Women Feel Insecure About Their Bodies
When the Modern Family star showed her scars on the red carpet, she prompted an interesting discussion.
Modern Family actress Ariel Winter shocked and confused fashion critics at the Screen Actors Guild Awards earlier this week when she wore a gown that revealed the outer edges of her breast reduction surgery scars. Many initially thought that the young actress was unaware of just how revealing her dress was or perhaps that she was the victim of some sort of wardrobe malfunction.
Instead, Winter took to Twitter to clear up any confusion. "Guys, there is a reason I didn't make an effort to cover up my scars!" she declared. "They are part of me, and I'm not ashamed of them at all." After a flood of support from fans and the media regarding her fresh perspective, she furthered her message by posting a Marc Jacobs quote on Instagram that reads, "I always find beauty in things that are odd or imperfect—they are much more interesting."
Winter has been a fresh and surprising champion for positive body image for some time now. After deciding to undergo breast reduction surgery last June, she was wonderfully candid about her choice, in sharp contrast to the culture of secrecy surrounding plastic surgery in Hollywood. She spoke openly during an interview with Glamour about the "overnight" development of her breasts and the physical and emotional pain they caused her. For instance, she said it was quite challenging to find clothes that she felt comfortable in. "I [couldn't] go to a party with my friends and wear the same thing as them," she noted. "I have to be completely covered up, otherwise I'll look a certain way that I'm not intending to look."
In addition, Winter, like many women who choose breast reduction surgery, experienced great physical pain. "It was so painful," she said. "I had a lot of back problems. I really couldn't stand up straight for a long period of time. It started to hurt so bad that I couldn't take the pain. My neck was hurting so bad, and I actually had some problems with my spine." When she finally told her doctor she was thinking of breast reduction surgery, he replied, "Your back is going to thank you so much."
Winter is not alone in the symptoms that her previously size-F breasts caused her. According to the American Society of Plastic Surgeons, "Heavy breasts can cause disturbances in multiple body systems. Furthermore, the impact of macromastia (the medical term for large breasts) can contribute to obesity by reducing a woman's exercise capacity. The symptoms of macromastia can include chronic neck, back, and shoulder pain; chest wall pain; headaches; poor posture; shoulder grooving; numbness and tingling of the hands; shortness of breath, sleep disturbances, rashes under and between the breasts and in the bra strap grooves, and low exercise tolerance."
The ASPS reports that more than 100,000 women underwent breast reduction surgery in 2014 for either cosmetic or reconstructive purposes. For many women, the procedure is life-changing, allowing them to participate in activities that were previously too painful and opening up an entirely new world of wardrobe options without feeling uncomfortable.
Baring her surgery scars is not the first time that the actress has made headlines for being a positive role model when it comes to body image. When a male Twitter user tried to pit the actress against Ariana Grande last year, Winter used the opportunity to speak out against body shaming in all its various forms. "Women should empower one another. Celebrate each other—you're all beautiful," she said.
When asked how she's dealt with this in the public eye so well, the actress says that she's "learned from the people who have made a lot of mistakes around me. I've seen young actresses have major falls from their career, and that's just not what I want. I'm very conscious about the way I treat people because I was never really taught to treat people in a respectful or kind way. I never really saw that role model, so for me, that made me just want to be the opposite of what I had and treat people the opposite of the way I saw other people treat other people."
We love to see Winter in a healthier and more comfortable place, even when it has required the difficult decision to go under the knife. She proves that not only do women come in all shapes and sizes but also have vastly different health concerns, of which we don't always know the backstory. We hope that Winter's message of courage, acceptance, and sisterhood is an inspiration to other girls who may be struggling with similar issues. There is certainly a fine line between self-acceptance and having to seek medical intervention when necessary, and Winter is a timely role model for how to navigate such decisions with grace and self-assurance. Oh, and she looks beautiful as she does it.
Photo Credit: Getty Images