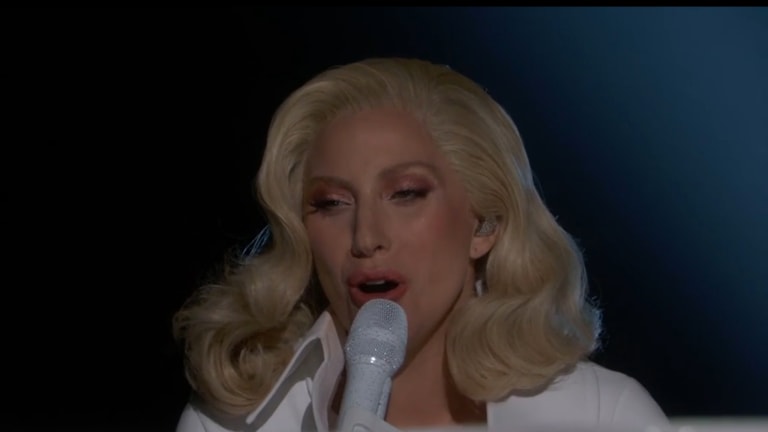 Sexual Assault In the Spotlight and Other Unmissable Moments At the Oscars
Everything you need to know about last night's award show, including the #OscarsSoWhite controversy and more.
Last night's Oscars broadcast was, as one expects, full of fabulous fashions and memorable on-stage moments both funny and emotional. There were many deserving winners throughout the evening, with Best Actor and Actress awards going to Leonardo DiCaprio (The Revenant) and Brie Larson (Room), and Best Supporting Actress going to Alicia Vikander (The Danish Girl), but my favorite speech was by Best Supporting Actor winner Mark Rylance for Bridge of Spies. 
Rylance is one of the best stage actors of his generation, and gave an amazingly humble acceptance speech that celebrated everyone else's artistry and downplaying his own. "I've always just adored stories: hearing them, seeing them, being in them," Rylance said, thanking director Steven Spielberg while commenting on current politics. "Unlike some of the leaders we're being presented with these days, he leads with such love that he's surrounded by masters in every craft." Here's our round-up of all the night's top moments. —Monica Weigel
Red Carpet Stunner—And I Don't Mean A Dress
One of my favorite red carpet moments was Saoirse Ronan giving a lovely and mature red carpet interview about Brooklyn, the Best Picture nominated film that earned Ronan the second Oscar nomination of her young career. When asked why she felt the movie was received so well, Ronan spoke eloquently about America being a country of immigrants, and so she hoped that people were able to connect with her character by being able to relate, in some small way, to her character's story. Ronan is growing into an incredibly talented young lady, and it is great to see her continue her shift from child actor to film start with such grace and poise.
Another of my favorite moments was an interview with Lady Gaga. She seemed genuinely delighted to be there (she was nominated for Best Original Song with her powerful song "Till it Happens to You"—more on that later). She was also trusted to sing about the important and difficult subject of sexual assault. —MW
The Black Elephant in the Room
The Oscars has been in the news since the nominations came out in early 2016 for its lack of diversity—the #OscarsSoWhite hashtag exploded after African American artists were shut out of the acting, directing, writing, and producing categories, and, for the second year in a row, no actors of color were nominated, despite many standout performances. This caused some artists, including Spike Lee and Jada Pinkett Smith to boycott this year's ceremony, and prompted a recent New York Times article about working in Hollywood filled with maddening stories from actresses such as America Ferrera, Eva Longoria, Teyonah Parris, and Mindy Kaling, all discussing their struggles in the industry as non-white males. 
When asked about the controversy during a red-carpet interview with Robin Roberts, actor Mark Ruffalo (nominated for Best Supporting Actor in Spotlight) commented that it is "time for our country to have this discussion in an earnest way—it's happening in the criminal justice system, the education system, and so of course it should be happening here." 
The Academy did its best to curry favor throughout the night—highlighting artists of color in pre-show commercials and packing the opening ceremony montage with movies such as Straight Outta Compton, Beasts of No Nation, and Creed. The show also offered up a star-studded lineup of presenters, including Kerry Washington, Michael B. Jordon, Quincy Jones, Pharrell, and many others. Host Chris Rock, who had been encouraged by some of his colleagues to boycott hosting, dedicated his entire opening monologue to the issue of racism in Hollywood. His summary of the heart of the issue "we want opportunity" rang true and received great applause. Some nods to the racial inequality were less tasteful, and the reactions in the audience at the Dolby Theater were mixed—some laughs, some grimaces, and some clearly uncomfortable.
Academy president Cheryl Boone Issacs, herself African American, dedicated her expected speech to moving forward, saying, "our audiences are global and rich in diversity… so we [should] accurately reflect the world today. I am confident that together we can shape a future in which all of us can be proud." Here's hoping she is right, and that the year's most prestigious awards show can celebrate all artists. —MW
Yet the Evening Had Several Moments of Comic Relief
The show provided many moments of comedy to lighten the often uncomfortable atmosphere. There was Ryan Gosling and Russell Crowe's bit while presenting the award for best adapted screenplay: a shot of someone in a bear costume sitting in the audience (referencing the much talked about bear attack scene in The Revenant). And who could forget the amazing cameo appearance of the Girl Scouts of Los Angeles (including Chris Rock's daughters) whose sales of Girl Scout cookies in the audience were no doubt profitable. Then there was an adorable moment when presenters Jacob Tremblay (Room, age 9) and Abraham Attah (Beasts of No Nation, age 14) couldn't reach the microphone and had to be provided with boxes to stand on... to present Best Live-Action Short (har har). —MW
Earth to Chris Rock: Porn Isn't Art
Early in the night Chris Rock joked about his comedian colleague Kevin Hart, who manages to work in a number of films at remarkable speed. "Porno stars don't make movies that fast," Rock quipped. Later, referencing the film starring Cate Blanchett and Rooney Mara, he said "of all the girl on girl movies I watched this year, Carol was the third best." Yuck. I know the Academy gives some liberty of content to the its comedian MCs, but putting porn on the level of real art is not just gross, it couldn't be further from the truth. —Mary Rose Somarriba
"What Happens When Determined Women Get Together"
While it might not be the most talked about category at the Oscars—or most lucrative, as comedian Louis C.K. put it hilariously when introducing it—Best Documentary Short was one that definitely appears to have had the greatest impact. Filmmaker Sharmeen Obaid-Chinoy accepted the award for her short film A Girl in the River: The Price of Forgiveness, saying, "This is what happens when determined women get together. From Saba, the woman in my film who remarkably survived an honor killing and shared her story…to all the brave men out there like my father and my husband who push women to go to school and work and who want a more just society for women….This week, the Pakistani prime minister has said he will change the law on honor killing after watching this film. That is the power of film." Wow. Talk about influence. —MRS
A Night To Bring Attention to the Horrifying Realities of Sexual Abuse
Spotlight, a film about the importance of investigative journalism in uncovering the priest sex-abuse scandal took home the awards for Best Picture and Best Screenplay. Vice President Joe Biden gave remarks urging all viewers to "take the pledge to intervene" in matters of sexual assault. And arguably the most powerful moment of the evening was Lady Gaga's performance of "Till It Happens to You" from the film Hunting Ground, a documentary on the campus sexual assault crisis. While Hunting Ground has received criticism for the accuracy of its details and didn't receive any further nominations as a film, Gaga's song is without doubt striking to behold. As she said in a red carpet interview, the song is "deeply connected to my heart. I am myself a survivor. Diana Warren is herself a survivor of sexual violence, and we're here tonight, very grateful to the Academy for giving us this world stage, to reward survivors for being brave and coming forward." And come forward they did, quite literally, in the performance. Toward the end of the performance, a number of sexual assault survivors marched out of the shadows to join Gaga on stage, holding hands in solidarity. Have some tissues handy, and give it a watch. —MRS
Then "Writings on the Wall" Wins Best Song?
After Gaga's performance hits it out of the park, the Best Song goes to…. Sam Smith? You have got to be kidding me. I love Sam Smith, truly, but Spectre's "Writings on the Wall" wasn't even Smith's best song, much less the year's best song in film. —MRS
Sarah Silverman Roasts James Bond 
Speaking of James Bond... I have to say, while I'm not a fan of Sarah Silverman's comedy generally, I did love her mini roast of James Bond before announcing Smith—calling out the film series for its love affair with treating women as disposable sex objects. "Maybe he likes sleeping with vulnerable women…and then never contacting them again. Maybe that's his thing…. He did sleep with 55 women in 24 different movies, and most of them tried to kill him afterwards." Yea, sounds kind of ungentlemanly when you put it that way, doesn't it. —MRS
Mad Max Picks Up 6 Oscars
In other big wins, Mad Max: Fury Road, which I think is one of the best things that came out of 2015, won six Oscars including Best Film Editing, Production Design, Sound Mixing, Sound Editing, Costume Design, and Makeup & Hairstyling. The sweep of awards made Mad Max the most winning film of the night. Just another reason to go watch it if you haven't already! —MRS
Brie Larson Is Amazing
For her lead role in the moving film Room, Brie Larson took home an Oscar for Best Actress. I have always appreciated Brie Larson's contributions to discussions on women in Hollywood. In her red carpet interview with Robin Roberts, Larson shared yet another female insight—that feeling as a woman you can have, when you have a child (or, in Larson's case, embody the role of a mother)—a feeling of intense humility and gratitude to your mom for what she did for you. As Larson said, "I grew up with small circumstances, with a single mom in a small apartment. And I realized that this was a great opportunity to live a piece of my life as my mother. And it brought me to my knees on the regular, almost every day. And I would call her and apologize all the time. Because... there's so many things you can't possibly understand until you're living for somebody else." —MRS
Leo Looks Happier Than Ever
And, yes, Leonardo DiCaprio won the much-coveted award for Best Actor. His role in The Revenant was his sixth nomination for the prize, and it was palpable that this was his moment. But even before he won the award, you could see the sense of humbled accomplishment in his eyes when Alejandro González Iñárritu accepted his award for Best Director not long beforehand. "You are the Revenant," Iñárritu said, looking at DiCaprio. Aw shucks. You deserve it, Leo! —MRS
Matt Damon Was Able to Act in The Martian Without Hurting Family Time
On the red carpet, Matt Damon described his experience working with director Ridley Scott of The Martian as, "one of the most joyful experiences of that I ever had…It was easy on my family, just like the hours that he works; you know, it wasn't The Revenant; I wasn't uncomfortable and freezing, and it was a really wonderful experience." That may be Damon's luck with an easygoing director, but we'd like to see more of that—movies made in flexible working environments that allow for moms and dads to stay in touch with their little ones. Because there's reason to believe that doing so will help Hollywood's working moms in a big way. In a roundtable discussion with other female actresses earlier this year, Cate Blanchett suggested that if we loosened up the timeline for how films are produced, "I wonder if there'd be more female directors...I think with a lot of women, the preproduction, the shooting, the postproduction, and the endless publicity—like 2 years of your life. Particularly for women with families, you think, how am I going to manage this?" We're happy to see The Martian's production schedule allowed Damon to not experience stress on his family life. Here's hoping other directors take note! —MRS
Inside Out Creators Remind Us that Creative Endeavors Help Alleviate Suffering
When accepting the award for Best Animated Feature Film, one of Inside Out's directors Pete Docter took the moment to remind us the value of creativity. "Anyone out there who's in junior high or high school, working it out, suffering, there are days when you're going to feel sad, you're going to feel angry, you're going to feel scared; that's nothing you can choose. But you can make stuff. Make films. Draw. Write. It will make a world of difference." We kinda already know this, but it's great to be reminded on the main stage. We all may not be Oscar-level actors and actresses, but we all have creative ability within our grasp. —MRS
Photo Credit: the Oscars / ABC