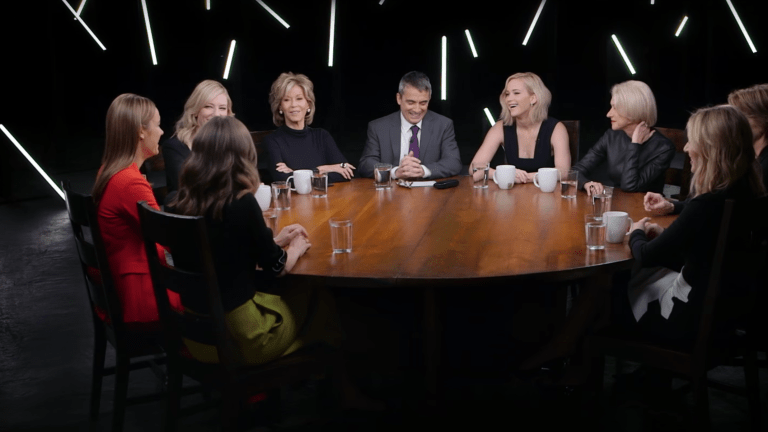 What Happens When Carey Mulligan, J. Law, and Other Actresses Get Together
Warning: Reading what these actresses had to say about being successful may give you shivers.
This week, the Hollywood Reporter hosted a roundtable discussion featuring a number of accomplished actresses, including Jennifer Lawrence (Joy), Carey Mulligan (Suffragette), Brie Larson (Room), Kate Winslet (Steve Jobs), Cate Blanchett (Carol, Truth), Helen Mirren (Trumbo, Woman in Gold), Charlotte Rampling (45 Years), and Jane Fonda (Youth). The Internet video accompanied a cover story in the latest issue of the Hollywood Reporter, and the full footage will air on Sundance TV on Sunday at 8 p.m. I would have liked to see some diversity on the panel (I would have loved to have heard Lupita Nyong'o's thoughts, and Octavia Spencer's, and Salma Hayek's, and Penelope Cruz's, and—I could go on!). But I hope we'll remedy that with more panels in the future, because watching these actresses knock ideas around was thought-provoking to say the least. Even hope-instilling at moments, on what the future holds for women in film. Here are some of what I found to be the most interesting things that came up in the discussion.
01. There aren't as many good roles for women as for men.
All the ladies around the table seemed to agree that women had a harder time finding acting jobs, simply because a limited number of acting roles are offered. As Brie Larson, who won the Golden Globe for best actress in a drama (Room), put it, "It's mostly dudes in charge, who are deciding!" Larson spoke from experience when she said often screenplays will have a limited number of stereotyped roles for women, for example, the pretty girl or the dorky girl. In her youth she was often hard to pin on either of those roles—"I wasn't pretty enough to play the popular girl; I wasn't mousey enough to play the mousey girl…I wasn't a cliché"—so she struggled to gain jobs and reconsidered the field altogether. Having more women in writing and directorial roles will help when it comes to offering more complex roles for women.
02. To get more female directors, we may need to change how movies are made.
One way to support female directors, it was mentioned, is simply to buy tickets to films directed by female directors, no matter if it interests us. Money talks. Another way, Cate Blanchett proposed, is to flip the way we look at film production. "We take for granted that there's a certain way make a film, start on day 1, and end on day 30," she said. If we were willing to break from the traditional ways movies are filmed, "if you did shoot a bit, rethink, go back; I wonder if there'd be more female directors." The current way movies are filmed can be particularly hard for women with families, she noted. "I think with a lot of women, the preproduction, the shooting, the postproduction, and the endless publicity—like 2 years of your life. Particularly for women with families, you think, how am I going to manage this?"
When Jennifer Lawrence asked, how is this different than for men with families, Blanchett replied, "I think there's just an expectation that women are going to keep the home fire burning," which was met with many nods. Charlotte Rampling noted, "Women have an awful lot of jobs to do in life...We well know that we are the ones that do the mothering." Whether it's women's maternal desires to keep a presence in the home or societal expectations or both, it's worth keeping in mind if we can increase women's involvement in the stories we see on screen.
Further, as Lawrence later commented to Carey Mulligan who recently had her first child, there are physical aspects of motherhood that men just don't have: "You physically can't do what your husband is doing right now. You are physically feeding your baby and your husband can't do that."
"We're continuing the human race for you," Mulligan quipped with a smile. "You're welcome."
03. Being a mother can help you be a better actress.
We all know wisdom comes with age and experience, but, according to Kate Winslet, having a child greatly expands your abilities as an actress. "When you're younger, you've only lived a certain amount of life… you have your emotional toolbox," Winslet said. "As you get older; I know this having had children—Carey [Mulligan], you'll know this, the next role you play—you'll go "oh wow, there's a whole 'nother toolbox here I didn't know I had been given!"
Responding to a previous question, Blanchett noted, having children "makes you more economical... You have no time to research" background on the role adnauseum, which she noted is often procrastinating out of fear of jumping right into the hard stuff. "You have no time to be frightened, in a way."
Even Helen Mirren, who has no children, commented, "babies and animals are my inspiration;" just thinking about them helps her get through the stress of the filming process.
04. Sex scenes are uncomfortable (but no one seems to care?).
Jennifer Lawrence mentioned she did her "first real sex scene a couple weeks ago" for a film called Passengers. She was visibly shaken up talking about it, calling it "a bizarre experience." How did she get through it? "You drink. You get really, really drunk; but that led to more anxiety," she said. "He was married...I knew it was my job but I couldn't tell my stomach."
Now this is an interesting issue I'd love to hear other female actresses grapple with. When do you say no to a scene you're uncomfortable with? Surely there is a line, right?
Blanchett joked when Lawrence said it was her first "real" sex scene, asking how real did she mean? The whole room laughed heartily as if to suggest real sex would be going over a line. This isn't porn, after all. But where exactly the line is set remained ambiguous. As Lawrence noted about her scene, "you don't know what's too much; you want it to be real, but..." But not too real.
When the host asked the table if here are any things you wouldn't do on film, not many things came up. "Violence against children," Winslet said. In terms of "gratuitous" content, Blanchett agreed, "you ask, what is this adding to the conversation?" But when asked, "Have you said no to doing something on screen?" the table fell silent. "No, not yet," Lawrence said, before adding that she would.
05. Being vulnerable is being brave.
And vulnerability doesn't mean being naked. "The toughest thing is trying to sell a whole story; trying to make it feel like a consistent character," Mulligan said. And taking on a character means you have to try to think the way they think, no matter how different you really are. It involves being "nonjudgemental," as Mulligan put it. All the actresses seemed to agree that acting is great for empathy-building. "Every single person has the story of a movie in you," Mirren said sagely.
06. Working in creative industries such as acting has the mysterious quality of being "vocational."
Why do you act? Brie Larson mentioned that she kept trying not to act, but kept getting "The Call"—she kept getting pulled back in. Blanchett said at the risk of sounding "wanky," as the Brits say, that it's something of a "vocation." Mulligan agreed with the vocational aspect, saying, "I remember when I did [Chekov's] The Seagull there's a line Nina says: 'I'm a proper actress now; when I think of my vocation I'm not afraid of life,'" and that rings true to her. In a way, "it does "make sense of everything for you."
I may not be an actress, but even as a writer I felt I could relate very much of what these accomplished women touched upon—motherhood expanding my breadth of perspective, the vocational aspect of work, and so on. But there's still many more conversations worth having. For instance, if Hollywood loves putting women in narrow roles, except when it comes to an infinite number of sexualized roles, then I'd like to see more productive conversations down the pike. If we think women should feel empowered to say "no" in real life situations, women acting on screen, presenting representations of women that influence the masses, should be ever more empowered to say no to things they're uncomfortable with representing on film. Lest we forget, a generations of girls and women are watching.
Photo Credit: YouTube