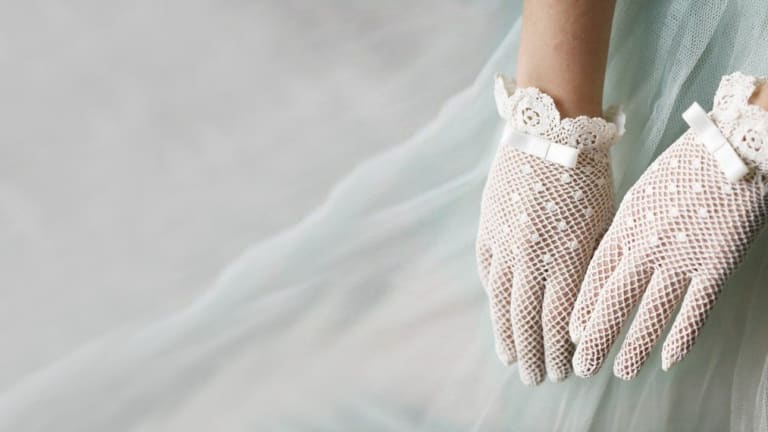 Clever Ways to Incorporate Something Old, New, Borrowed, and Blue Into Your Wedding Outfit
Keep up this fun tradition with these easy tips.
"Something old, something new, something borrowed, something blue." You've probably heard this rhyme before—but have you ever actually considered what it will mean for your own wedding? The tradition sounds a bit silly, but the symbolic nature behind each "something" can be truly meaningful. By incorporating each of these old, new, borrowed, and blue treasures into your wedding outfit, you'll have a chance to intentionally involve your family and friends in the preparation for your big day.
To get you started thinking of how you and yours will be represented by these four special somethings, here are some traditional—and not-so-traditional—ideas.
Something Old //
Signature Scent: Have a signature scent that he loves? Spritz this on before you walk down the aisle. As you approach, a whiff of your unique smell will have him recalling the first day you met.
Vintage Comb: Vintage wedding looks have never been more in style. Wearing your grandmother's (or mother's) art deco hair clips or combs is a great way to incorporate the role models of your life into your wedding day. If your grandmother and mother don't have any of these items, but you still want the look, check out your local vintage shop, and pick up a couple pieces anyway.
Vintage Petticoats: Nobody makes quality petticoats like they used to. Vintage tulle, lace, crinoline, taffeta—these materials are romantic and sturdy enough to support even the heaviest wedding dresses. If you want to show off your flouncy petticoats, wear a tea-length wedding dress, or ask your photographer to take a few photos of you getting ready in the morning.
Vintage Gloves: Delicate lace gloves are perfect for the bride who fawns over feminine details. Luckily for us, these were all the rage in the 1940s and fifties and can be found in nearly every vintage, consignment, and thrift shop. Incorporating vintage gloves will also add an element of creativity, as most brides don't wear gloves anymore.
Something New //
Lipstick: Buy a brand-new lip color that you will be able to keep and always remember as the lip color of your wedding day. Save it for future occasions, such as your anniversary or special date nights. In years to come, you will always be able to wear your wedding-day lip color and reminisce on that first married-girl kiss.
Engraved Bracelet: Give yourself and your bridesmaids something new to wear on the big day. A classic gold chain bracelet with your wedding date engraved underneath is a keepsake that you and your bridesmaids can wear beyond the wedding festivities.
Initial Handkerchief: Without a doubt, there will be many happy tears on your wedding day (whether it be from you or your guests). Prepare for the inevitable tear or two with a monogrammed handkerchief of your new initials. It will also serve as a precious keepsake.
An Item for Your Future Daughter: As you ask your mother for items from her wedding outfit, you may be making mental notes of items to pass on should you have a daughter of your own. A delicate capelet or beaded shawl that you buy new will be considered vintage by the time your daughter gets married. She will appreciate an item from your wedding day just as much as you appreciate your own mother's.
Something Borrowed //
Your Best Friend's Nail Polish: Whether she is a bridesmaid or a guest, find a way to make your best friend feel like she is a part of your journey up the aisle. To remember your childhood sleepovers filled with giving each other manicures and swapping boy stories, ask your best friend to do your nails one last time as a single woman with her favorite nail polish. It may seem frivolous, but you and your best friend both know the impact of those times you bonded over bottles of polish.
Your Sister's Wedding Necklace: Maybe you have an older sister, a close cousin, or other relative near your age who already had her big day. Chances are, you helped her pick out her wedding outfit. To incorporate your family and the time you spent preparing her for her wedding day, wear a piece of the same jewelry on yours.
Your Mother-in-Law's Pearl Earrings: You may be more familiar with the tradition of wearing your mother's pearls, but why not pay homage to your growing family by donning your mother-in-law's pearls? Incorporating a piece of jewelry from your soon-to-be husband's mother is a heartfelt way to include her in the big day. As she gains you as a daughter, she will feel as though she is important and has contributed to your wedding outfit.
Your Mother's Veil: There is nothing like the role of a mother in a daughter's wedding. As you walk down the aisle with her veil all around you, you will feel her presence with you the whole way there. And if your dad is giving you away, he'll have a special moment remembering his wedding, too.
Something Blue //
Flowers: Perhaps the most fun element of the traditional rhyme is the "something blue." If you're a bohemian bride, put delicate blue flowers in your hair. If you're a classic bride, ask your florists to place a few blue flowers in your bouquet.
Blue-Soled Shoes: This one requires a little DIY but is totally worth it for the surprise factor. Paint the bottom of your shoes with whatever blue hue you desire, and every time you kick up your heels, your guests will marvel at your creativity.
Jewelry: Incorporating subtle hints of blue into your wedding outfit is the easiest way to complete this part of the rhyme. Depending on how bold you want to go, pick jewels and gems in light blue, cobalt, or royal blue.
Blue Stitching: Perhaps the most clever "something blue" idea is to stitch your wedding date or soon-to-be-husband's initials into the fabric underneath your dress in blue thread. It'll be your little secret.