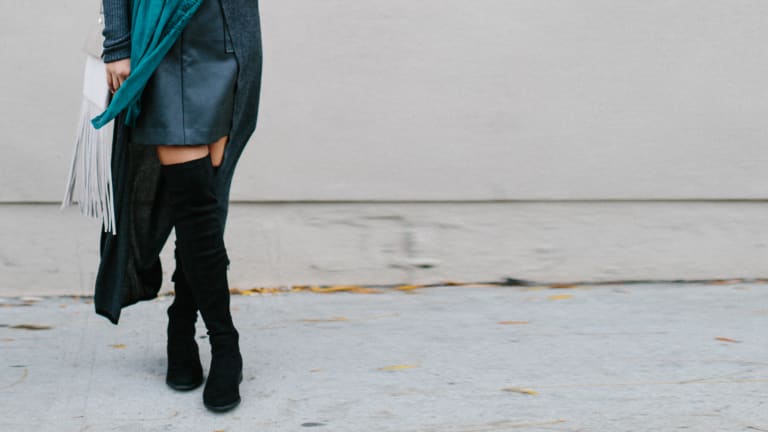 A Beginner's Guide to Wearing Skirts with Boots
The length of the skirt and the height of the boots can make or break your look.
We've all stood in front of our mirrors in a new outfit asking, "Does this really work?" Case in point: wearing boots with skirts or dresses. A boot is a seemingly easy combination, but depending on the skirt and the boot, it can prove a bit tricky.
Pairing boots with a skirt is trying to balance a masculine item (boots) with a feminine one (skirt). It requires blending polar opposite styles in a way that makes it look like you aren't wearing two outfits at once—and keeping your body proportions looking proper. Pair a too-long skirt with a too-tall boot, and you could instantly truncate your legs and end up with an out-of-proportion, unflattering look.
To master the boots-plus-skirt combo, here are a few key rules about length and style to keep in mind.
Booties //
Who doesn't own a pair of chic ankle booties? Cute, comfortable, and versatile, this style can really earn its keep. Skinny jeans and booties? Always a win. But throw a skirt in the mix, and things get a little hairy. The best complement to booties is a midi skirt or something that hits you just above the knees. Keep it sleek for the office with a pencil skirt silhouette, or be flirty and feminine with an A-line.
The pencil skirt will highlight the feminine curves of your legs from thighs to knees, making the masculine short boots look more ladylike by emphasizing your shape. A flared skirt that hits at the top of your calves is also flattering because it will highlight the line between your ankles and calves.
Over-the-Knee Boots //
For those uber-fashionable over-the-knee boots, wear skirts that leave just a sliver of space between the tops of your boots and the hem of your skirt. You don't want the tops of your boots to hide under your skirt hem. A little leg avoids a lumpy silhouette and an over-styled look. Try wearing these boots with a pair of colored opaque tights to break up your look while also keeping you covered during the cold months.
Classic Knee Boots //
For those wardrobe staple boots, like your equestrian-style riding boots that hit you right below the knees, opt for A-line skirts that hit at the knees or a couple inches above. Similar to the tall boots, the goal here is to not have the tops of your boots and the bottom of your skirt connect. Medium-height boots really highlight the outline of your legs, the tops of your calves, and the curves of your knees. Wearing a skirt that hits at your knees or just above will also highlight and flatter this curve of your legs. Plus, the fun, feminine A-line skirt will soften the masculinity of the boots. A pair of cable-knit tights or bunched boot socks will also add a stylishly cozy flair.