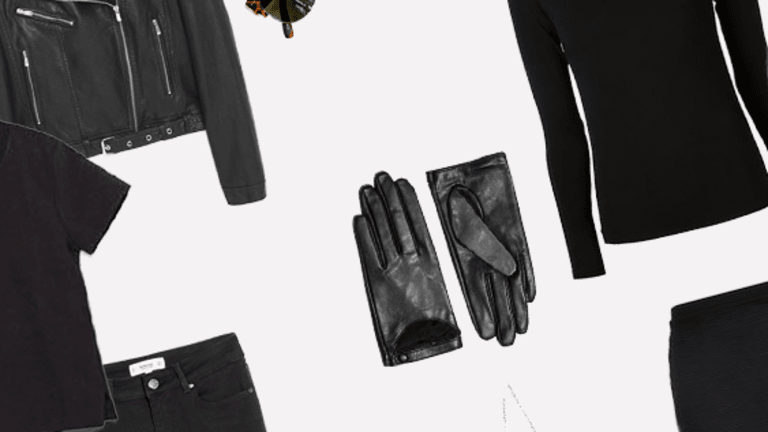 3 Clever Tricks to Help You Pull Off Black (Without Looking Drab)
Wearing all black doesn't have to look austere.
Wearing black on black is perhaps the chicest outfit combination known to the fashion world. French women are heralded for it, street-style bloggers have mastered it, and we are dying to know how not to look drab in it. How do we wear black on black without looking like we are paying homage to My Chemical Romance? The secret is in adding elements of color, texture, and strong silhouettes. Follow these three tips, and you will have mastered the art of wearing all-black everything.
Pops of Color //
Casual
Formal
To avoid looking like a mass of black fabric, attempt the obvious: Add color. So as not to lose your chic monochrome ensemble, only add colorful accessories. A cobalt blue bag here and a canary yellow statement necklace there will break up your one-tone outfit while adding some flair. Pick out your boldest accessories, and put them on display—after all, they do have the perfect backdrop.
Texture //
Casual
Formal
Models are heralded as street-style goddesses in their black-on-black post-show getups. But how do they create such standout looks with just one color? The answer is in incorporating texture. A black-on-black outfit will look flat if you wear the same fabric from head to toe. Elements of leather, velvet, wool, embroidery, denim, or faux fur will add some dimension to your outfit while also creating a look of upscale luxury.
Striking Silhouettes //
Casual
Formal
This one goes out to all the minimalists who believe in the power of a simple outfit. Black naturally creates a bold silhouette with this solid tone. To enhance the silhouette, pick items that create interesting lines—such as culottes, wide-leg pants, peplum tops, bell sleeves, and long pencil skirts. Choosing pieces with swooping lines will create a dramatic silhouette while also flattering the natural lines of your body.