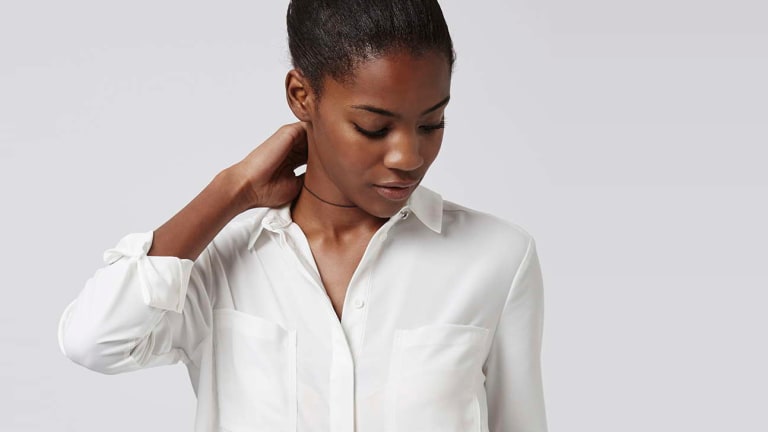 If You Have These Wardrobe Basics, You'll Never Be Stuck for Something to Wear Again
Build your wardrobe in an intentional way, and looking put-together every day will be a breeze.
If you have ever looked into your wardrobe and uttered the words, "I have nothing to wear," despite the mountains of clothes you see, it's probably because you don't have the right items. Bad shopping habits are often to blame for this predicament—raise your hand if you've ever walked out of Forever21 with five more items than you anticipated buying. When you aren't purposefully building up your wardrobe, you end up with a lot of random items—and many more "so many clothes, nothing to wear" moments. 
The key to a successful wardrobe is to have foundational items that are 1) versatile, 2) flattering, and 3) classic. When you have these base items, you will never run out of things to wear, and you will end up buying less because you won't be trying to fill that unidentifiable void in your closet.
Tops //
01. Crisp White Button-Up: It doesn't get more classic than this, but you'd be surprised to learn that many women don't own a white button down. This article of clothing sometimes gets a reputation for being too boring or corporate. But when styled well, it can be the most fresh and chic item in your closet! Take a cue from the French, and wear it with your skinny jeans and a colorful scarf. Or tuck it into your high-waisted midi skirt for a retro throwback!
02. Long-Sleeve Black Top: Perfectly sleek and flattering, a black long-sleeved top is great all on it's own and for layering with other items. Get inspired by Audrey Hepburn's classically minimal look or use it to stay warm and chic by wearing underneath a sleeveless dress.
03. Soft Vintage Tee: This isn't your average tee shirt. An über-soft, loose-fitting tee is as comfortable as it is versatile. Drape some dangly necklaces over it and throw on your boyfriend jeans and heels for a perfect night out look! You can even wear it to the office with a sleek pencil skirt and blazer.
04. Striped 3/4-Sleeve Shirt:  You'd be surprised at how a simple striped shirt can make an outfit look intentionally put together. Again, the French are definitely on to something! A striped top requires little accessorizing or styling and looks fantastic with both pants and skirts.
Dresses //
01. LBD: Can you ever go wrong when wearing a classic little black dress? Suitable for almost any fancy occasion, the little black dress promises a simple, chic, and flattering outfit. And you really can't go wrong when your shape is being flattered!
02. LRD: When you want a little more va-va-voom, look no further than the little red dress. Equally powerful as the LBD, the LRD just has an extra kick that makes any woman feel her best. This is a date night score every time!
03. Fit-and-Flare: Comfy with a twirly skirt? Yes, please. The classic fit and flare dress is flattering for every woman because it cinches in at the waist before flaring into an A-line skirt. Wear this darling dress with a denim jacket to dress it down or statement jewelry to dress it up, and you've got a look for every occasion!
04. Office Dress: Sounds boring, but an office appropriate dress will come in handy more than you realize! If you're invited to a gallery opening last minute or have a job interview coming up, a sleek sheath dress will save the day! It may not be the most fun item to shop for, but it will save you a lot of headache to have this on hand when the moment strikes. Build upon the look with a fun statement necklace and colorful heels.
Bottoms //
01. Black Skinny Jeans: If you ever struggle with finding the right pair of pants to wear, rest assured that a pair of black skinny jeans will go with anything—literally. They make any outfit look chic while also supporting whatever you are wearing. They can be casual or dressy–the perfect wardrobe building item.
02. Boyfriend Jeans: Surprisingly enough, these slouchy, comfy jeans have become the jeans for any occasion. Night out with the girl? Throw on some heels with your boyfriend jeans for that effortlessly chic look. Going on a road trip? Boyfriend jeans also look fantastic with sneakers, naturally. If comfort is the new black, we are all on board.
03. Pencil Skirt: Every woman needs a flattering pencil in her life. A darker colored pencil skirt is the way to go since it will match anything you wear with it while also dressing up your look overall. A pencil skirt that hits at your knees or just past is often the most flattering fit for women because it highlights your curves without cutting your natural line.
04. Midi Skirt: When in doubt, go with a midi—especially on days when you feel "meh" about your style. A fun, feminine midi skirt has the power to make any girl feel extra on point. Midi skirts can also dress up any outfit, making it perfect for all the big events on your calendar.
Jackets & Coats //
01. Denim Jacket: It's a little chilly out but you don't want your chunky cardigan to ruin your outfit. So what do you reach for? Your denim jacket of course! The structure of the denim jacket makes it appropriate for almost any occasion.
02. Blazer: Whether you are going for an office professional look or just want to dress up your jeans, the blazer is your jack of all trades. You'll be amazed at how a simple navy blazer can add that preppy cool edge to your most basic outfits while also making you look like you put some effort into your outfit (even when you didn't.) Look out, J.Crew!
03. Leather Jacket: Every girl needs to add a little bit of rugged to her wardrobe. The leather jacket gives you a 'cool girl' vibe that is classic—and warm (well, maybe not in the dead of winter). Jeans, a fancy dress, a chunky sweater—leather goes with it all.
04. Trench Coat: A classic trench coat isn't just a coat—it has the power to make or break an outfit. By instantly adding class and style to your most basic looks, the trench coat is almost an outfit in and of itself! Wear it to the grocery store or on top of your LBD, this versatile coat is a wardrobe must have.
Shoes //
01. Comfortable Pumps: Even if you're not a heels person, every woman should have a pair of comfortable heels in her closet. While sky-high stilettos seem fun, you definitely need at least one more subdued pair. When a wedding comes up, a fancy gallery viewing, or a girls night—you'll be grateful for your comfy pumps.
02. Ballet Flats: Chances are, you already have a pair of ballet flats so you know just how valuable they are. Pair them with your midi skirt for an über-feminine look, or go for a French chic vibe by wearing them with cuffed jeans! When in doubt, ballet flats will complement any outfit.
03. Brogues: Brogues are the staple item in your wardrobe that you never thought would be so staple. Brogues will make your ensemble look polished and professional with a stylish flare. You can wear them with your skinny jeans for a more modern look or pair them with your skirts for a retro inspired outfit!
04. Black Booties: You might not think it's worth buying a pair of black booties, but you'd be surprised at how often you will slip these on (and with every kind of outfit). Comfortable and chic, black booties are perfect for many occasions and outfits.