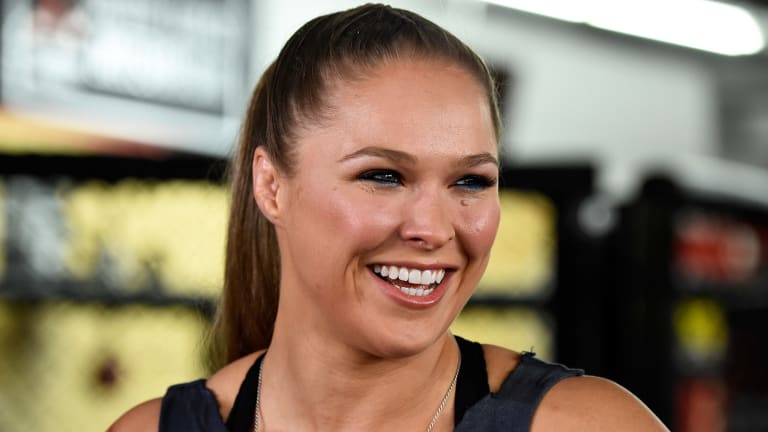 Sports Illustrated Actually Put an Athlete On Its Swimsuit Issue Cover For Once
But is Ronda Rousey in a spray-on bathing suit really that game-changing?
Former UFC female bantamweight champion and ESPN's Female Athlete of the Year, Ronda Rousey, will be featured on the cover of Sports Illustrated's Swimsuit 2016 issue. According to sneak peeks of her look, Rousey will be sporting nothing but a painted-on one piece bathing suit. By that I mean she's literally not wearing anything but body paint in the shape of a swim suit. So, through a loophole, Rousey will appear naked.
Many have pointed out that an athlete like Rousey, who is both beautiful and built, is a stark departure from SI's traditional covergirl. "Putting Rousey on the cover marks a significant turning point for the magazine," Taylor Pitz of TheInertia.com points out, "Since the creation of the swim issue in the early 1960's, the cover has traditionally featured gorgeous supermodels: Kate Upton, Bar Refaeli, Lily Alrdridge, and Chrissy Teigan to name a few. This year, the magazine will instead highlight Rousey's athletic figure, and this marks a win for all female athletes."
To an extent, I agree. It shouldn't be unusual to see an actual female athlete—rather than a model—featured on the cover of a major sports magazine, but it is. And it's particularly unusual to see one under 5'10" or over 130 lbs. So in that sense, the nod to strong female athletes is refreshing. Then again, I can't help but think it's sort of a bizarre milestone to celebrate.
I suppose, if the only issue with the way women are portrayed in Sports Illustrated was that only one body type is ever featured, this would indeed feel like progress to me. But the reality is that there is a much bigger problem. The women we traditionally see on the cover of SI are not so much celebrated as they are exploited for their sexuality.
I've written about the hypersexualization of women in the media before and, over time, many have pointed out that objectification is in the eye of the beholder. While that may be true, it doesn't change the reality that SI and many other magazines exploit our culture's love of sexually objectifying women. Year after year, they've used women's nearly naked bodies to sell magazines. And yes, those nearly naked women are almost always of a certain size or shape. But the solution to our cultural fixation with objectifying certain kinds of female bodies is not to objectify a broader range of body types, but to stop objectifying women's bodies.
As long as we're discussing diversity in magazines such as Sports Illustrated, I think it is worth asking ourselves why there is so little of it. To me the obvious and inescapable answer is that the women who grace its pages are being sold as sexual playthings and thus, in order to sell, must cater to the sexual preferences of the magazine's market. I've got news for you, those preferences have long legs, large breasts, and very little body fat. In other words, if we really want to see a greater variety of women celebrated in the media, we've got to stop making sexuality the selling point.
Hypersexualization of women in the media has been an issue for a long time and for very obvious reasons—women are beautiful and their bodies are captivating. The problem is that when we are zeroing in on their bodies, we fail to see the rest of them. Rousey's SI cover photo is a perfect example of this. We have an opportunity here to celebrate an incredible athlete, her work, her story, resilience, and accomplishments, and all anyone is talking about is her painted butt. So although I admit that Rousey's cover photo is different, I just don't buy that it's the type of different we need. 
Photo Credit: Getty Images