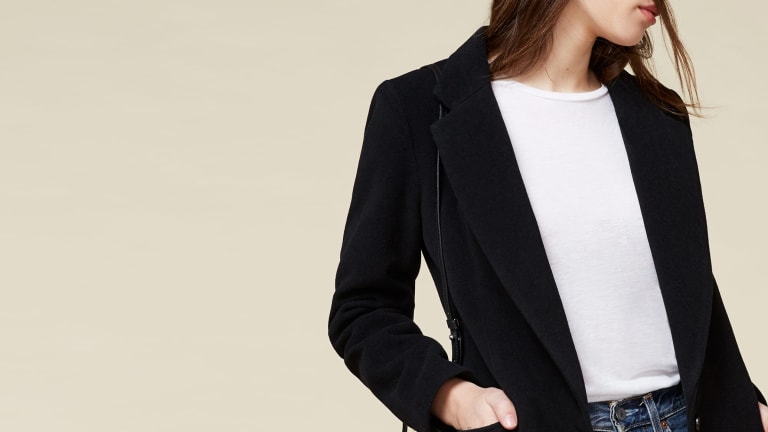 8 Beautiful World-Changing Brands You Should Know About
Buying ethical without compromising on style has never been easier.
Considering the ethics behind consumer products can be both daunting and disheartening. And all too often it leaves us wondering: "What are my alternatives?"
Great news. When it comes to fashion, there is a plethora of options, which look just as beautiful as their missions to better both people and the planet. These designers believe that you can have impeccable style without compromising the environment or their workforce. In fact, your fashion choices can even make a positive impact on the lives of others, as many of these companies market the wares of artisans in developing countries or will include a donation to a children's charity as part of your purchase.
Verily spoke to some of these designers and start-ups to find out what inspires them to pursue ethical fashion, to understand their aspirations, and to see how they are using style to make real change, on a global scale.
Far & Wide Collective //
Far & Wide founder Hedvig Alexander spent seven years working in international development in Afghanistan. While there, she noticed what a struggle it was for even the most talented of women artisans to successfully market their products. The mission of the collective is to help women artisans in post-conflict and developing countries such as Pakistan, India, and Afghanistan to reach a North American audience with their elegant and exceptionally crafted handiworks.
The artists and communities selling the products are kept involved the whole time, so they know where their handiwork is being sold and what products are successful. Wilkins says, "This ongoing communication ensures that each artisan receives vital market results, so they can successfully grow and sustain their own businesses."
Far & Wide operations manager Mollie Wilkins says that some of the collective's bestsellers by far are various sets of stone stud earrings made by the young artist Shugufa Yousofzai of Kabul, Afghanistan (number four, above). "Her beautiful and unique handcrafted studs are made with local stones including lapis, pink quartz, and aquamarine," Wilkins says. It's easy to see why they're so popular!
Jimani Collections //
Jimani Collections is all about combating poverty, in a sustainable way. The company creates economic opportunity for women in Africa by training them to create artisanal jewelry through traditional Kenyan techniques, with a modern aesthetic. Plus, Jimani makes sure that all of the raw materials used in its products are conflict-free, including in its horn earrings and glass beaded bracelets.
Stephanie Stanton, director of marketing and business development for Jimani Collections, says, "We work with some of the poorest in the world—women who have experienced a harsh reality that few can imagine." Eunice, Jimani Collections' Kenyan-based manager, says that being employed with Jimani literally brought her family out of starvation. "We no longer lack food, my children have nice clothes to wear, I am able to pay the house rent, and, whenever my mother is in need, I am able to send to her money. There is a huge difference between the Eunice of today and that of when I started." Besides her own family, Eunice is even able to support a young girl she found abandoned on a roadside.
Ingle & Rhode //
Ingle & Rhode was founded as an ethical alternative to luxury jewelry brands. The idea came when cofounder David Rhode was trying to buy an engagement ring, but none of the jewelers could promise him that the history of their diamonds were as shiny as its many facets. All Ingle & Rhode pieces are designed and made in the United Kingdom, so sweatshop labor is not a concern. C0founder Tim Ingle says, "We can trace all our precious metals and gems back to their source, which is almost unheard of in the jewelry industry."
All of the company's certified fair trade gold comes from small-scale producers in Peru and Bolivia, and colored gemstones are sourced from artisanal producers and cooperatives around the world. "With regards to diamonds, by sourcing them from Canada and Australia, we are guaranteeing that they are conflict-free" Ingle says. Both Canada and Australia have strict labor laws and environmental standards. For Ingle & Rhode, this distinction is crucial, as the company specializes in wedding bands and engagement rings.
Ingle says that they choose to source products ethically because they believe that both customers and suppliers deserve it. They want to raise awareness of the social and environmental exploitation that he says is endemic within their industry and provide a quality alternative without charging a premium just for being ethical. "And frankly," Ingle says, "no one at Ingle & Rhode would work here if our jewelry [were] being produced at the expense of human suffering or environmental destruction." Because it is possible to create the highest-caliber pieces without sacrificing ethics, that's just what they do.
Refuge //
A team of undergrads are using its alternative style to open doors for child refugees. Refuge is a youth initiative founded in 2014 through a group called MSC Freshman Leadership International at Texas A&M University, to raise funds for the education of child refugees. "Education is power," cofounders Lexi Carley and Andrea Batarse say. "We want to empower boys and girls alike to change their own world."
By providing these refugees with an education, the initiative means to create hope and a new kind of refuge for youth in challenging circumstance. Refuge bracelets each follow a fifteen-step process of hand-sanding, shaping, antiquing, and sealing, to ensure that quality is equal for each wristband. For every bracelet Refuge sells, one month of education is provided to a child refugee, via a donation to UNICEF and its School-in-a-Box program.
The #BooksOverBombs bracelet is a current Refuge team favorite, made in collaboration with the Dubai-based Books Over Bombs Foundation, which supports schools in Lebanon and children living in Syrian refugee camps. The girls said that Bianca Hadzic, BOB's founder, discovered the Refuge team on Instagram. "After one of the best Skype calls, our beautiful collaboration began. We love the work that BOB does for Syrian refugees, and we love its passion for #ResponsibleFashion."
Matt & Nat //
Vegan leather bags from Matt & Nat are both chic and cruelty free. The Canadian company is committed to using environmentally friendly materials free of animal byproducts. The linings of all the bags are even made from 100 percent recycled bottle plastic.
The simple, clean designs of these purses and totes lend themselves to daily use and are sure to become your go-to catchall carriers—especially as they are so durable. Because sustainability is the company's main focus, its bags are made to last. Matt & Nat pieces are inspired by nature, with earthy pallets, structured shapes, and weathered textures. In fact, the brand name is short for "materials and nature," and the company office is considered a "cruelty-free zone." The Matt & Nat motto "Live Beautifully" supports simplicity, creativity, and positivity.
Reformation //
Reformation is as much a lifestyle brand as it is a fashion brand. Its claim? "We make killer clothes without killing the environment."
Appalled by the waste and use of toxins she saw while working within the garment-making industry, founder Yael Aflalo set out to create a green fashion line that didn't compromise on style. The Reformation website says that the retail industry is one of the largest polluters in the world, trumped only by oil and agriculture.
Each week, Reformation creates a limited-edition collection in its Los Angeles factory, all from repurposed vintage clothing, rescued deadstock fabric and eco-friendly materials (such as lyocell, which uses 80 percent less water to make than cotton). The Reformation factory itself is powered by renewable energy. Reformation even has a sustainability team of environmental mathematicians who calculate the CO2 and water footprints that each of its products have, as well as the impact of shipping, packaging, and a lifetime of garment care. Then they calculate the reduction in earth damage compared to a mainstream consumer piece.
The Reformation style? Effortlessly cool, with modern shapes conscious of the feminine form. Despite its use of neutral palettes, you can be sure all its products are green because most of all, Reformation style is clean.
Rose & Fitzgerald //
This husband-and-wife co-op focuses on the wild and untapped beauty found in raw, natural materials. After spending three years traveling and pursuing art in Africa, the California couple now consider the continent as their adopted home.
All Rose & Fitzgerald artisanal jewelry and housewares are created in their Uganda studio, from local materials including wood from sustainable vendors associated with the Ugandan National Forestry Authority and recycled Ugandan cattle horn from the Ankole nomadic tribe in western Uganda. Rose & Fitzgerald baskets are weaved with dyed raffia made from palm leaves and banana leaf stems called bukedo. The company goal is to positively affect the local economy of the communities it works with, by keeping as much of its business processes in Africa as possible.
The pieces merge contemporary fashion with a love for coastal living. Rose & Fitzgerald says that its company concept is born out of a whimsical and concrete belief that geography should not limit access to adventure, and talents should not be overlooked just because they live in a forgotten or far-away place.
Everlane //
Transparency is Everlane's main game, its slogan being: "Know your factories, know your costs, always ask why."
Everlane management spends a lot of time researching and building relationships with all of its factories, ensuring consistent ethical practice and professional integrity. The strategy has paid off—its Los Angeles tee and sweatshirt factory produces as many as 20,000 tee-shirts a month. Plus, it has a handful of factories dedicated to favorites such as cashmere, shoes, sweater and blazers, in places including Italy, China, Scotland, and Spain.
Being an online-only operation helps cut back on traditional markup costs, and on top of that, Everlane provides a cost breakdown for procurement of each of its pieces, so you know what your money was spent on. As for always asking why: Questions are a big part of how Everlane stays socially conscious and keeps its brand accountable. Transparency, after all, requires communication.
At Verily we believe great style can be life-changing; it's even more powerful to see how tangibly these brands use beauty to clean up the planet and lift people out of poverty. Fusing a love for fashion with social action is definitely a win.