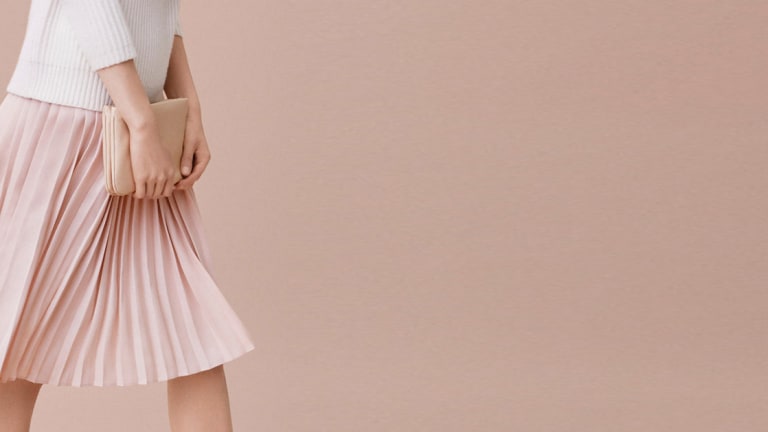 Why We Love the Universally Flattering Pleated Skirt
The pleated skirt has graduated from schoolgirl to your closet.
Pleats. The word alone may send your mind rushing to images of ill-fitting khaki pants or skirts from your schoolgirl days. But whether you liked your past pleats or not, this folded fashion is staging a comeback—this time a bit more grown-up and a lot more modern.
To style your new look, pair your pleats with a crisp collared button-up or a soft knit sweater. As a rule, a fitted top better complements a full skirt. For a flowing pleated maxi, try pairing the skirt with a boxy top. And don't forget to accessorize to, um, com-pleat your outfit (I couldn't help myself!). Here are a few tips about the many ways you can find and rock pleats this season.
Accordion //
When we say accordion pleats, we mean thin folds (just like the instrument). These petite pleats are subtle, just enough to add a little extra swirl. But you can definitely make a statement if you go for a metallic or leather material. Or, consider an entirely monochrome outfit to make your pleats really shine.
Knife //
Knife pleats all fold over in the same direction, so they tend to lie flatter than some other types. You can find this sleek pleat on skirts of varying lengths with a wide range of special details, such as a silk waistband or an equestrian-style side buckle. These are ideal for office wear or when you want just a touch of prep in your look.
Boxed //
Box pleats are very square and most akin to the preppy schoolgirl skirt. But even if you're not a big fan of the private-school getup, there is a box pleat for everyone. Consider a more traditional wool pencil skirt for the office or an elegant jacquard midi style for a cocktail party. They come in muted or metallic tones, plaid or plain. An especially swanky pleated skirt can even stand in for a fancy gown. Talk about a unique outfit!
Inverted //
Finally, there's the inverted pleat. This fold is often composed of backward tucks frequently found in twos on A-line skirts. The flared or A-line cut typical to pleated skirts is suited to most body types, and the skirts are generally high-waisted, hitting at your narrowest spot for that ideal hourglass silhouette.