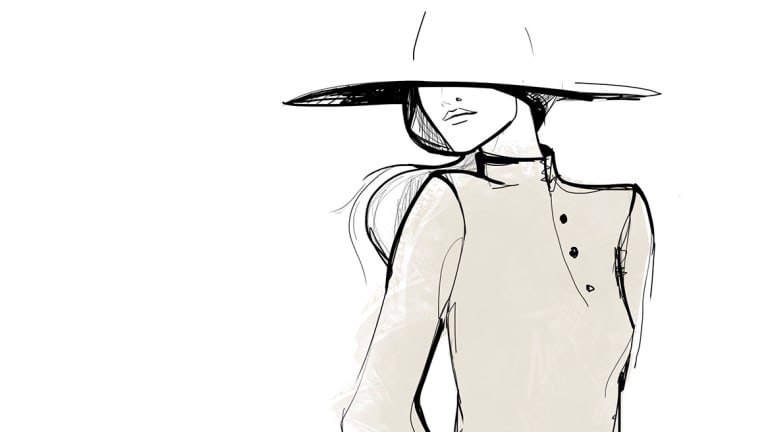 10 Style and Beauty Resolutions Every Woman Should Make This Year
Embrace your unique style in 2016.
With the start of another year comes the ever-looming pressure to make resolutions. Unfortunately, those little commitments to self-growth have gained an intimidating reputation. It's as though a new year means that we must reverse all bad habits for the promise of new beginning—a new you.
Here at Verily, we like to think of New Year's as an opportunity to become yourself—even more. So rather than fixating on that gym membership or reinventing ourselves with an entirely new wardrobe, we are making style and beauty resolutions that celebrate and highlight exactly who we have been, all along.
01. Discover Your Fashion Personality
Your fashion personality speaks through your clothes, expressing your own unique style. Discovering whether you are a relaxed, a romantic, a classic, or an expressive can help you specify exactly what it is you're looking for when shopping. If you already know your fashion personality, take some time to explore the different styles within your range. For example, are you a bohemian romantic or a Victorian romantic? An Old Hollywood classic or a preppy classic? Learning more about the different styles you're drawn to can help you hone your unique style.
02. Learn the Art of Flattering Your Body
Flattering your body shape and skin tone will never go out of style because in doing so you will be dressing to your own advantage. This year, choose clothes that enhance your best features. Maybe that's a scarf that makes your eyes sparkle or a waist-cinching dress that highlights your feminine curves. When you understand your body, shopping for it becomes less of a struggle. Plus, wearing clothes and colors that flatter your body is a great self-esteem booster—how else should you spend 2016, if not confidently?
03. Get Inspired by Your Favorite Style Icon
Begin your style year by looking to others for a little inspo. A style icon can give you concrete ways to apply certain appealing looks to your own wardrobe. Begin by making a Pinterest board, and collect images of your icon that especially inspire you. Love Audrey Hepburn? After some style research, you will find that incorporating sleek black long-sleeve shirts, black cropped pants, ballet flats, and 1950s-inspired A-line dresses will get you the Audrey look. Starting the New Year with some serious fashion inspiration will help you feel motivated and excited about your style.
04. Follow Inspirational Women on Social Media, and Unfollow the Rest
Guilty as charged! Let's just admit that we all follow a couple (or more) women who lead seemingly perfect lives on social media. But if these models, celebrities, style bloggers, etc., leave you feeling less-than—unfollow for your own sake. Sometimes following these women on Instagram or Twitter results in the comparison game, leaving us questioning the quality of our own awesome lives. Start your year off with a social media purge, and unfollow anyone who leads you to doubt your self-worth. After you've gone through the social media purge, begin filling your feed with real, positive, and stylish women who inspire you to live your life to the fullest. (After following Verily, of course!)
05. Give Yourself Time
We've all felt that sting of resentment when rushing to get to work on time in the morning. If only we had woken up a little earlier or done the laundry like we were supposed to. Instead of mentally beating yourself up for all the things you didn't do, make an effort to plan your outfits in advance. Laying out your clothes or just simply knowing what you're going to wear the next day drastically reduces getting-ready time. Plus, frantically rummaging through your closet in the morning is a sure way to end up with an outfit you don't care for. If you make it a habit to plan your outfits in advance, you will avoid that dazed "What was I thinking?!" mid-morning crisis.
06. Let Go of Old Clothes
It may be January, but it's a great idea to do your spring cleaning early—and start in your closet. Donate clothes you didn't wear in 2015, and throw out those tattered tees and ratty old gym sneakers. By prioritizing the clothes you love, you won't be bogged down with unnecessary items that take up precious space. Dressing will also become easier when you're only working with clothes you know you want to wear. If you're nervous about getting rid of old clothes, try creating a capsule wardrobe. Narrowing your wardrobe down to the items you really need and love will help you let go of all the unnecessary clothes clogging up your closet.
07. Make Yourself Comfortable
Contrary to popular belief, fashion does not have to be painful. Enter the New Year by treating yourself to a comfortable clothes mentality. It is possible to look good and feel good about yourself while not suffering in a stiff outfit. And let's be real, a blister that lasts for days from wearing a pair of heels once is just not worth it. Treat your body well by putting it in clothes that do not pinch, squeeze, or restrict it. Find ways to incorporate soft knits, comfy dresses, and stylish sneakers into your wardrobe. Your body will thank you for it.
08. Be Open to Trying New Styles
We all have a style comfort zone. And it's OK to stay within those realms—that is, until you start denying yourself clothes you really love. Luckily for us, fashion is fun and is enjoyed most when not taking oneself too seriously. Being concerned about what others will think is not a good excuse for not wearing what you love. If you find yourself swooning over a pair of metallic loafers—just go for it, and have the confidence to wear them boldly. Think of it this way: Would you rather look back on 2016 and remember wearing all of the clothes you loved or the ones that were safe?
09. Tap In to Your Feminine Style
In a world of normcore and androgynous trends, dressing femininely is the new black. Feminine dressing is timeless—and flat-out beautiful. When you highlight your natural feminine beauty in your clothing, you are celebrating all of the things that make you a woman. But feminine dressing isn't all flouncy florals and midi skirts—it's also found within the subtle wing of a cat eye, a powerful waist-cinching silhouette, or the regal embroidery on a vintage coat. This year, incorporate pieces that distinguish you from the boys and make you feel like the lady you are.
10. Forgive Yourself for a Fashion Faux Pas
We all have days when we feel like we have failed to keep our resolutions. Some of us make it a whole six months without losing our resolution mojo; some of us only make it a week. Either way, it's better to forgive ourselves for those bad outfit, hair, and makeup days than to let feelings of remorse eat away at our motivation. Even those perfect style bloggers have off days (they just don't Instagram them). It's a mistake to believe that success comes from looking perfect all the time—we are humans who need breaks from daily style and beauty routines. Allow yourself to relish in those off days; you'll appreciate the great hair days and awesome outfits even more.
The most important resolution to make this year is to remember that you have dignity and self-worth no matter how you look—yes, even if you fail to keep all of your resolutions. If you promise to treat yourself with love and respect every day this year, you will truly have made a resolution worth keeping.
Photo Credit: Garance Doré / Trunk Archive