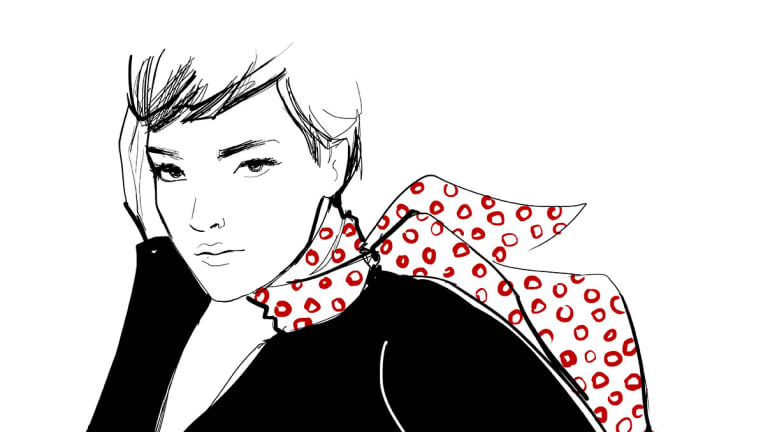 4 Smart Shopping Habits I Learned from Parisian Women
As an American living in France, I've learned a thing or two from stylish French women.
Ah, the Parisienne—the most revered and idolized woman in the world. Her elegance, her nonchalance, and her famed je ne sais quoi attitude has hypnotized men and women alike forever. But those perfectly masculine-inspired outfits and chic frocks don't just fall out of the sky. Women in Paris shop for their clothes, too. They just do it differently. 
As an American living in France, I've noticed a distinction between the way a French woman shops versus the way Americans do. And I'm not alone. Iconic fashion legend Christian Dior noticed it. According to his personal memoir, the designer, upon his first visit to the United States, noted significant differences. Among them was the observation that the American woman was often more likely to choose quantity in her shopping, while the Frenchwoman would naturally value quality.
To explore her allure just a bit further, let's look at how the Parisiennes make even the practice of acquiring goods stylish, smarter, and more sustainable.
Choose Quality Over Quantity //
A Parisienne is willing to spend a little more on items that will last over time. When you choose quality, the items you buy will mean something to you and not be as easily disposable. Choose items that are crafted with integrity instead of cheap, poorly made clothes that you'll end up wanting to throw away or hoarding deep in your closet. This means high-quality fabrics, not polyester everything. Shelling out a little more money might be tough at first, but it's worth it to invest in items you love that last instead of clothes you'll wear once and forget about.
Add Neutrals to Your Wardrobe //
The French woman is known for her elegant simplicity. Often a minimalist, she chooses colors that have a lot of repeat wearability—items that you can wear again and again without anyone noticing because you can mix and match with ease. After all, there's a reason why the LBD is a wardrobe staple: it is timeless, classic, and you can change up the look a number of ways. When you shop, opt for items with this type of flexibility. You'll find it more gratifying to own a well-made, solid-color blouse that can be styled many ways than one overly patterned, trendy top that wont surpass one season. As a general rule borrowed from ethical fashion trailblazer Livia Firth: if you can't commit to wearing it at least 30 times, it's probably not worth it.
Shop Locally //
Sure, there's a certain reputation for "Made in France" items, so of course the Parisienne would support anything produced in the fashion capital of the world. But in general, buying local and buying from small businesses is a great way to support your economy. Seek to buy from artisans and craftsmen instead of always going the large department store route. Parcel & Journey promotes artisanal products from around the globe. Use it as a starting point to develop a more curated and localized sense of shopping. Plus, this way you're way less likely to see ten other people wearing your outfit. Remember, a Parisienne is nothing if not unique.
Buy Vintage and Secondhand //
Coming of age in the fashion and luxury capital of the world, women of Paris love their Chanel, Dior, and Saint Laurent. But their secret is to buy it second hand! Rather than buy new (a.k.a. incredibly expensive) items, the Parisienne is more likely to look for it at vintage stores, or to acquire previously worn items. The bonus? Other than saving you some serious euros, shopping vintage promotes sustainability by giving an already used item another life cycle.
Et voila, four easy habits to keep in mind the next time you think about shopping. While these are small steps, each little change in habit can have a great impact on how you feel about your own style and sense of belonging in this great big world of identity inspiration.
Bonne chance, les filles!
Ruby Veridiano is a "Glamour Girl Off to Change the World." She is a writer, speaker, TV host, and social responsibility consultant with a mission to empower women to be social change leaders and merge fashion with social good. You can follow her on social media @RubyVeridiano and on her website, rubyveridiano.com.
Image Credit: Garance Doré / Trunk Archive