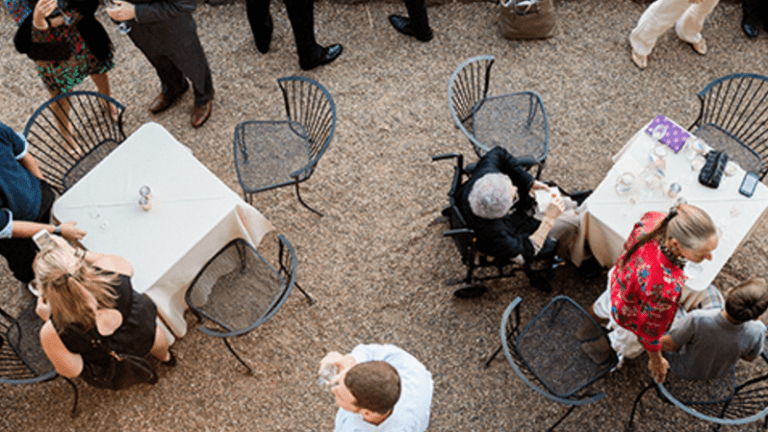 The Art of Networking When You Don't Like Talking About Yourself
These clever tips make networking so much less painful.
The art of networking is something special. For some, the small talk flows effortlessly. As for others? Not so much.
Networking can be key to advancing your career strategically. More than 60 percent of jobs are filled either internally or through referrals, according to staffing agency CareerXroads—so it really is all about who you know. But networking doesn't have to mean rattling off your résumé to every person in the room nor does it have to be about superficial self-talk and schmoozing. It's possible to form valuable relationships without a "me, me, me" approach. In fact, it's probably better.
Instead of stressing about selling yourself, follow these eight clever tips for successful networking, even when you don't want to network.
01. DO YOUR RESEARCH
If you anticipate interacting with a person of influence—whether a speaker, a manager, or an organizer—research her. Educate yourself on her collaborations and past work—Google and LinkedIn are your friends. This tactic also works well for Internet exchanges. Try reaching out on social media by commenting or asking questions. This smart move is quick and easy and can jump-start a successful relationship.
If you aren't looking to meet someone in particular, do some research on relevant items in your industry and who else will be attending the event. Good research demonstrates that you are actively engaged in your field. Aside from showing that you mean business, you can deflect direct attention from yourself, if necessary.
02. ESTABLISH A TITLE
Whether we like it or not, the question of "What do you do?" is as common as "Hello." And if you're someone who doesn't like attention, it might come as an absolute horror.
However, beecause it also happens to be inevitable, hash out your answer beforehand. Plan a simple response that encompasses all that you do, but keep it short and sweet. "You should be able to explain your work to a kindergartener, a senior citizen, and everyone in between," says artist and New York Times bestselling author Austin Kleon, in his book Show Your Work!: 10 Ways to Share Your Creativity and Get Discovered. Eventually, it will roll right off your tongue.
If you haven't achieved your "end game"—such as a certification or published work—don't be embarrassed. Be proud of whatever it is you're currently doing to get there. Remember, we're all working toward something.
03. PAY ATTENTION
How often do you find yourself focusing more on what you'll say next rather than on what the person is saying? Probably more than you care to admit. Entrepreneur reminds us not to hijack a conversation: "Some people who dislike networking may overcompensate by commandeering the discussion. . . . Be a conversationalist, not a talker." This is how you'll create a meaningful connection, giving you multiple entry points to find something relatable, such as a similar interest. You'll also have the opportunity to ask questions and keep the conversation rolling.
In Show Your Work!, Kleon shares, "If you want to be noticed, you have to notice." This includes physical gestures such as maintaining eye contact and smiling. Positive body language can help you (and the other person) feel at ease. Nod when appropriate, and resist the urge to interrupt.
Showing true care for another person's words is essential for developing authentic relations. A collaboration is more likely to come to fruition if they feel like their thoughts matter to you. And it requires zero self–sales pitching on your end.
04. ASK GENUINE QUESTIONS
If you've done your research and are paying attention, asking questions should be a breeze. It shifts attention to the other person while developing the relationship. It also shows that you are sincerely interested in learning about who they are and the work they do.
Inquire about their latest project or blog post. Ask about specifics, such as special processes and techniques they're most excited about. Not only will it show that you trust their expertise, but you may learn something, too. Keep questions humble and professional. Harvard Law School suggests asking for recommendations for books, professional associations, and classes, if they apply. If the opportunity strikes, you can also ask for their advice regarding your current job or career advancement.
05. SHARE STORIES
The best way to captivate an audience is to tell a story. Don't be afraid to share funny, life-changing, or educational experiences with others. It opens the door for opportunities to relate to each other and kick-start honest ties.
Not sure what to talk about? Think about significant moments in your career that shaped who you are today. Establish a way of describing these stories before you tell them. You can even practice with a friend before an event.
Storytelling promotes engagement and conversation. It's an excellent way to bypass a self–sales pitch listing all of your achievements; the story will speak for itself, emulating who you are and showing your work in action. It sure beats listing off the bullets from your résumé.
06. KEEP IT SHORT
For anything from an in-person meeting to an introduction email, keep initial interactions simple and sweet. This diminishes the pressure to sell yourself left and right and reduces the possibility for awkward, forced conversation. And, in a focused discussion, you can better determine how to comfortably move forward.
Of course, if a connection organically blossoms, roll with it. It's certainly possible for a deep and meaningful discussion to form early on. It's always better to form a few valuable relationships instead of many superficial ones. Use your best judgment to hone the relationships that feel the most authentic.
07. DON'T COMPETE
In a world where everyone is hustling to reach the "prize," it sometimes feels like we're in one big race. After all, blogging and social media has made it so easy to share our countless achievements. Subconscious comparison is just a click away. It's tricky for someone who doesn't like to talk about herself because this mindset suggests that the only way to get ahead is to one-up everyone else. It places a ton of pressure on networking well.
So put things in perspective. Networking is all about forming a network. We're all in this together, aiming for a common goal to make awesome things happen. It's the farthest thing from a competition.
Keep in mind that everyone is in a different stage of her career. The way someone achieved something is a cumulative result of her personal experiences, not yours. Todd Henry, author of The Accidental Creative and Louder Than Words, covers this concept in his blog post "Winning By What Standard?" He reminds us that everyone has a different definition of success. It comes down to determining your definition of success—and sticking to it. Let go of a competitive mindset. Instead of selling yourself to prove your worth, be polite, show interest, and find common ground.
08. PRACTICE
It may feel uncomfortable at first. But, the more you practice, the faster you'll find a method that works for you. Thanks to technology, it's easy to find networking opportunities. Search the Web for local meetings, seminars, or mixers relating to your field. Take a class, learn a new skill, and make small talk with fellow students. Practice introducing yourself, being genuine, humble, and interested whenever you meet someone new. The key is to just do it . . . over and over and over again.
Hopefully, with these eight tips, you'll feel more comfortable putting yourself out there. It will take time and effort, but it's totally worth it. Allow your natural light to shine—you deserve it!
Photo Credit: Britt Rene Photography