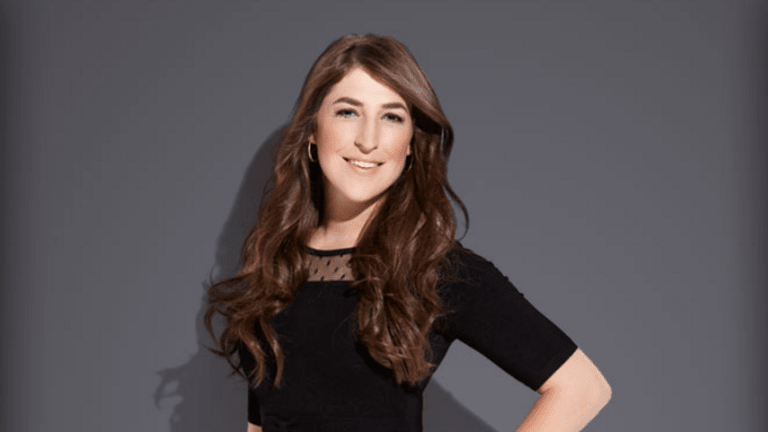 This Star Got 'Modesty Shamed' For Requesting Less Revealing Clothing
Mayim Bialik defends her "conservative" fashion choices.
Mayim Bialik, American actress and neuroscientist most commonly recognized for her portrayal of Dr. Amy Fowler on CBS's The Big Bang Theory, took to her website Grok Nation this week to clarify her somewhat unpopular views on modesty and fashion. In her post, Bialik explained that she has a number of guidelines for her "conservative" fashion choices, and "myriad" reasons for following them. Among them are body image issues, a distaste for the modern exclusionary fashion industry, and "religious principles that focus on highlighting the inside of a person by actively choosing to temper the outside."
Additionally, Bialik specifically addressed the accusation that her preference for modest clothing is a form of "slut shaming." For context, Bialik has long been outspoken about fashion and has drawn a fair amount of criticism in the process. In 2014, Bialik was accused of "slut shaming" after penning an op-ed that criticized vulgar or heavily sexualized billboards, including one featuring a scantily clad Ariana Grande. "I will go ahead and admit I have no idea who she is or what she does," she said. "Based on the billboard, she sells lingerie." According to her latest post, she drew similar criticism for supporting teenagers petitioning clothing companies for modest options. "I was astounded at the number of women and men who accused me and this teenager of being judgmental of girls who dress in short skirts simply for trying to get more options in clothing stores so that all kinds of sensibilities can be satisfied."
"If I choose to dress a certain way, that doesn't mean that I think people who don't dress like me are sluts," she explained. Bialik went on to say that she thinks women should be allowed to wear whatever they want "without being judged as 'wrong' for doing so...If not putting boundaries around that makes you happy, by all means, knock yourself out. But let's not modesty-shame either. There are a lot of ways to be a woman, and I am grateful to live in a country where all of them are allowed!"
As someone who is constantly writing about the importance and power of clothing (or rather, the negative repercussions of not wearing them), I absolutely support Mayim's reasons for dressing the way she does, and I certainly agree that just because one prefers modest clothing doesn't mean they're "slut shaming." What's more, I agree that we ought not call women sluts for what they wear (or for any reason, frankly) and that people are rightfully allowed to wear what they want.
Futhermore, there does seem to be a double standard in fashion. Calling a woman's outfit inappropriate for revealing too much is taboo, but we can freely criticize someone's clothing for revealing too little. Rarely is it worded that way—they'd be called "conservative" or "shapeless" or "bland" or "drab"—but the implication is nevertheless there.  
But are we really willing to say that the use of such words is never warranted? It seems to me that what we're getting at is that any criticism of what others are wearing qualifies as "shaming." And if that's true, isn't "fashion" inherently problematic? If under no circumstances can my clothing be called "inappropriate," or "revealing," on what grounds can you call it or "boring?" If my clothing cannot be called frumpy, how can it be called "sleek," "bold," "avant garde," or "striking?" Am I to believe that all of my clothing is equally flattering and appealing? I just don't buy into the idea that our sartorial choices are beyond criticism. 
The reality is that clothing has a communicative power and is therefore a language of sorts. And just as our words are not beyond criticism, neither are our clothes. Speaking freely, without regard for those around us, without considering how our words might affect those that hear them is both ill-advised and inconsiderate. So too is dressing in such a manner. Like Bialik, I would never tell a stranger how to dress. But I also wouldn't tell her that how she dresses doesn't matter, because that is simply bad advice.
Rather than shutting down conversations about what we wear, I say let's have more conversations about it. How women are represented in media and how we present ourselves are topics worthy of contemplation and discussion. Let's let go of calling any criticism of something shaming. The real shame would be to silence all dialogue in the name of defensiveness.  
Photo Credit: www.mayimbialik.net