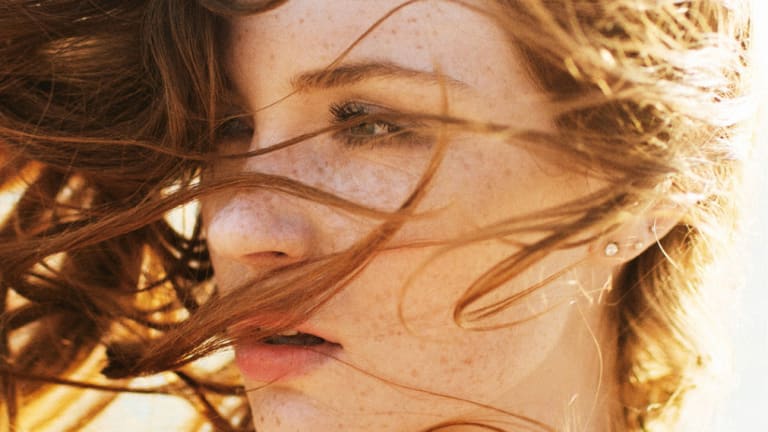 How to Air-Dry Your Hair So That It Actually Looks Good
Skip the heat for healthier locks—without sacrificing your style.
By now we probably all know that when it comes to your hair, heat is your best friend—and your worst enemy. Heat is the magic agent responsible for everything from bouncing curls to stick-straight hair. It can tame an unruly mane in no time at all. It can give waves and tendrils to flat, lifeless locks. But it can also cause some serious damage. Whether you religiously reach for the blow-dryer or consider your flatiron an extension of your hand, taking too much heat to your strands can be a recipe for fried split ends and all-around unhealthy hair.
It can be tempting to resign yourself to the ravages of heat in the name of good hair. But here's a little secret: Everyone can air-dry their hair—if you know how. Whether you want to cut down your styling time or you just want to save damaged hair from the wrath of the blow-dryer, this is a practice worth considering. We talked to two top hairstylists to get a few simple secrets to air-drying hair—and having it actually look good.
Banish Frizz
As anyone who has attempted air-drying before knows, frizz is probably the biggest deterrent when it comes to going au naturel. But according to celebrity hairstylist Matthew Monzon, the secret to a frizz-free air-dry actually begins the second you finish showering.
"Before getting out of the shower, ring the excess moisture out with your hands, followed by light towel drying," he says. "Don't be rough with the towel against the hair—that is what is going to cause the hair to frizz." To also combat frizz, Monzon suggests using a protectant spray or cream, such as Rene Furterer LISSEA Leave-in Smoothing Fluid. Comb it through with a large-tooth comb, leaving hair down to dry as long as possible so that it can take on its natural texture. If your hair is on the finer side and lacks a true natural texture, spritz a sea salt spray at the roots continuing through to the ends to help give the hair more volume, Monzon suggests.
If your hair is more prone to waves or curls, your best bet for a great-looking air-dry is to avoid disturbing your natural curl (aka put down the hair brush). "Do not brush wet hair!" says Kevin Lee, style director at Julien Farel Restore Salon & Spa in New York City. "Use your fingers to style hair into a shape when wet, and leave it alone until it dries." This will help ensure that the curls and waves retain their natural shape and keep frizz at bay. Curly-headed ladies should try products that specifically fight frizz, such as Julien Farel De-Frizz Relaxing Balm, John Frieda Frizz Ease Original Serum, or OGX Hydrate + Defrizz Kukuí Oil, which can be used on wet hair to manage curls and seal split ends.
Pull Hair Up
Sometimes waiting for wet hair to dry is less than ideal, especially if you have to head out the door. If you're in a real pinch, you can skip the towel dry entirely and reach for a paper towel. That's right—a good old-fashioned paper towel will get the job done. "You would be amazed at how much moisture can be absorbed in a paper towel," Lee says. "If you don't have paper towels, you can also use a clean cotton T-shirt."
Another good option for a quick air-dry fix is a braid or bun. Skipping the heat may make for a slightly less-perfect style, but that's the perfect excuse to experiment with wearing your hair up. There's no shortage of updos to try here. Throw your hair up for a while to dry, and let it down later to reveal easy, natural texture. "Each way you style your hair will leave you with a different result," Lee explains. "A high ponytail will add volume, a braid will add a loose wave, and a bun (if you twist the hair before putting it in a bun) will create a loose curl," he says.
Sleep On It
If you have thick hair, the timing for air-drying could be a lot longer. If you find yourself having to sleep on wet hair (it happens to the best of us), it's best to do so with your hair in a braid or bun. Another trick? Sleep on a satin pillowcase; it's gentler on the hair cuticles and will keep hair from frizzing up, Monzon says.
No matter which air-drying method turns out to be the best for you, both experts agree on one thing: Don't touch your hair! The more you touch, play with, and otherwise mess with your hair, the frizzier it will get, and the chances of you ending up with an air-dried look that you actually like will decrease.
Photo Credit: Shannon Lee Miller