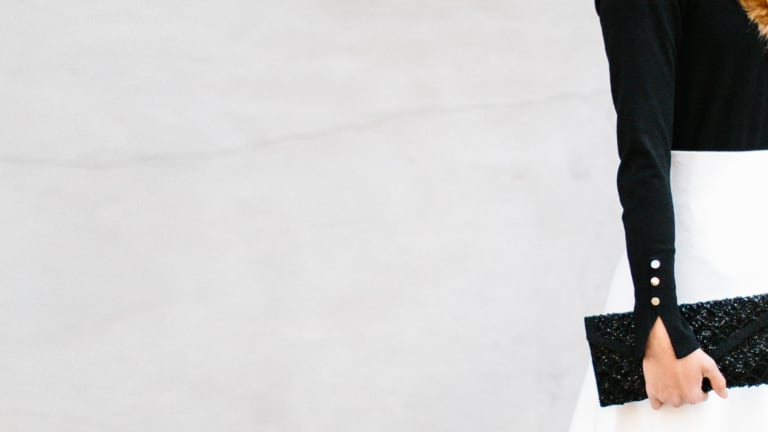 High-Waisted Looks for Every Occasion
High-waisted is about to become your favorite go-to style.
Still think the resurgence of high-waisted bottoms are only for ironic mom-jean-wearing hipsters? Think again.
The glory days of the low rise are long gone. (Sorry, Britney.) We couldn't be happier that high-rise pants and skirts have become a staple waist fit for most clothing brands. They are flattering, comfortable, and feminine because they highlight the waist while staying in place—no plumbers here. Not to mention, they celebrate the natural curves of the womanly figure, and we are always on board with that. Check out these high-waisted looks suitable for any occasion and outfit—fancy, casual, and professional.
Fancy //
Can a flared midi skirt really be done in any other way than high-waisted? There is nothing like a full circle skirt that highlights your waist. Our model Syd (above) arrived to our photo shoot as a self-proclaimed tomboy in casual jeans, sneakers, and a snapback cap. By the end of the shoot, Syd admitted that this look was her favorite, despite it being such a departure from her norm. See, anyone can wear it! High-waisted flared midi skirts and pencil skirts are ideal for dressy occasions—just pair with heels or ballet flats and feminine accessories.
Casual //
Brynn is a street-style queen in these high-waisted blue jeans, harking back to the 1970s when wide-leg jeans and flares ruled the denim scene. See, no hipster mom jeans here. Brynn adds a casual edge to these high-waisted beauts by pairing them with a leather jacket and a circle-brim hat. Heeled booties or clogs look best with flared jeans, but if you're rocking some high-waisted skinnies, wear whatever shoes you please. These casual jeans are versatile enough for daytime wear and nighttime outings. Pair with a tucked-in blouse and a fun bag, and you'll have a praiseworthy outfit in no time.
Professional //
When dressing Krizia for this photo shoot, we were nervous about this look because we had thrown it together at the last minute. To our surprise, this was everyone's favorite. We all loved the polished and comfortable appeal of the simple trousers, top, and blazer combo. Channel Katharine Hepburn's sleek and professional Hollywood wardrobe, and take a risk. High-waisted palazzo pants with an expertly tailored waist will elongate your legs and have you feeling like the feminine powerhouse you are as you strut to the office.