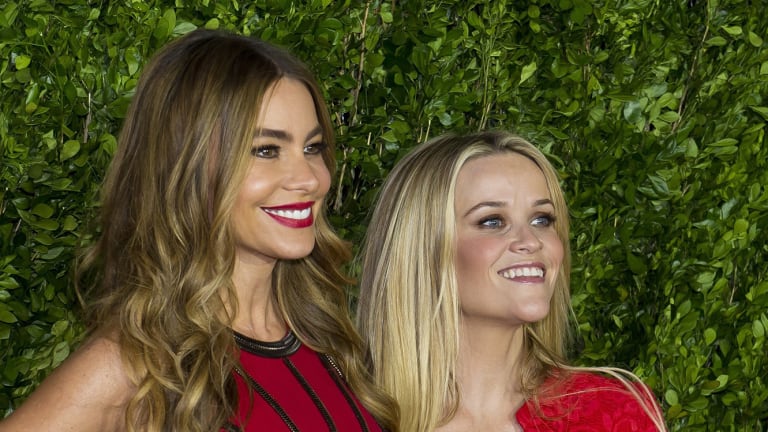 Here Are the #AskHerMore Questions We'd Ask at the Golden Globes
What thought-provoking questions would you like to ask your favorite actresses this year?
Last year, we learned of a social media movement called #AskHerMore aimed at increasing the quality of the dialogue with female actresses and directors on the red carpet. You see male actors and directors often get asked about their influences, ambitions, and challenges they encountered and overcame in their jobs. The women alongside them? They simply get asked about the gowns they're wearing.
We at Verily would like to continue this trend of asking our favorite actresses and female directors at this year's Golden Globes some questions that are a little more interesting.
While they're tailored for the red carpet, these questions can be adapted to serve as good probes for all of us to consider. Next time you're brunching with your girlfriends or catching up with a relative, consider steering the conversation in a direction that's really personal and meaningful. You'll learn even more about each other.
Interesting Questions for All or Anyone
What advice would you give younger actresses hoping to follow in your footsteps? —Megan
To what models did you look for inspiration in playing this role/directing this film? —Mary Rose
What's the most gratifying part of being an actress today? —Megan
What's the largest lesson you learned while partaking in this particular film? —Mary Rose
What was the biggest challenge you had while filming this movie? —Megan
If you could, what would you say now to your younger self at the start of your career? —Mary Rose
To Kate Winslet (Steve Jobs):
You were the best thing about this film; you really held Steve Jobs and this difficult role down (your character has Polish origin, and you worked the accent nicely; I almost couldn't recognize you). As a mother of three, what was it like balancing filming and family, especially because your role involves pushing Jobs to be a better father to his daughter throughout his career? —Krizia
To Charlize Theron (Mad Max: Fury Road):
What originally drew you to the role of Furiosa and made you want to be a part of this story's retelling? There's been a lot of debate about whether this film is feminist; what do you think? —Sophie
 To Amy Schumer (Trainwreck):
Was there something from your personal life that inspired the plotline about losing your dad, and if so, how would you describe that experience of adding a more profound element to your otherwise funny film? —Mary Rose
How much fun did you have writing the role for LeBron James? To what extent was it inspired by swapping the traditional rom-com roles of males and females? —Mary Rose
To Julia Louis-Dreyfus (Veep):
What do you think you have learned about women in politics from playing the role of Veep? —Mary Rose
To Jessica Chastain (The Martian):
After filming Interstellar in 2015 and then The Martian in 2015, I bet you have spent quite a bit of time thinking about life on Earth and elsewhere. What might it be like, do you think, if you ever left our planet? —Monica
To Gina Rodriguez (Jane the Virgin):
What do you think the character Jane's story from this season tells us about the real challenges and rewards of motherhood? —Mary Rose
To Saoirse Ronan (Brooklyn):
How did you tap in to the emotional struggle that Eilis feels between gaining her independence in America and being with her family in Ireland? Have you experienced a situation in your own life that mirrors this metaphorical tug-of-war between the mind and the heart? —Briehn
To Maggie Smith (The Lady in the Van):
You've had an extraordinary career, and you are one of my favorite actresses of all time. Since starring as the Dowager Countess of Downton Abbey, how has working prolifically in television (for a show that has gained international popularity) influenced your work in film and your life in general? —Krizia
To Jennifer Lawrence (Joy):
What did you learn about women and the American dream through playing the part of Joy? David Russell talks about portraying the "extraordinary magic" of "ordinary people"—what do you think the "extraordinary magic" of Joy's life is? Did you have the sense that you were doing something unusual by portraying a woman who takes the lead in business, supported by the men in her life, rather than the other way around? —Sophie
To Lily Tomlin (Grace and Frankie):
What advice would you give to a young female comedian today? —Mary Rose
Stay tuned Sunday evening as we ask these questions of actresses and directors on the Golden Globes red carpet, using the #AskHerMore hashtag on Twitter. And please join us by asking more good questions of our favorite ladies in Hollywood.
Photo Credit: Getty Images