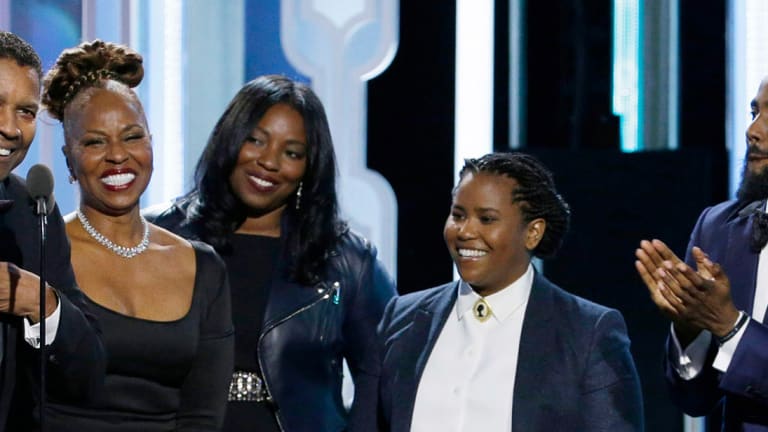 Catch Up On the Unmissable Moments From the Golden Globes
Family is in fashion, and other things we loved from last night's Golden Globes.
Last night's Golden Globes may have been hosted by Ricky Gervais, but that doesn't mean it was all garbage. Here are our favorite moments from the Hollywood Foreign Press' glamorous evening.
Family is in Fashion
The red carpet turned into a family affair, with nominees and presenters opting for parents and siblings over dates. Gina Rodriguez, nominated for Jane the Virgin, brought her dad; Amy Schumer, nominated for Trainwreck, came with her sister; Jamie Lee Curtis, nominated for Scream Queens, walked the carpet with her daughter; and Sylvester Stallone, winner for Creed, and Denzel Washington, recipient of the Cecil B. DeMille award, each brought their whole families. Even Lady Gaga, who won for American Horror Story: Hotel, said her old school Hollywood glamour dress by Versace "[felt] like wearing family." —Monica Weigel
A Humorous Reminder: Not All Latina Actresses Are the Same
America Ferrera and Eva Longoria showed both class and humor during their presentation. The ladies called out the Golden Globes for their Twitter faux pas earlier in the year when they mistook Ferrera for nominee Gina Rodriguez. Because, you know, all Latina actresses look the same (sigh). But what could have been a bitter jab, and justly so, instead playfully reminded everyone how ridiculous it all is, because American Ferrera is obviously NOT Gina Rodriguez; Eva Longoria is NOT Eva Mendes; and no, neither of them are Rosario Dawson. If the Golden Globes are in search for new hosts next year (pretty please??), perhaps they should look no further than America and Eva. —MW
Helen Mirren Zings Gerard Butler
Helen Mirren landed a zinger while presenting with Gerald Butler. Butler chose to lead with making a comment about how "lovely" Mirren looked, to which she replied, without batting a beautiful eyelash, "Thank you, Gerald. You look lovely too. For your age." Way to go Helen Mirren, for reminding everyone that it shouldn't be newsworthy that women of a certain age look lovely. —MW
Some of Our Favorite Ladies Took Home the Gold
Among the biggest wins of the evening, Kate Winslet early in the night won best supporting actress for her role in Steve Jobs (she was the best part of the film, by the way). Accepting the award, Winslet exclaimed, "what an incredible year for women in film!" Later, Winslet hugged Leonard DiCaprio (who also won for his role in Revenant) in an embrace that had viewers across the globe reminiscing about the time the two co-starred in Titanic. 
 
I've always been impressed with the undercelebrated Brie Larson, so I was pleased to see she won best actress in a drama for her powerful role in The Room, a film about the strength of a mother's bond with her son. And Jennifer Lawrence won best actress in a comedy for her role in Joy, where she plays the unconventional role of, as Verily's Sophie Caldecott put it, "a woman who takes the lead in business, supported by the men in her life, rather than the other way around." Here's to empowered ladies of influence on the big screen! —Mary Rose Somarriba
A Good Night for Girlfriends
Amy Schumer may not have won a Golden Globe last night, but her presence was felt and the multiple nominations for her debut film Trainwreck are impressive alone and remind us that this rising star of 2015 is here to stay (we had our issues with the movie, but we do like how she's ushered in an age of embracing awkwardness). One of my favorite things from Globes this year was the palpable friendship between Schumer and Jennifer Lawrence throughout the evening—from their joint laughs on stage, to their sitting next to each other at the same table awaiting to hear which of them from best actress in a comedy would take home the trophy. There's something magical about close girlfriends; we see it when Amy Poehler and Tina Fey host the Globes, and last night we saw it with Schumer and Lawrence—they're a duo to be reckoned with, and we can't get enough. —MRS
Melissa McCarthy. Need I Say More?
When presenting the film Spy, Melissa McCarthy was joined by costar Jason Statham and director Paul Feig on stage. After Statham introduced himself as being responsible for writing, directing, and playing the role of Susan Cooper in the film, McCarthy showcased the hilarity of the "sorry" phenomenon in female language—that is, when women feel they must sound "unsure" or apologize when speaking with men to avoid sounding too assertive. "Um, no offense Jason, I think... I'm not sure, but I think I played Susan Cooper?" (Although for this skit, McCarthy's attempt to not offend worked, because Feig, who spoke more assertively, ended up in a headlock.) While McCarthy didn't walk away with a Golden Globe last night, she did flex her female empowerment muscles—not only in her skit showing how ridiculous sounding unsure can be, but also in visibly shaking her head, smiling all the while of course, when Ricky Gervais made one too many jokes about female actresses making less money than males. —MRS
Ask and You Shall Receive
Lady Gaga took home a Golden Globe for her role in the TV series American Horror Story: Hotel last night. While I cannot say anything to recommend that show, I can say that her award, which she appeared equally surprised and humbled to receive, is a testament to the power of asking for something. According to past interviews, Gaga got the role in AHS when she decided one day to call up the show's director and ask if she could be in the next season. Not only did she get what she asked for, she seems to have had a blast, and got her first ever recognition as an actress with her Golden Globe. Congrats to Gaga; let her example be encouragement to women and girls out there to go and ask for what you want out of your career and goals—you just might get what you ask for! —MRS
"The World Loves Real"
In one of the last awards of the evening, Taraji P. Henson won best actress in a TV series drama for her role as a woman named Cookie in the TV show Empire. "Who knew that playing an ex-convict would take me all around the globe?" Henson laughed. "I thought it would be Queenie [her character from The Curious Case of Benjamin Button], Will [Smith], I thought it would be my character from Karate Kid, but it's Cookie, who spent 17 years in jail for selling crack. So the world loves real." Congratulations, Taraji, your win! We're pretty big fans of "real" as well. —MRS
Top Image Credit: Getty Images