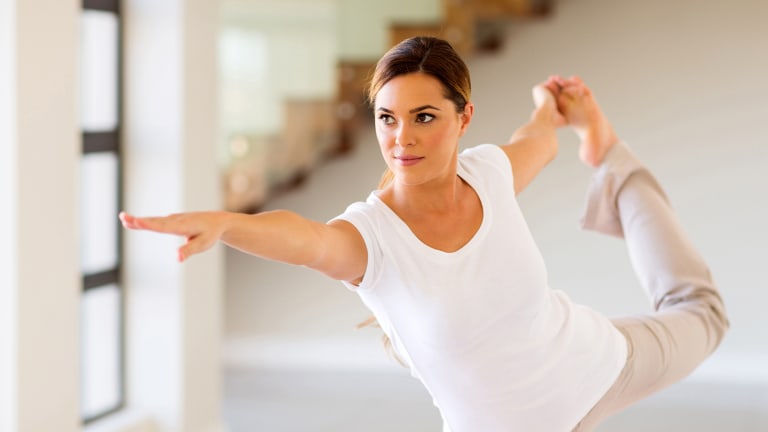 Trying to Decide If You Should Splurge on a Trendy Fitness Class? Read This First
Get the lowdown on today's most popular workouts before you decide to commit.
Even if it weren't one of your official New Year's resolutions, getting healthier and becoming more active is a goal for almost everyone. One of the most enjoyable ways to get fit is to switch up your workout with classes so that you don't get bored or overwhelmed.
Unfortunately, the cost of today's most popular fitness classes can add up in the blink of an eye. Most classes cost more than $20 per session, and some also require a gym membership—amounting to hundreds of dollars a year. That's a big investment.
So, which classes are worth splurging on, and which would you be better off skipping to save some coin? We rounded up today's trendiest workouts so that you can decide for yourself.
SPIN
Cult spin studios like FlyWheel or SoulCycle seem to have cropped up all over the U.S. overnight. So what is this special spin they speak of? Addictive indoor cycling is what! Complete with highly enthusiastic trainers, music that pumps you up and complements varying interval intensity, and a supportive community that's really, really into it (we mean really into it—not gonna lie, it's part of the allure). But at $20-$35 a ride depending on your studio, the cost of this high-energy workout can add up pretty fast.
Verdict: Go to Class. If indoor cycling gets your wheels spinning, splurge on the classes. Spinning classes have the reputation of being really intense workouts, and for some they're addictive. Unfortunately to get the full effect, you really have to go to a class. You could buy a stationary bike; Peloton Cycle is a product package that allows you to join live-streaming or on-demand spin classes from the comfort of your own bike in your own home. But at $1,995 per bike with a $39 monthly subscription for unlimited streaming, it's not for the empty of wallet. Plus you'd miss the lively culture that makes spin so popular.
TREADMILL
These classes, ranging from $30-$40 each, are like spin but on the treadmill! It's a clever option for people who want to run indoors but with the motivation of a trainer and other runners. The instructor guides you in how to change your incline and speed to incorporate varying intervals. Precision Running by Equinox or the Mile High Run Club (both in select locations around the U.S.) can help you train to meet specific goals like race distance or mile time. Studios like Barry's Bootcamp offer classes of half cardio and half strength, where you'll focus on toning your arms, abs, and/or butt with weights while on the belt. The New York Times even calls these new treadmill studios "SoulCycle's Successor." 
Verdict: Save. With cheap apps and the good old-fashioned outdoors, we say save your money, and skip the class. Fun apps out there have made dreaded treadmill time no longer run-of-the-mill. Zombie's Run, for example, turns your workout into a story about surviving a zombie attack. It can be used both indoors and out, costs a mere $3.99, and is compatible with Apple and Android devices. For music lovers, Upbeat Workouts calculates your strides per minute and finds a song with a matching tempo. It uses music from your library, costs $2.99, and is compatible with most Apple products. Try one of these on the treadmill at your gym or avoid any cost at all and hit the pavement outside. Running is one of the best, low-cost work-outs around.
BARRE
Does the elegance, flexibility and strength of ballet intrigue you, but it's way past the cute tutu stage? Barre could be a sweet taste of that bygone opportunity. Barre classes are ballerina-inspired toning workouts, often using a ballet bar. If you want a workout that aims to develop long, lean muscles, flexibility, and balance, barre is worth checking out. A class from Pure Barre or Bar Method ranges from $25-$35 each. You can also purchase monthly packages at a slightly discounted rate. Depending on level and style, the class may incorporate weights for strength training and standing on risers for balance.
Verdict: Splurge. If you want the full experience, this is probably worth splurging on classes. A studio outfitted with bars, and an instructor to monitor your form definitely make for a marked benefit. If you really want to do at home, barre does have some options. Several brands, including Barre3, Beyond Barre, and Physique 57 already offer online streaming and on-demand videos. And YouTube is a venerable goldmine of barre exercise ideas. Try Shauna Kathleen's 40 Minute Barre Workout At Home with options for small weights, Barre Body's Mat Only Exercises, or Sleek Technique's 15 Minute Body Sculpting Barre Routine for a quick but cardio-inducing fix.
YOGA
It's safe to say that yoga's popularity isn't going anywhere anytime soon. There are more different types of yoga available out there than ever—flow, power, restorative, hot, aerial—that it's hard to keep track of what's new! The list can get overwhelming, but the benefits of yoga on your health make it worth the effort of combing through type. At about anywhere from $10-$30 per class, yoga can be bit of a splurge, especially since you'll have to take multiple classes just to get comfortable with it. But the presence of a knowledgeable instructor, the novelty and thrill of hanging upside down from a giant ribbon (aerial), or the cleansing release of what feels like gallons of sweat (hot) may be worth the price tag. Just be aware of the level of the class you're signing up for so you're not thrown into something with crazy headstands and balances.
Verdict: It Depends. For yoga, it's a toss up. Aerial and hot yoga are pretty much impossible to do at home. And the expertise of an instructor, not only for physical guidance but for meditative instruction, is very valuable. So yoga is definitely worth the splurge sometimes. But for quick daily practice or moments of stress, save your money and whip out your mat at home. Try a free YouTube course that you can do from the comfort of your own living room floor. If you want to disconnect from your phone or computer while working out, you can even find printouts online too. A few poses and some concentrated breathing can really benefit you and are easily done on your own.
MAT & REFORMER PILATES
Pilates is the exercise for those fascinated by the art of controlled movements. Using several reps of a strict set of movements, pilates strengthens the entire body while focusing on alignment, breathing, a strong core, and improving coordination and balance. In general, there are two types of pilates classes: mat and reformer. Reformer classes are a little more complicated, as an instructor will have you doing moves on a bed-like contraption with bars, pulleys, and a gliding seat. Improper form will mean you're not working the right body parts and could put you at risk for injury. If you want to challenge yourself with something that truly feels unusual and new and is an intense strength and cardio combo workout, a reformer pilates class might be the antidote for you. Group reformer classes run from $20-$30 a pop.
Verdict: Stay Home. Granted, reformer classes can't be done without the machine, so that basically requires a trip to the studio. If you're interested in mat pilates though, try it at home and save your money for other classes. Mat practice is exactly what it sounds like: doing strength moves on a yoga mat. Because you don't need extraneous equipment, mat is ideal for at-home pilates. Channels like Tone It Up and Blogilates are completely free ways to get a hard pilates workout.
Whatever your cup of fitness tea, we hope some of these popular workout ideas might inspire you to try something new or improved in your health routine this year—without having to drain your wallet unnecessarily. When it comes to getting fit, keep an open mind and an adventurous spirit. Being healthy can be fun. So, what are you waiting for?
Photo Credit: Adobe Stock