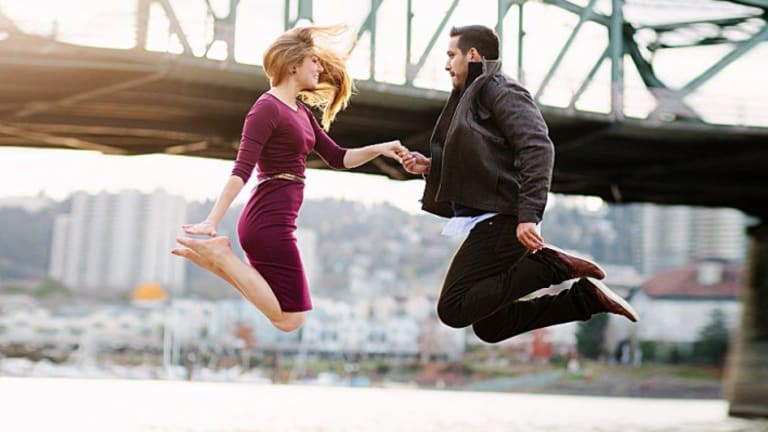 Announcing My Engagement on Facebook Taught Me Something Important About Marriage
This was so much more than just an avalanche of emojis.
Until recently, I thought that meeting my Mr. Right, getting hitched, and starting a family was all about me (and my future husband, of course). But it wasn't until I announced my engagement on Facebook that I discovered how wrong I was about that.
The day my fiancé, Joe, popped the question was the most exciting day of my life to date. That moment was ours to daydream and really plan our life together. He had proposed at the summit of a hike up a nearby mountain on the Appalachian Trail, and I remember thinking how I wished we could just stay up at that peak forever. Up on that rock, overlooking the water, we were totally, blissfully alone—and I did not look forward to the stress of breaking the news to family and friends.
I have heard engagement horror stories from women who complained about the overbearing in-laws, all the new demands on your time that pull you apart, all the unsolicited advice—all the intrusions, so to speak. I wanted none of it. Still, when we finally did come down from that mountaintop, we happily began spreading our big news. First, it was phone calls to close family and friends, and then we posted our new relationship status on Facebook along with my favorite selfie from that day.
Emojis exploded everywhere.
Little yellow faces with beaming smiles, crying tears of joy, giving little smooches—words were not enough for my family and friends. They sent us every happy emoji available to them. The reception of our news was an outpouring of love and support, the likes of which I have never experienced before. Everywhere we went, our news was met with expressions of true joy from old friends, acquaintances, and complete strangers alike. The comments, the cards—and yes, even the advice—left me with a deeper understanding of how important our marriage is to our community—a community that, thanks to Facebook, extends across countries and continents and oceans.
Our marriage wasn't only "our business," as I had previously believed. Nor would our wedding simply be our community witnessing our love and commitment to one another. In those first few days of engagement—and more so now that Joe and I are only a month away from exchanging vows—I have felt how integral those we call friends (yes, even Facebook friends) will be throughout the rest of our marriage.
"Life takes a village," explains certified Gottman therapist Zach Brittle in a recent Verily article. "If you're interested in an intentional marriage, you'll need the help and support of your community." Brittle goes on to explain that those with whom we share our life will be our advocates, cheerleaders, and mentors. The people who have surrounded us with support during our engagement and who will stand with us on our wedding day will be the same people we turn to when times are hard, when our love or our family is in crisis.
As Brittle also points out, a 2014 study reports that couples who had two hundred or more guests at their wedding were 92 percent less likely to divorce than the reference point. It can be expensive to have so many guests at your wedding, but I don't think this research is suggesting that those who spend more on their weddings have successful marriages (in fact, research suggests the opposite). What I believe this research demonstrates is that couples who have a large community supporting their union thrive.
But why should those around me care so much about my marriage? Surely they don't all rally 'round us because they are fools for a good love story and white frosted cake. What I have come to see during my engagement is that my community, even those distant people I connect with on Facebook, has a vested interest in the success of my marriage. The fact is, fewer young adults are choosing to get married in America, the impact of which is indicated to have a damaging effect on our communities as a whole.
For one thing, prevailing research indicates that married men and women tend to have greater financial stability and wealth, which in turn supports local businesses and social institutions. Studies also indicate that happy, healthy marriages are good for children, and happy, healthy children are obviously a boon to any thriving community.
Truly, it was foolish for me to have thought that our marriage would or even should exist in a vacuum. I have personally witnessed over and over the fidelity that friends, family, and even strangers have had toward a couple in crisis. When my sister and her husband lost their youngest son, all those who stood with her on her wedding day, and many more who had not, were there for her family and her marriage, supporting them again with kindness, love, and prayers. They were not alone when their marriage, statistically speaking, was at highest risk. Their love was thankfully not kept to themselves; it was bound up in community, and their love flourished for it.
Marriage is unitive, not just for the couples who choose to marry but also to all those who band together to support the couple. When Joe and I announced our engagement, all those emojis, heartfelt letters, well wishes, prayers, and gifts from all over the world were more than just a "Huzzah!" for two people in love. It was a community tightening its threads around a loving bond that will keep all of us safe and warm.
I know not everyone is lucky enough to have the support that Joe and I have received leading up to our marriage. But I sincerely wish it for every young couple. Never again will I allow myself to think of my commitment to love my fiancé as something apart from my family and friends. I want our marriage to be tightly woven in to the lives of our families and friends so that our marriage and community remain strong.
Photo Credit: Olivia Leigh Photography